We are here for you
Support has your back
Our technical support service is like no other. The Showpad Technical Support team is there to provide you with an effortless support experience to facilitate your success -- we want to solve your issues and answer your questions quickly and with as little effort from you as possible. We measure our success to help you looking through your satisfaction with our service. When we don't leave you satisfied, we want to know why so we can improve your experience for the next time.
Working with Support
When you become a Showpad customer our aim is to make your administrators true Showpad champions, either through our onboarding guides on our Help Center or through our Professional Services teams. Once you are up and running here's what we expect from you, as our precious customer,
We recommend that your Showpad users, learners, and sales leaders consult their admin(s) as first-line support. Your admin's are best placed as they know your company's way of working and the Showpad set-up
Beyond that up to 3 certified admins can contact our Showpad support team
When raising a support case the more information we receive from you from the start, the faster we might find a solution
Our commitment to you is to
Give you regular updates
Be clear on what the next steps are
Make sure you understand what happened when your case is resolved
Creating an online support case
If you have a Showpad issue or question and you need to contact our support team, the easiest way to do this is to create an online support case. This profile is also used to interact with our community, so we recommend you to sign in by clicking the Sign In tab.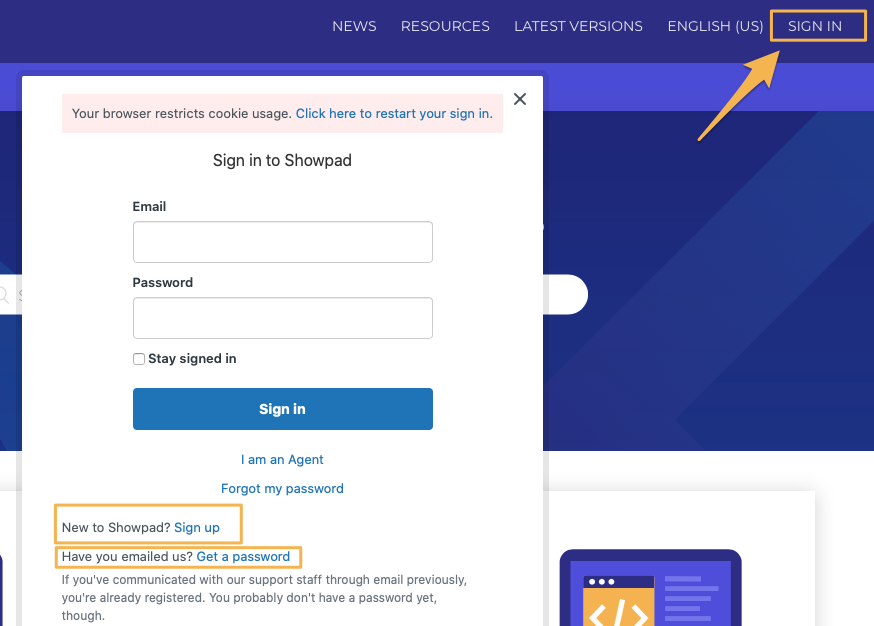 If you didn't contact Showpad Support before, sign up for an account.
If you already contacted Support before, you can retrieve a password by clicking Get a password.

Here, you can update your profile and see the requests you created for Showpad Support. Click the request you created and add additional comments if necessary.
To create an online case, go to or on the Help button (at the bottom-right of the screen.)

Enter the subject you'd like to receive information on. You'll see that we suggest our top articles that might help you with your question.

Clicking Contact us will open a form where you need to type your name, email address, topic, and message. Give us as much information as possible, including business impact and urgency. Where relevant add a screenshot or screen recording by dragging and dropping files onto this form.

Tracking the status of your Support Case
To see the list of your cases, choose Sign in at the top right location of the Help Center page if you are not logged in yet.
Click your profile and select My activities. You will see your previous cases and you will be able to filter them by status to find what you're looking for.

Note: Want to get to know us? You can meet our support team here.