After signing in on Showpad's Web app, you see a Home Screen that welcomes you with important information and recommendations.
The Spotlight messages at the top are sent by your admin and highlight important announcements about updated content and recently published coaching materials.
Beneath these Spotlight messages, you find a section with recommended content or coaching materials. The tiles you see are specifically recommended for you. These recommendations are based on what was recently published and what was viewed the most by you, to name two possibilities.
Note: The Home Screen is currently available on Showpad's Web app. Mobile apps will receive this feature later.
See how it looks
Key features
The Home Screen is your first stop after signing in
Be informed by your admin with up to 7 Spotlight messages
See recommended content and coaching materials in up to 8 tiles
If there are no Spotlight messages, you will only see recommendations
Search for content and coaching materials
You need this to succeed
Available on Showpad's Web app
Spotlight messages are sent by your administrator
Experiences, content, courses, paths, or pitches added by your administrator
The quick way to awesomeness
Sign in to Showpad's Web app
Scroll through Spotlight messages
Browse the recommended content and coaching materials
Search for content and coaching materials
See this step by step
Spotlight messages
Spotlight messages are sent by your administrator. You can see up to 7 messages. They scroll automatically if you have multiple messages. Scroll manually through them by using the arrows.
Spotlight messages can also include external links and links to courses.
Note: If there are no available Spotlight messages, this section will not be visible and you'll only see recommendations.
Recommendations
Underneath the Spotlight messages, you see tiles that show recommended content and coaching materials. Recommendations are completely AI driven and selected based on what you are doing within the Showpad platform. You see up to 8 recommendations, which can be a mix of content and coaching materials. The mix of tiles is based on your personal activity and therefore can be different than what your colleagues see.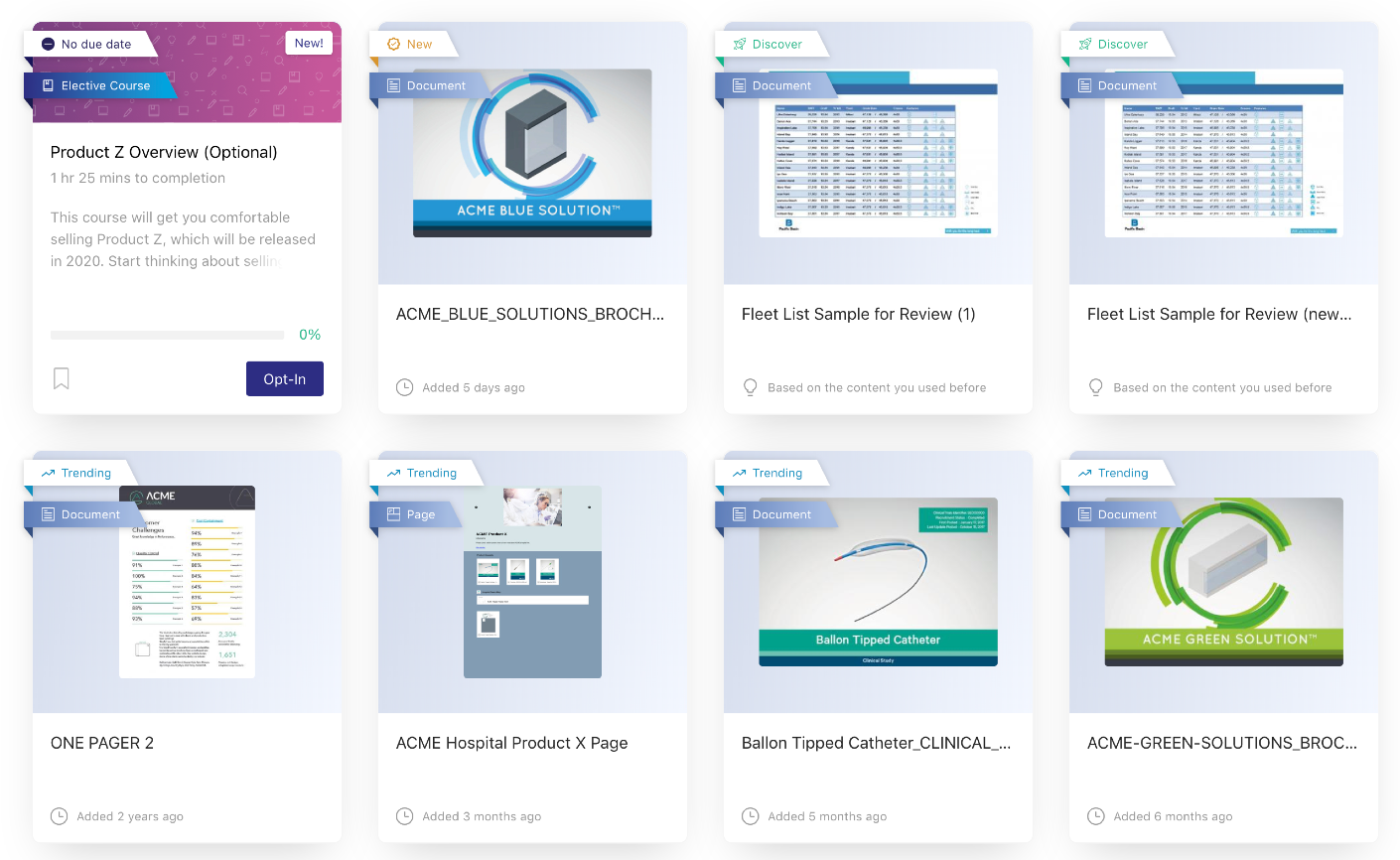 This is what you can discover in these Home Screen tiles:
New assets or experiences: Anything that was recently published that you haven't seen yet
Popular assets or experiences: Highly viewed assets over their lifetime that were not used yet
Trending assets: Highly viewed assets in the last 30 days
Updated assets: Regularly used assets that have been updated
Discover assets: Assets that are similar to other popular assets you've already viewed
Coaching recommendations will take into account:

Due courses: Uncompleted required courses that are due soon
Uncompleted elective courses: Uncompleted elective courses assigned to you
Popular elective courses: Elective courses that other users have taken
Searching
Searching for content and training materials is also a great feature on the Home Screen. To find out more about how the advanced search works, take a look at the Using the search functionality article.