It is possible to sync Showpad to your contacts on our mobile apps. To do so, you will need to give Showpad access to the contacts app on your device. When you want to share content with a prospect or customer, we will cross check with the contacts on your device.
If you start typing the first letters of your contact's name, their info will automatically be pulled up.
Not all contacts stored on your mobile device might be work-related. That's why Showpad won't import the device contacts into the Contacts section.
The Showpad app Contacts section is meant merely for lead-capturing. The contacts you have saved here will be synced to the administrator's Online Platform, and you cannot sync these contacts to your mobile device contacts.
If you want to use your email contacts in Showpad, for example, you will have to sync your email contacts to the device contacts and provide Showpad access to these contacts through the settings of your device.
Note: If Showpad doesn't request access to your contacts, create a new email share. When you start typing in the To field, the request will pop up and you can grant access with the touch of a button.
Choose your success platform
See how it's done on iOS
Note: iOS will only ask permission to allow access to your contacts when you create a Share by email. When you fill in the contact email address, you can grant permission to sync contacts from that screen.
To check that Showpad has access to your iOS contacts, follow these steps:
Share content via a new e-mail. For a first-time share, iOS will ask permission to access your contacts. Grant it in the pop-up box, then compose your email and send.
Go to Settings on your iOS device, then select Privacy. Tap Contacts.
Ensure that Showpad's access to Contacts is toggled on.

In some cases, you will also need to scroll down under Settings to your list of apps and select Showpad, then toggle the Contacts switch on as well.


See how it's done on Android
Make sure that in the Showpad app permission settings on your device, the app has access to your Contacts. To do this, access Settings. Under Apps, scroll down to find Showpad.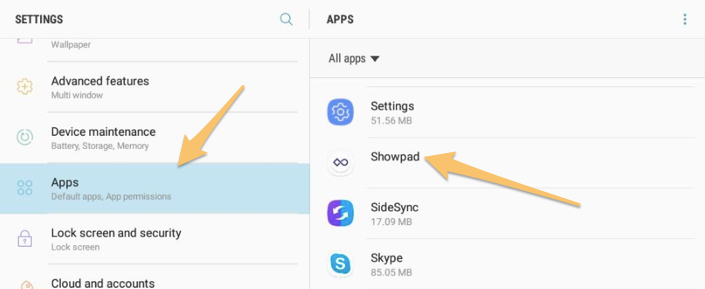 Make sure that the Contacts slider is toggled to On, by moving the circle to the right.