What's in it for you
You need to allow notifications for the Showpad platform to be able to receive notifications from the Showpad Administrator, either as a push notification or via email. The first time you start the application, you will be asked whether you want to allow this or not.
If you do not allow this, you will need to actively keep an eye on the announcements section on the app. If you have not accepted push notifications, this is how you can activate them:
Choose your success platform
See how it's done on iOS
Go to the Settings app on your iOS device.

Go to the Notifications.




Scroll down until you see the Showpad app, tap it.

Make sure the alerts are turned on. You can select

 the alert style of your preference.



See how it's done on Android
Go to the Settings app on your Android device.
Go to Sound & Notification

Go to App notifications

Make sure the notifications are not blocked. You can choose to not show them on the locked screen if you like.
Note: Keep in mind that a push-notification can only view around 110 characters. When writing your announcement be sure to start with a subject, which gives an overall idea about what your announcement is about. 
See how it's done on Windows
You need to allow push notifications for the Showpad app to be able to receive announcements from the Showpad Administrator.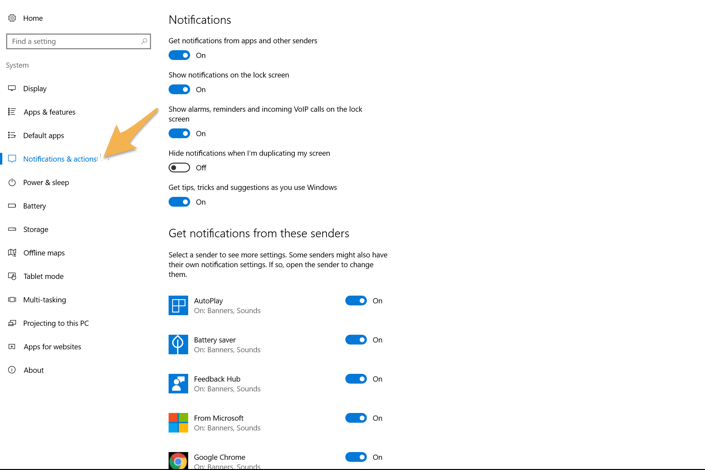 See how it's done on the Web app
When enabling Email notifications on the Web app, you receive an email when your prospect interacts at least three minutes with the Share you created. We don't want to flood you with notification emails, so there is a maximum of one email per recipient, per hour.
If you share content with two or more recipients, you will receive two or more separate emails. If they interact with the Share again an hour later, we send out a new email notification.
In the email, you see who opened the Share, where the content was opened, and on what type of platform. Some information is not always available and depends on the privacy settings of your recipient.
Activating Email Notifications
On the Showpad Web app homepage, click your name in the upper right-hand corner.
Click the toggle for Email notifications to enable.

Note: Every 5 minutes our system checks if your Share was opened. If your prospect interacts at least 3 minutes with your content, you will receive the notification via email. 
Stopping Email Notifications
There are 3 options to disable Email notifications.
Click your name on the Web app and deactivate the Email notifications toggle.
Click Stop receiving notifications for this share in the email you received.
In the Share tab of the Web app, click the Share you'd like to stop receiving notifications for. Click the settings gear on the top right, then select Stop all notifications.