Using Showpad's integration with Salesloft, you can include Showpad content as dynamic links in email templates and cadences. Using the Showpad app for Salesloft, you can generate unique URLs to share assets in Salesloft, which allows the sender to track individual engagement from recipients.
Key features
Include content from Showpad in Salesloft cadences and emails
Email sender can track individual prospect's engagement with received content
You need this to succeed
A Salesloft admin account OR
A Salesloft user account and the Showpad app toggled on by your Salesloft admin
Showpad Plus or Ultimate package
The quick way to awesomeness
Enable the Showpad integration in your Salesloft admin settings
Create cadences and templates with Showpad content
Track recipients engagement with sent content in Showpad
Do this step by step
As a Salesloft admin, you will need to toggle the Showpad app on for your instance. Navigate to your Salesloft admin settings, then select Integrations from Administration menu. Toggle the Showpad integration on. Now, all your users will have access to the Showpad integration. If you're a Salesloft user, contact your administrator about enabling this feature.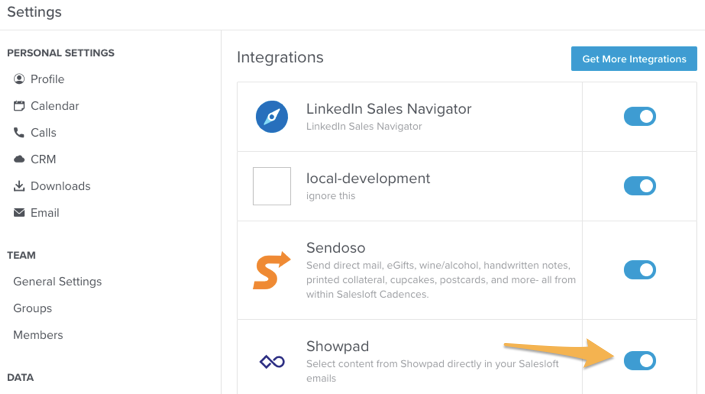 Add Showpad content to email templates and cadences
Use your typical workflow to create email templates or cadences.
Within the email template, add content from Showpad by clicking the Integrations button within the email composer.
Select the Showpad app from the integrations drop-down menu. You may be prompted to log in.
Browse for the content you'd like to include in the email. Select the assets, then click next.
Change the name of the link for reference, then click Insert. Hyperlinks will populate in the email as the asset names.
Track recipient's engagement
If you're an admin setting up cadences or email templates for your users, the recipient engagement will track to their Showpad activity page. Within the dynamic link, the parameters for recipient and sender will be replaced by the actual recipient and sender, and if there is a match for the sender address with a Showpad user, the Share is transferred to that user.
As a Showpad User, you will receive insight into the individual recipient's activity thanks to these dynamic links used in the Salesloft emails.
Note: With this feature, Showpad is not logging activity to your CRM, however, the shares are aggregated as insights in Showpad. There is no logging of activities on objects in SFDC for the Salesloft shares.
You will receive notifications when a prospect has engaged with your content. To track your prospects engagement, click View Activity from the email notification you receive, or launch your Showpad account and navigate to your Share page. Select the Emails & Links tab.
The name of the Share will show as the name you gave the link. You will see the email address the share was sent to, and the date and time it was sent. Note it will say sent from Salesloft.