If you prefer working on a laptop instead of a portable device, you can use Showpad on your PC or Mac by logging in on the Showpad Web app on your browser. Yes, you can use your colossal desktop machine to impress customers, as long as it has an up-to-date, compatible browser. Disclaimer: In this case, portability is your concern.
View all available experiences, content, courses and handle your shares the same way as you do on the Showpad app. On the Web app, your content and courses are always up-to-date, so there's no need to perform an update each time you sign in.
Note: This article gives you a quick overview of the available features on the Web app. Depending on your subscription, you might see not all tabs mentioned below.
Home welcomes you with important information and recommendations.
Content shows your Experiences, Collections, and your personal My Files.
Coaching is all about learning. It displays your courses in My Assignments, Library, Social discussions, and Bookmarks you added.
Shares shows tracked sharing activity to determine the most valuable content for your deals.
My Team is only visible if you're an admin logged in as a user, or if you're a manager of a team. The My Team tab gives an overview of all the courses and paths your team is enrolled in.
See how it works
Key features
Access organization content via your browser
See all available experiences, collections and your personal files
Take courses and participate in social discussions
View sharing statistics
Use advanced search to look for particular content
Share content via email or generate a link you can share
You need this to succeed
At least the Showpad Essential plan
An up-to-date web browser (IE 11, Edge, Safari, Chrome, Firefox)
The quick way to awesomeness
Make sure you know your organization name
Go to https://YourOrganizationName.showpad.biz
Use your login credentials
Browse through the tabs
Sign in to the Web app
The Showpad Web app can be accessed by Showpad users via the unique Showpad URL (https://YourOrganizationName.showpad.biz) of your company and with your Showpad username and password. If your administrator enabled Single Sign-On, you can use your Salesforce (or other) account. These login options are not visible if they are not activated.
Note: Due to security settings, using www.YourOrganizationName.showpad.biz to sign in, will not work. Make sure not to include "www". Always sign in using https://YourOrganizationName.showpad.biz.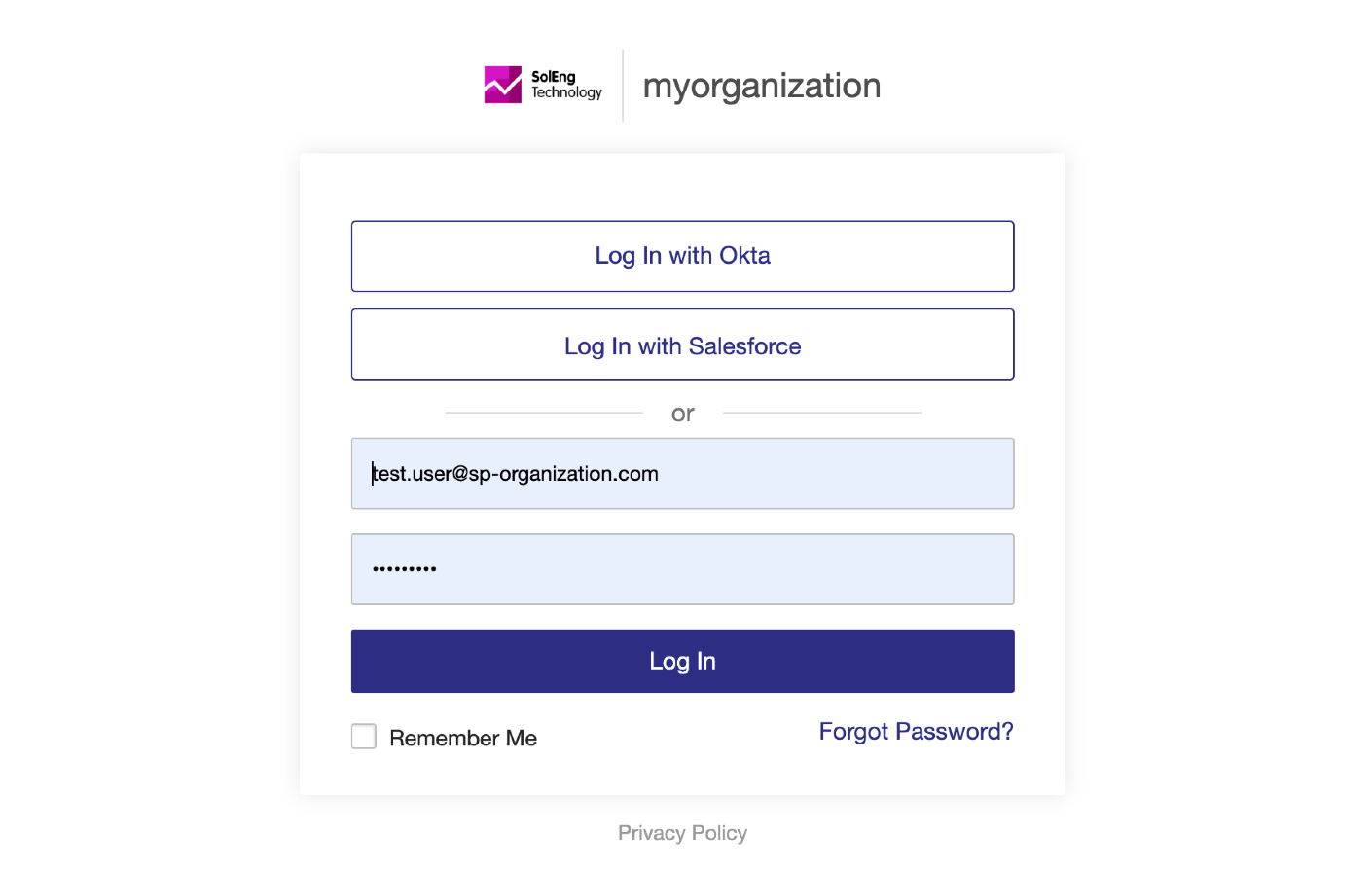 The Home Screen
After signing in on Showpad's Web app, you see a Home Screen that welcomes you with important information through Spotlight messages and recommendations. This page deserved its own article that explains all the particular features. Click here to learn more about the Home Screen.
Using the Content tab
In the Content tab, you can see the Experiences tab with previews to quickly access the content your marketing team provides.

Click on the experience of your choice to see all available content. In this example, we opened the Information experiences and it displays the content our marketing colleagues provided. Click the Showpad icon or the Home tab to go back to the main screen.
It's possible to rearrange the experiences by holding the mouse button and dragging and dropping them in the order you want.
In the Collections tab, you find and manage all your personal collections.
Click Content and go to Collections.
You can see an overview of the collections you created. To add a new one, click New Collection. Sort and view collections by clicking the View icon and the column properties.To learn more about collections, you can find all the information in this article.
My Files allows you to upload and structure your own content.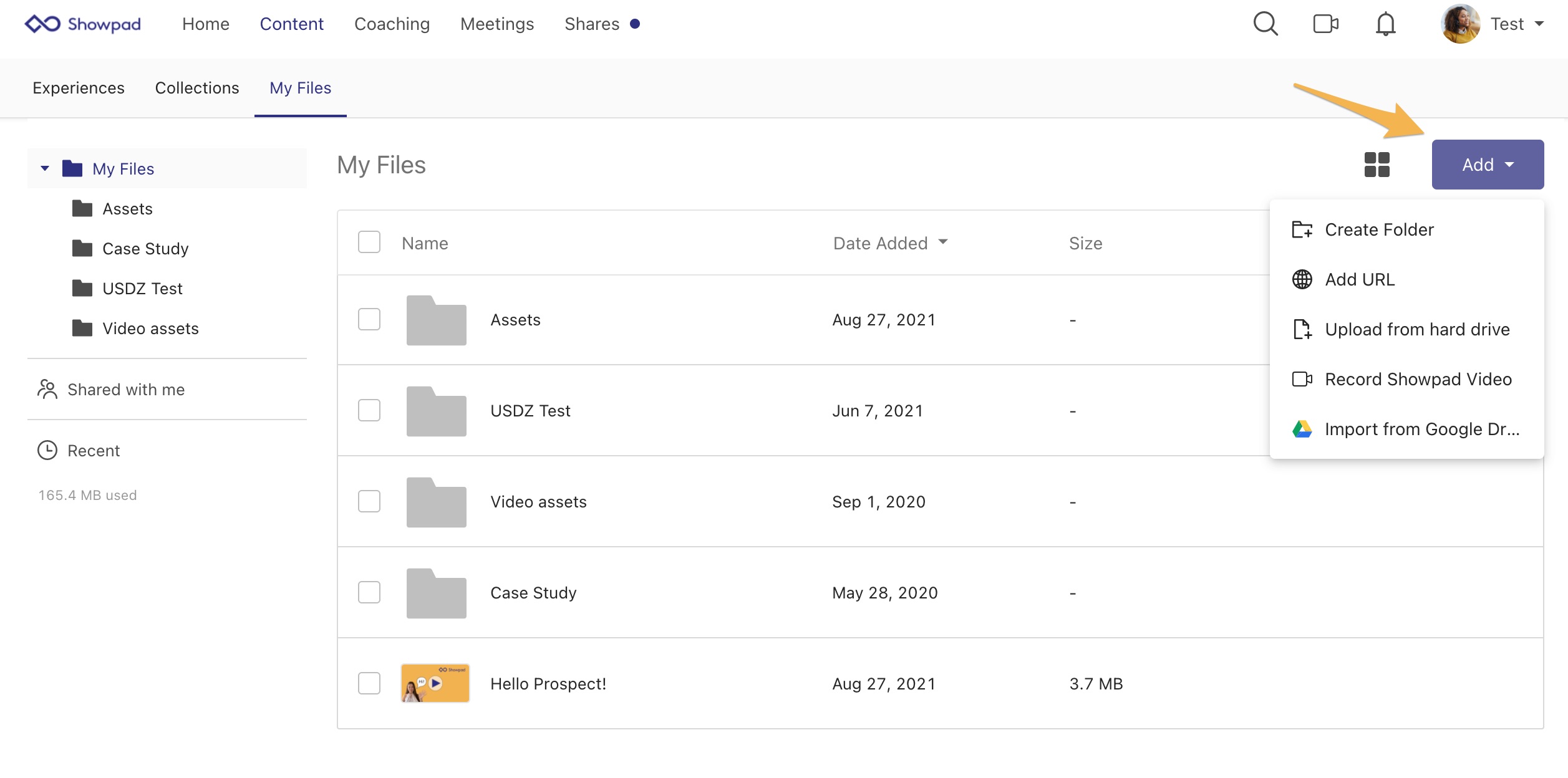 To learn more about uploading personal content to My Files, you can see all the information in this article.
See your courses and tasks in the Coaching tab
The Coaching tab is available on the Showpad Coach and Platform packages. Here, you can find the paths and courses to follow and pitches to use as a sales rep.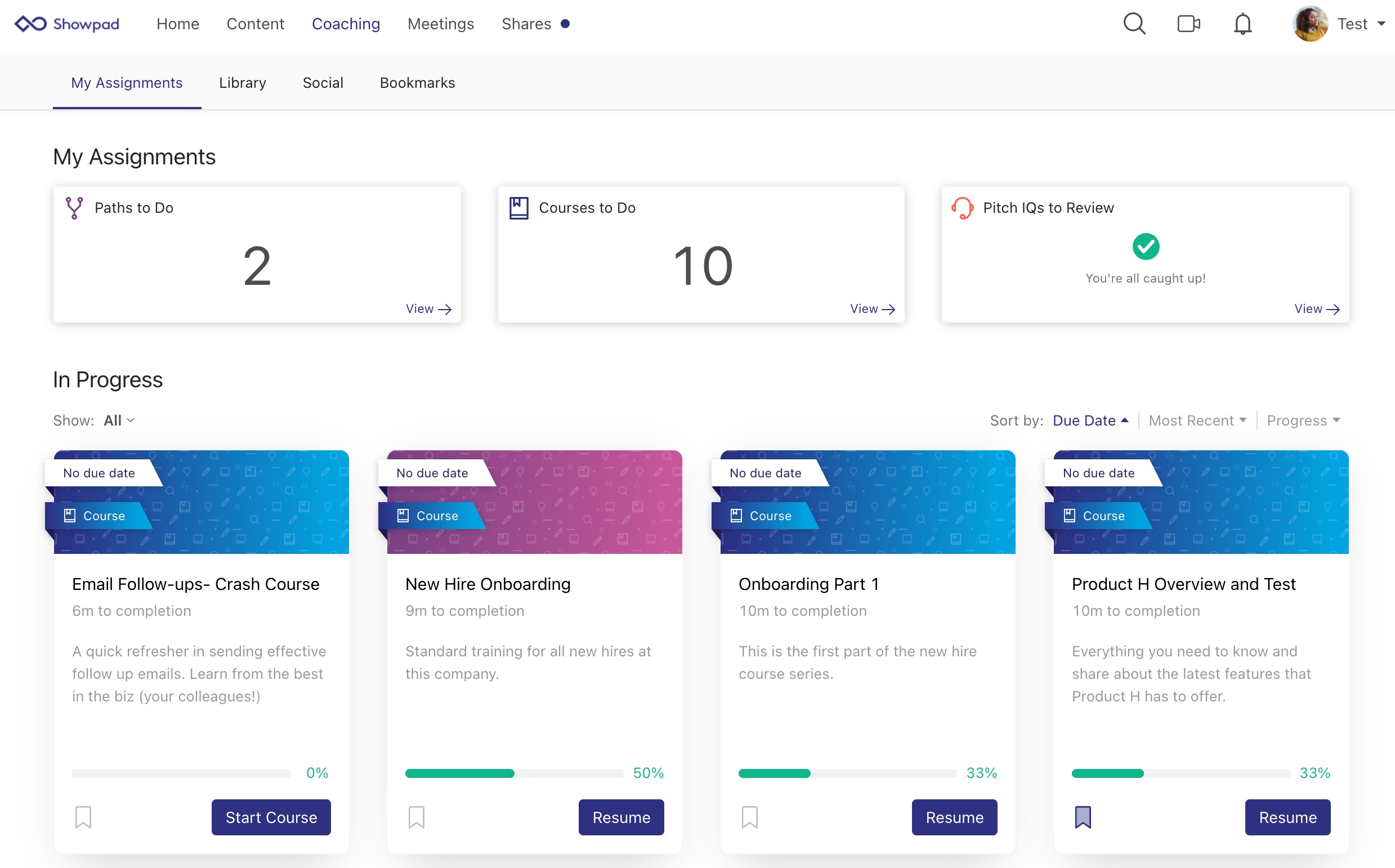 To learn more about the My Assignments, Library, Social, and Bookmarks tabs, take a look at this section of the Help Center. It explains all the features, step by step.
Using the Shares tab
The Shares tab contains an overview of all the content you shared and shows valuable insights. You can also share content with buyers from this screen. If you have Shared Spaces enabled, you can find these microsites in this location.
View or create your shares by opening the Shares tab. Open Email & Links.
Find out more about the insights in this article.
If available, click Shared Spaces to see the Shared Spaces you created. Learn more about Shared Spaces in this section.
Using the search function
On the top-right of the screen, you can look for specific content and learning materials by clicking the search icon. To learn more about the search feature, you can go through this article.