What's in it for you
The foundation of Showpad is the ability to share content with customers and prospects. When you share your content you can track how they engage with it via the Share feature. This lets you follow up on all their interactions at any time.Showpad provides a variety of sharing possibilities. You can share content from within our
Showpad provides a variety of sharing possibilities. You can share content from within our apps, email add-ins, and generate a link you can copy to your preferred messaging application.
When opening the Share screen, the activities of your prospects and customers look different depending on the method you shared your content. Let's dig in and discover the differences.
See how it looks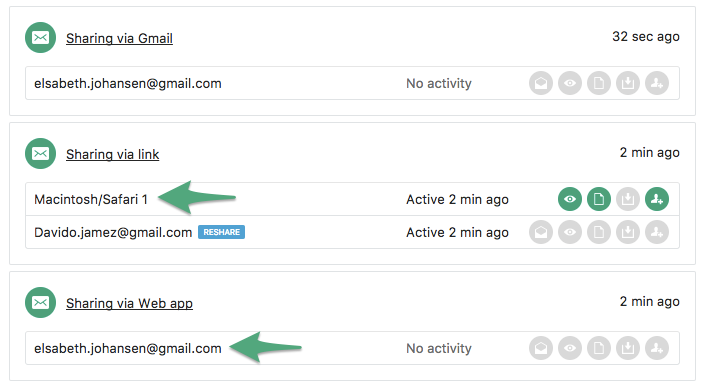 Key features
Sharing via our mobile apps and Web app will give you the most detailed information
Sharing via the email add-ins will give you information about the OS and browser version
Sharing via a generated link gives information about the OS and browser version
You can share content in different ways:
While viewing an asset
From the Share screen
As a Collection, a custom presentation containing a number of assets and/or page
Using our email plugins 
Sharing Themes
When you share content, you can select a Sharing Theme. These are customized designs that are used to present the shared content to customers and prospects. Your Showpad admin decides which Sharing Themes are available for you depending on the customers and verticals you work with.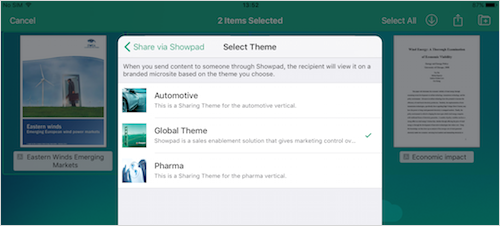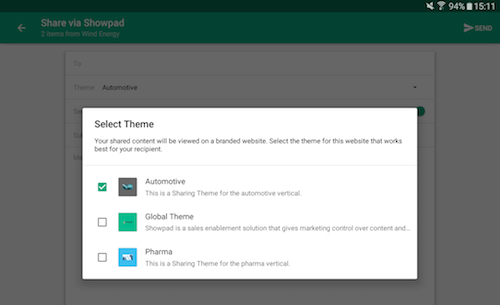 Showpad for Gmail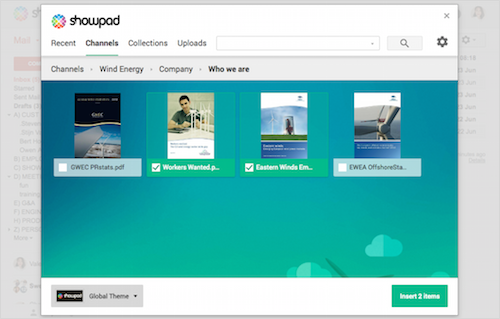 You can also install the Showpad for Gmail browser extension to share content with customers or prospects using your Gmail address. By sending personalized emails that include your name, company name, and content tailored to your prospect's specific needs, you can expect higher prospect interaction resulting in more and better sales opportunities.
Watch the video below to learn more about the different sharing flows.