Recording a Showpad Video is a simple, effective way to reach out to customers and prospects for any number of reasons. It can be more personal than a voicemail or an email to share a video, from tutorials to greetings and beyond. After recording a Showpad Video message, there are many ways to get your masterpiece out to clients, friends, and prospects. Showpad Videos can be shared within My Files, Collections, and Shared Spaces and will appear first within My Files.
Key features
Generate links to bring prospects to your content
Share quickly via Email
Add to Collections and share broader
Thumbnails appear when sharing video in Outlook, Outreach, Gmail
You need this to succeed
Showpad for the Web app
Access to My Files
Showpad Video add-on option for Content Plus or Ultimate pricing plan
Showpad Video enabled by your administrator
The quick way to awesomeness
Give your video a title and optional description
Upload to My Files, Collections, or Shared Spaces
Share your masterpiece via email, link, Shared Spaces, or a Collection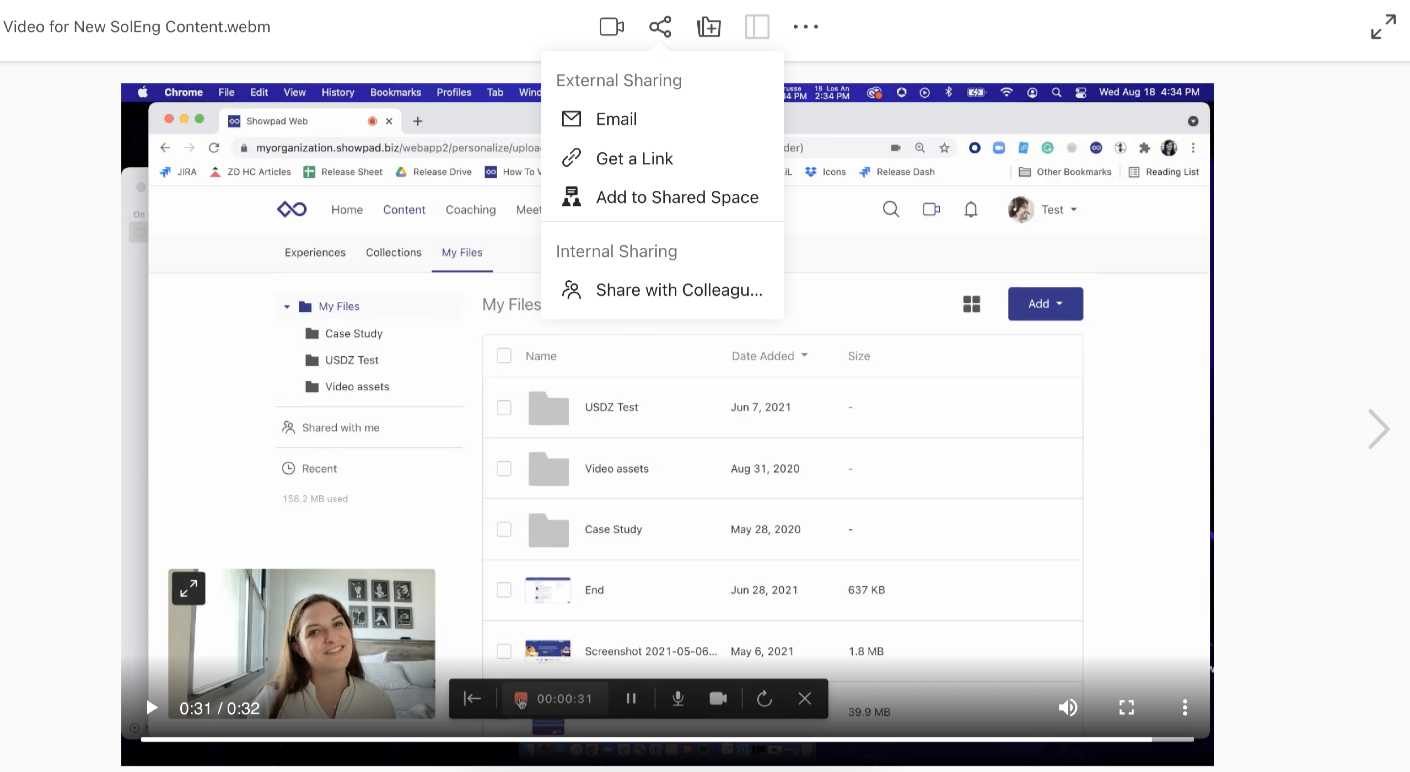 Do this step by step
After processing, your Showpad Video appears in your personal My Files. You can share it from here and other places your video appears, such as in a Shared Space or a Collection.

Select Email to generate a share of your video, and after composing a message, click send. While in the box, you can choose to add additional assets by clicking Add Content.

When your prospect receives their video share via email, they can click the thumbnail or the video link to view the video in Showpad's asset viewer. Thumbnails will appear in video shares via Outlook, Outreach, and Gmail.
Click Share and select Get a link to share your video via custom link. Choose to allow downloads, add additional Content, Log optionally to Salesforce if enabled, and choose a theme. Click next, and share your link however you like.


Give your video a new context and home in a Shared Space by selecting Add to Shared Space.

Learn more about Shared Spaces here

.

Choose Add to Collection and round out your content with a video. Learn more about Collections here.


If you want to share your Showpad V

ideo internally with a colleague, you can do so from your My Files. Click the three dots next to the video and select Share with Colleagues.

Showpad Videos can be downloaded using the option within the Asset Viewer.

If you delete a Showpad Video after sharing it, recipients will no longer be able to view the asset.