Video messaging has become an integral and often fun part of our daily lives. With Showpad video, you'll become your own director, editor, and protagonist delivering dynamic tutorials, pitches, greetings and more with Showpad Video. The functionality is intuitive and was designed with input from sellers to aim for a pleasant and efficient experience.

You can record Showpad Videos throughout the web app, and then store them in My Files, Collections, or Shared Spaces. Select the video camera icon from the top menu throughout Showpad's Web App and get creating. Create Showpad Videos easily throughout the web app, and once processed, they are stored in My Files, Collections, or Shared Spaces depending on where you began your recording. You can review your video and design a thumbnail before sharing it with clients, prospects, and friends.

Note: When using Showpad Video, switching between tabs and applications while recording is not supported. If you are using a Mac device, you can utilize the Picture in Picture function instead, by right-clicking on your image while recording.
Key features
Record video messages into Collections, Shared Spaces, and My Files
Review before uploading
Share video messages like other assets
You need this to succeed
Showpad for the Web app
Webcam and audio permissions granted to Showpad
Showpad Video add on option for Content Plus or Ultimate pricing plan
Showpad Video enabled by your administrator
The quick way to awesomeness
Select the video camera icon from the menu bar in the Web app
Choose to record with webcam only, screen recording only, or both
Grant Showpad permission to access your webcam and microphone and select an optional background
Record your presentation and review before loading to My Files
See how it looks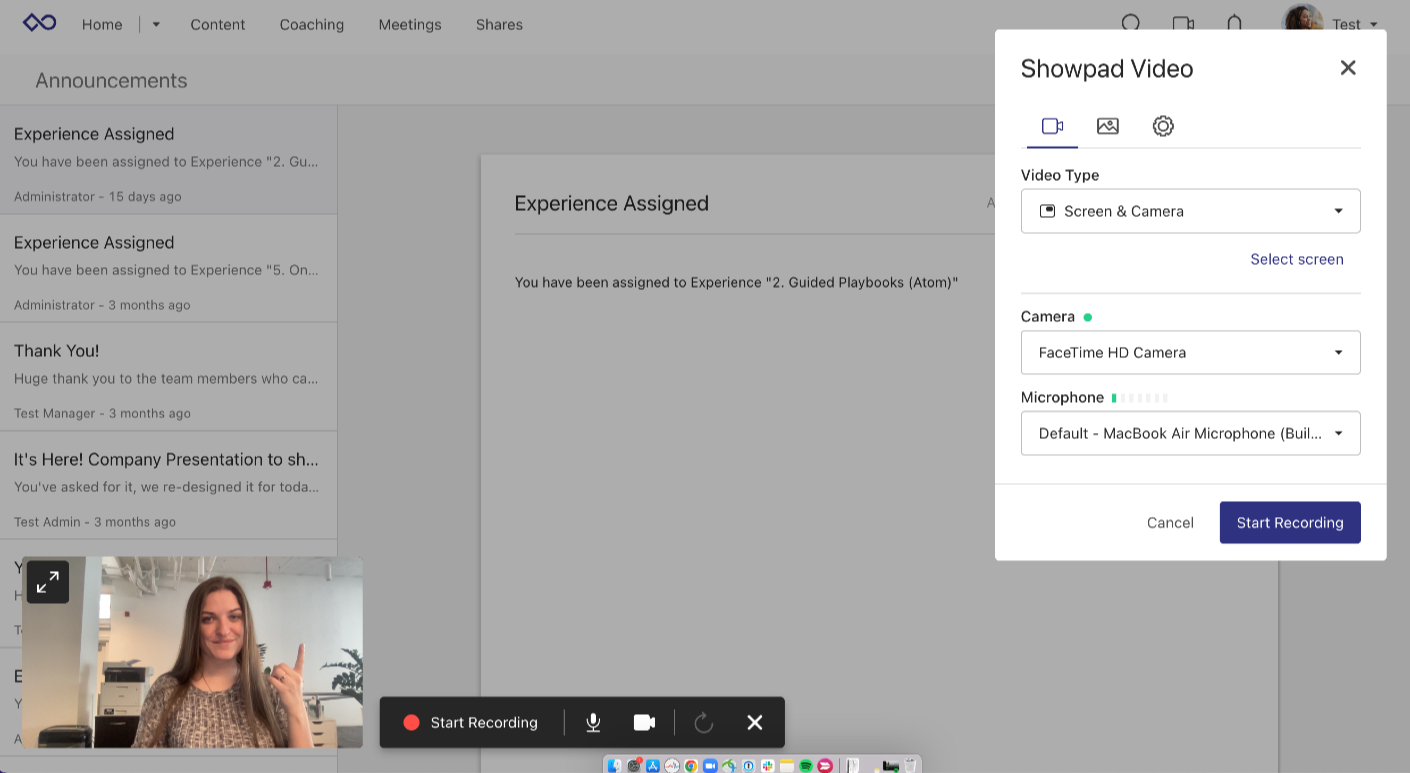 Do this step by step
From anywhere in the Web app, select the video camera icon in the upper right. You can also start a recording from within Share Spaces, Collections, or My Files.
From the pop-up box, select the Video Type you'd like to use. For this example, we will create a Screen & Camera recording. You may need to grant permission for Showpad to record audio and video from your browser the first time you use this feature. If using multiple monitors, you will be prompted to indicate which one you want to be recorded.



Note: If your device is using macOS 10.14.2 or higher, you will also need to allow Chrome to access your camera, microphone, and screen recording in the system privacy settings. Make sure Google Chrome is enabled for Camera, Microphone, and Screen Recording. Read more here.

You can choose to give your video a virtual background, such as a blur, a pre-loaded image from Showpad, or add your own image by clicking the paper and plus icon. Uploaded video backgrounds are stored in your browser cache. Clearing the cache will delete all uploaded video backgrounds. If you'd like to use them again after a cache clear, you can always upload your image again.

Click the settings gear to choose if you'd like to enable a 3-second countdown before your video is captured. Showpad Video has a limit of 1 hour per recording.

Select Start Recording when you're ready to begin.
Use the panel during your recording to do the following:

Push the red button to stop recording to complete and review the video
Pause/Resume video allows you to momentarily stop and continue recording where you left off
Mute/Unmute by clicking the microphone icon
Hide or reveal your camera by selecting the video camera icon
The loop icon allows you to immediately restart your recording after confirming
The X icon prompts you to cancel and confirm canceling your video


You can review your video before publishing it to your My Files. Give it a title by clicking the pencil icon and type an optional description. You can also customize a thumbnail. When you're ready, click Upload.

Your video will process before loading into your My Files, Shared Space or Collection. The processing sometimes takes longer for longer videos.
When done, you can select Show to be taken to your new Showpad Video.

When viewing your video, you will find the classic options like play, pause, volume, and full screen. Click the three-dot menu for additional options such as Picture in Picture and various playback speeds.
You can now share your Showpad Video like any other asset. Read more about sharing here.