A quick way to engage customers is to send them a video message. It's personal, inviting, and takes the pressure off them to reply right away. Plus, you can let your creativity run wild.    

All Showpad video that you create is captured, processed, and stored to your personal My Files page. You can personalize the thumbnail, title, and description and share your recordings in multiple ways.
Key features
Review your Showpad Video
Set a custom thumbnail
Share video messages like other assets
Video thumbnails appear in email shares via Outlook, Gmail, and Outreach
You need this to succeed
Showpad Web app  
Webcam and audio permissions granted to Showpad
Showpad Video add-on option for Content Plus or Ultimate pricing plan
Showpad Video enabled by your administrator
The quick way to awesomeness
Complete a Showpad Video recording
Add a title and optional description
Select a thumbnail and/or overlay image
Load your masterpiece to My Files
See how it's done on the Web app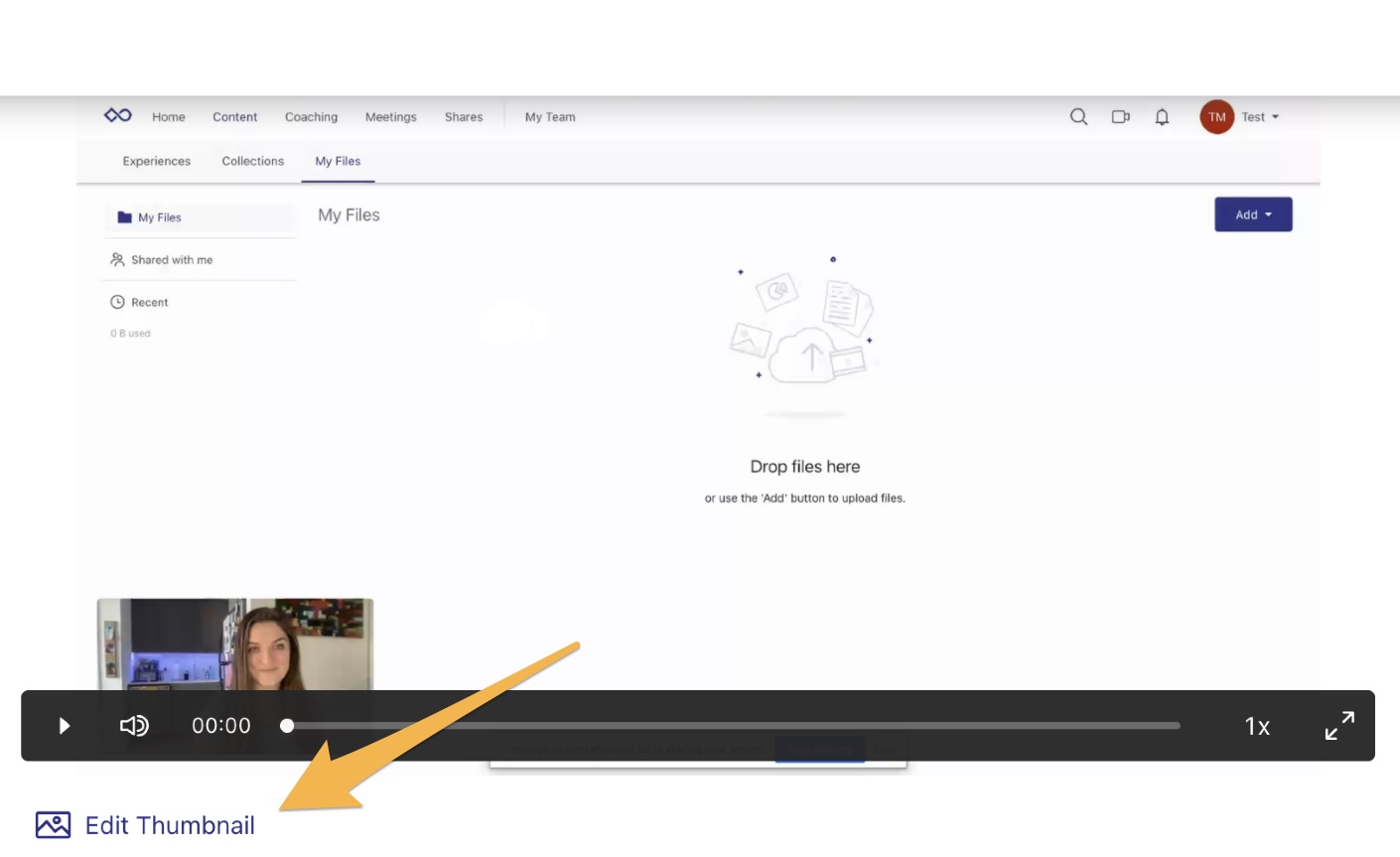 Do this step by step
Arrive at the thumbnail editing screen by either completing a Showpad Video recording by clicking the stop button.
You also find the video in your My Files, then click the three dots menu. Click File Options, then select Edit Video. Here you can also rename your file.

From the Showpad Video edit screen, you can give your video a name and an optional description by scrolling down. Click Save to edit your description without changing the thu

You can select Choose Frame and scroll to the image from the video you recorded to use as the thumbnail and click Use Frame to save. 

Choose a background image. To upload from your computer, choose Upload Custom Thumbnail. To use a frame from the video as a thumbnail, use the playback to scroll and pause on the one you'd like to display, then click Use Current Frame. Lastly, you can choose to Take a Photo using the camera on your device and take a new photo for the thumbnail.

Overlay Images live in front of the thumbnail background. To add the company logo your admin has configured, click Add Company Logo. You can also add your customer's logo by clicking Upload Customer Logo and selecting an image. Click and drag the logos to move them to where you want them on the thumbnail, and to resize. Video thumbnails will appear in email shares using Outreach, Outlook, and Gmail.

You will see the thumbnail of your Showpad Video when you search for assets in plugins, in My Files, and other Collections and Shared Spaces. You can update it anytime by returning to the Showpad Video editor from your video asset.