What's in it for you
It's always possible the computer says no. Use this guide to troubleshoot Showpad for Outlook. If this doesn't solve your problem, don't hesitate to contact our awesome support team.
Note: Contact your IT administrator if you don't have permission to change the Outlook settings on your device.
The quick way to awesomeness
Install the latest version
When troubleshooting issues with the Showpad for Outlook add-in, always make sure you have the latest version installed. We support Windows 7 SP1 and higher.
If you notice the following message in the add-in, download the latest version by clicking the download icon and use the installation file to upgrade your current version. Updating through this process is only available to users who have installed the Outlook add-in directly via the EXE package. This message will only appear for the major updates.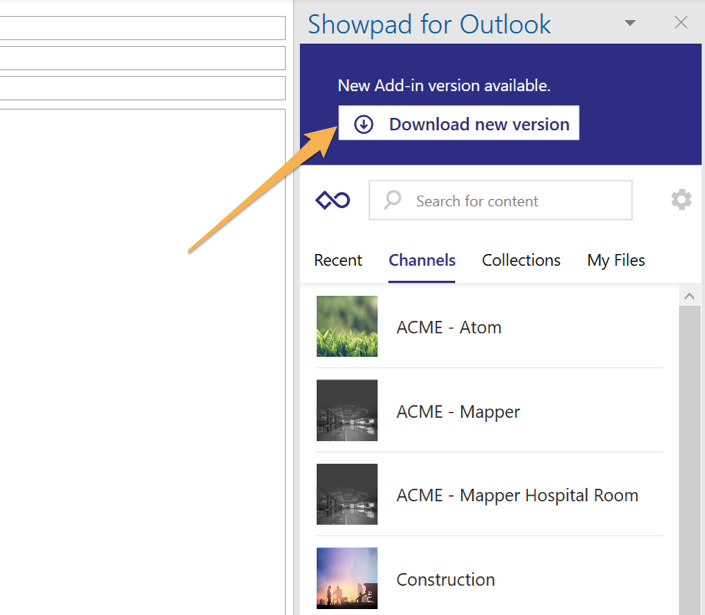 Manually check if an updated version is available
Click the gear icon in the top right corner and select Check for Updates.
If you are already using the most current version, you will receive a message letting you know you're up to date. Click Done. If you aren't on the most current version, you will have the option to click Download. This will trigger the installation process for the new version.
Check your Internet connection
Make sure you are connected to the Internet. If not, you will receive a connection error message. Check your connection settings, and then click Retry in the Showpad for Outlook app.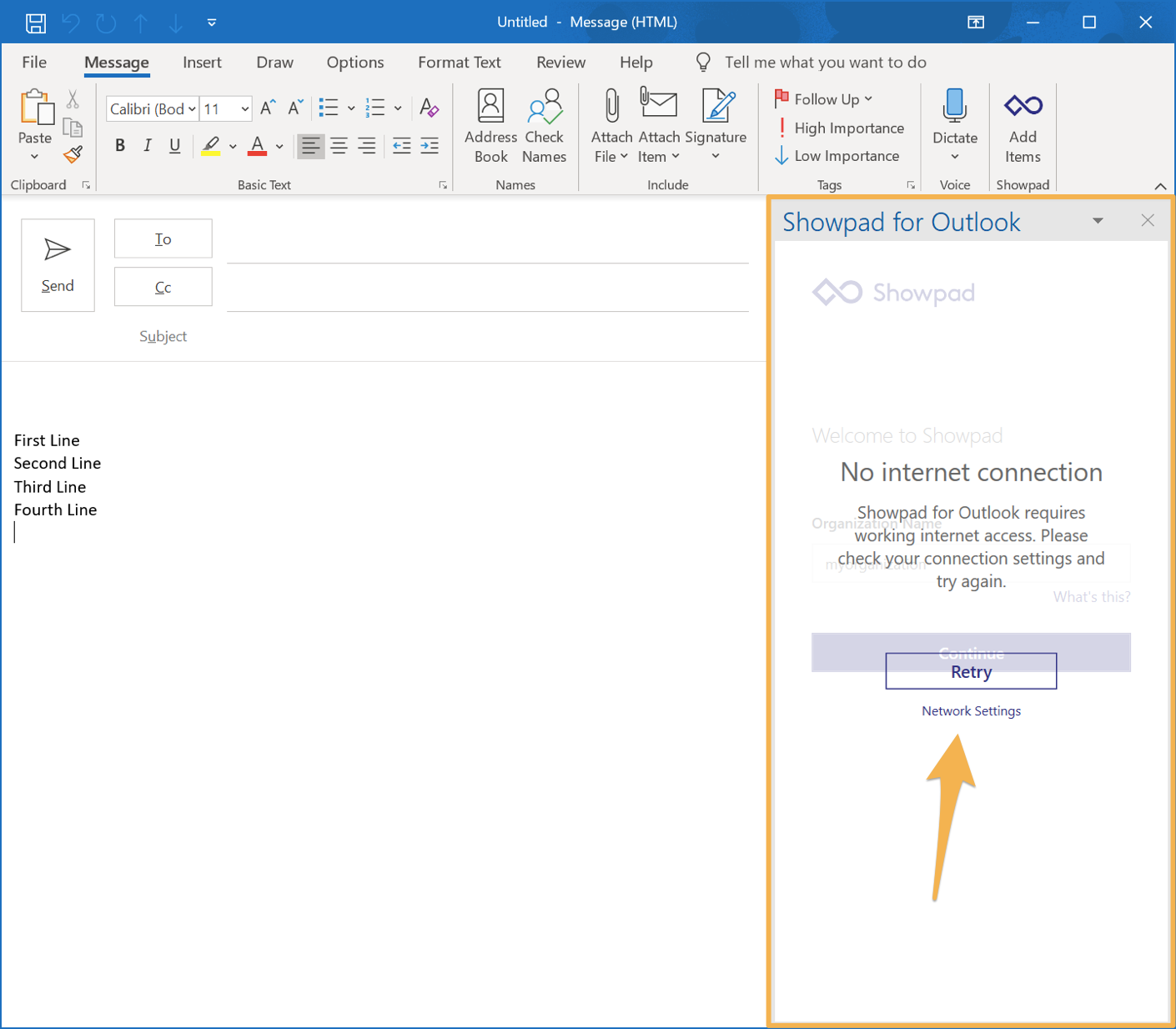 Make sure you have Administrator rights
When installing or upgrading Showpad for Outlook, some files are written and saved in specific system folders. With a standard user login, these folders are not accessible. If you receive an error that some files could not be written, try again with administrator rights by right-clicking the installation file and selecting Run as Administrator.

Update Internet Explorer
When configuring Showpad for Outlook, it's necessary to log in to Showpad. If your browser is not up to date, make sure you upgrade to Internet Explorer 11 or higher. We always recommend using the latest version of your browser.

TLS 1.2 Settings in Advanced Internet Options
Transport Layer Security (TLS) are cryptographic protocols designed to provide secure communications over a computer network. Showpad for Outlook and all other Windows-based Showpad apps requires TLS 1.2 to work. You can find this in the Advanced Internet Settings of your network connection.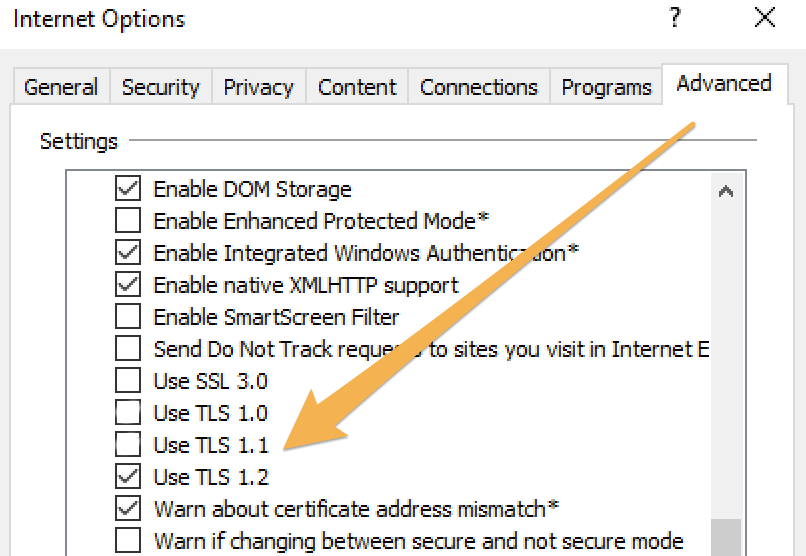 Always enable the Showpad add-in
The Outlook client can randomly disable installed add-ins. There are multiple reasons why that can happen:
Your device is slow and is out of resources
Outlook is slow and needs more memory
Various applications are still starting after a reboot
When prompted by Outlook, allow the Outlook Add-in always to be enabled:
When the add-in problem message appears, click View Disabled Add-ins.
In the Disabled Add-ins dialog box, click Always enable this add-in.
As a precaution, add Showpad as a publisher to the Trusted list.
Outlook 2016 and 2013: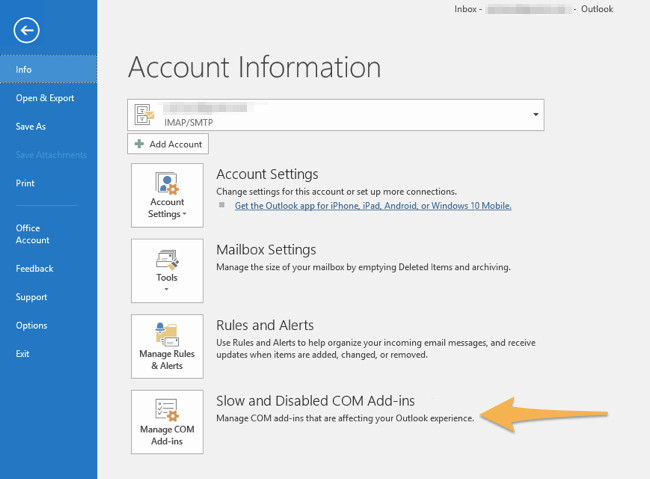 Outlook 2010:
Make sure the Showpad Add-in is visible in the Active Application Add-ins.
Select File, go to Options, Add-ins.
If Showpad is visible in the Inactive or Disabled Add-ins, select Manage, Disabled Items and enable Showpad.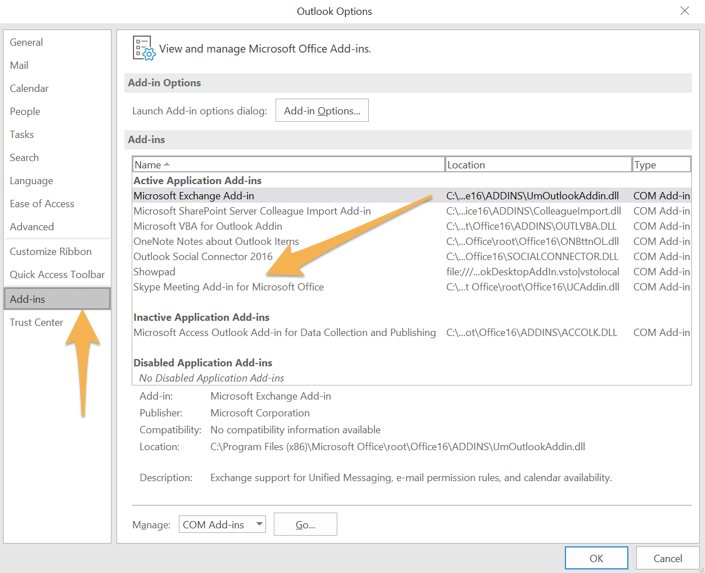 Antivirus software
Add the Showpad for Outlook Add-in to the whitelist of your antivirus software if you notice that the add-in gets blocked. Please contact your administrator or IT Helpdesk to troubleshoot this issue.
The cause of this problem is that our installer writes records into the Windows registry which looks suspicious for the antivirus software. We cannot avoid writing into the Windows registry because without it, our add-in won't be visible in Outlook.
Salesforce or Okta security and login issues
Internet Explorer has a feature called "Zone Elevation protection", which prevents users from being redirected from untrusted web content.
You can add your Okta, Salesforce and Showpad sites to the Trusted sites in your highly-trusted Local Machine Zone to fix these security issues.
Salesforce: add https://*.salesforce.com and https://*.showpad.biz
Okta: add https://*.okta.com and https://*.showpad.biz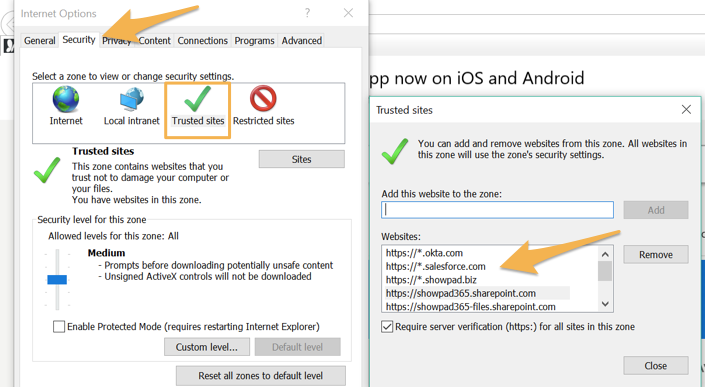 Conflicting policies
Verify that your existing company policies do not block the add-in. Please contact your administrator or IT Helpdesk to troubleshoot this issue.
Using a proxy for internet access
The add-in supports proxy servers for internet access. Check your Network Settings and fill in the correct proxy details.

Enable NTLM/Kerberos support and ClickOnce
Open Internet Explorer and set up NTLM/Kerberos authentication. You can follow the instructions that Microsoft provides.

For ClickOnce errors and information, check out Microsoft's article on how to configure the ClickOnce prompt trust behavior.
Contact our support via Outlook
If you still have issues with the Showpad for Outlook add-in after following the steps in this document, you can always contact Showpad support from your Outlook inbox. You can send feedback with improvements if it's not a blocking issue by selecting Send Feedback.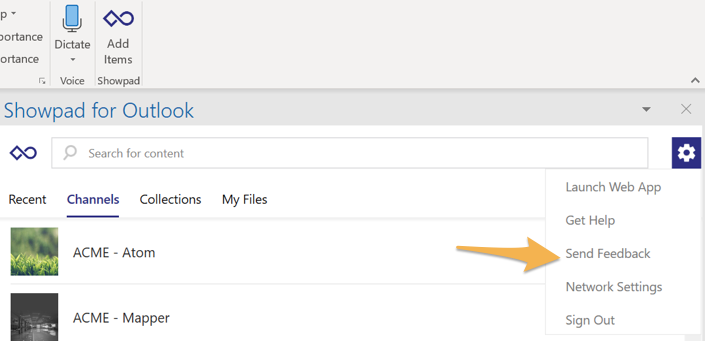 This option will show you a template with technical information about the version. Please add any additional information in the email, describing your issue. If available, the logs of the past 5 days will be added automatically.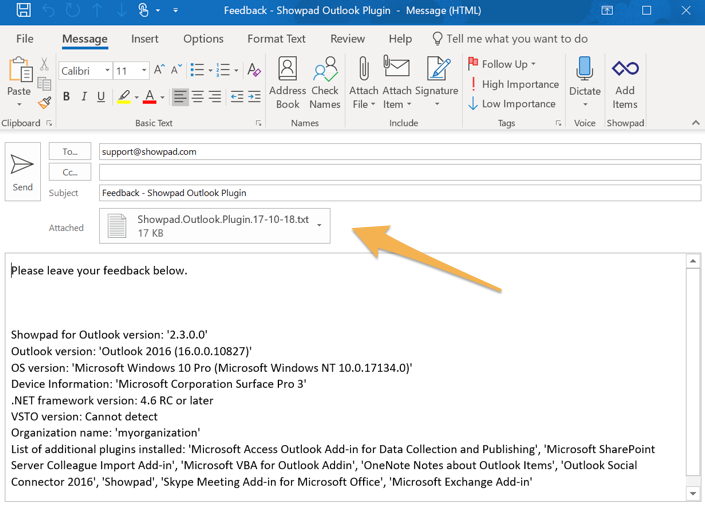 After sending the email, Showpad support will contact you with more information and how you can fix it.