What's in it for you
After installing and configuring the Showpad for Outlook add-in, you can use the Advanced Search to look for content and share it from your preferred platform. Style the email any way you want. Yes, you can even use the Comic Sans font if you really want. Links to the shared Showpad content will be part of the outgoing Outlook email.
You need this to succeed
Showpad for Outlook installed and configured
Content available in Showpad
The quick way to awesomeness
Compose a new email
Select Add Items
Add Content from your Recent files, Channels, Collections, Uploads or Search results
Select a Sharing Theme
Style the email any way you want
Press the Send button
Do this step by step
1. Compose a New Email and click Add Items.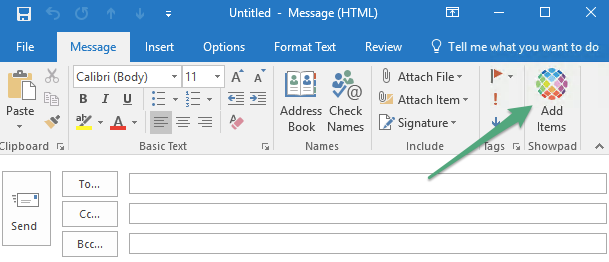 2. There are five options to add content to your email. Select the files you want to share and click Insert to add links to the chosen files in your email.
Recent: Shows your recently shared files, so you can easily share them again.
Channels: Browse your channels to select content. If you use Showpad Experiences, you won't be able to browse the advanced experiences channels because of technical limitations. However, you can find content in those channels by using the Search option.
Collections: Displays the collections you already created. You can select particular content, or choose the entire collection for sharing. In that case, a link to that entire collection will be created.
Uploads: Shows your personal content you uploaded to Showpad. 
Search: Use our advanced search to look for content in your channels.

3. To search for content, click the Search option and start typing the name of the channel, file names or file extensions. We show a top three of results, relevant to the keyword you type.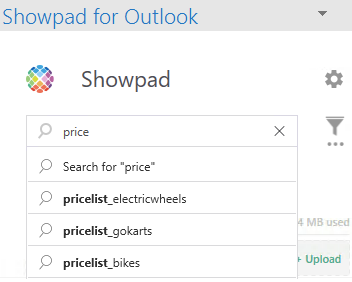 With the Search option in the Showpad for Outlook add-in, we give you the ability to find the correct matching documents based on:
whether the word appears in the title
whether the word appears in a document (PDF, Office files) and is a stemmed version of that word. We support multiple languages so words are appropriately matched to their language-specific stem
whether the word is part of a tag
You can configure the filter to have precise search results:
Search only on filenames and folder names.



Search for exact phrases in a document (PDF, Office files).



Search for specific document types



Search for content that has specific tags

4. Select your preferred Sharing Theme before you send out the links to your content. These themes show your shared content on a custom and company branded viewer. These themes are defined by your Showpad administrator.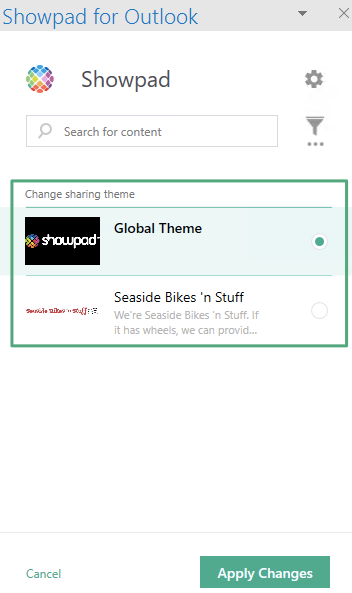 In this example, a collection is shared with the Global Theme. You'll notice that a link to the Privacy Policy is added automatically to the email.
5. When your customer or prospect opens the link in the email, the collection will be opened in the selected Sharing Theme.


In your Share view in the Showpad app, you will see the insights about the content you shared.

It is important to know that Showpad for Outlook can track the email address of your contact if it was only sent to one address. You see the content and what subject and message you used in your email message.
If you share your content with multiple addresses, we can show you on what device the content was opened and on which browser. It is not possible to track one single email that was sent to multiple contacts, also when they are added in CC or BCC.
It's not possible to see that your Outlook email was opened in Showpad's sharing activity. This is because the email is not sent via Showpad, but via Outlook. If you want to have confirmation your contacts opened your email, you can always enable the read receipt option in Outlook, as you would do for normal emails.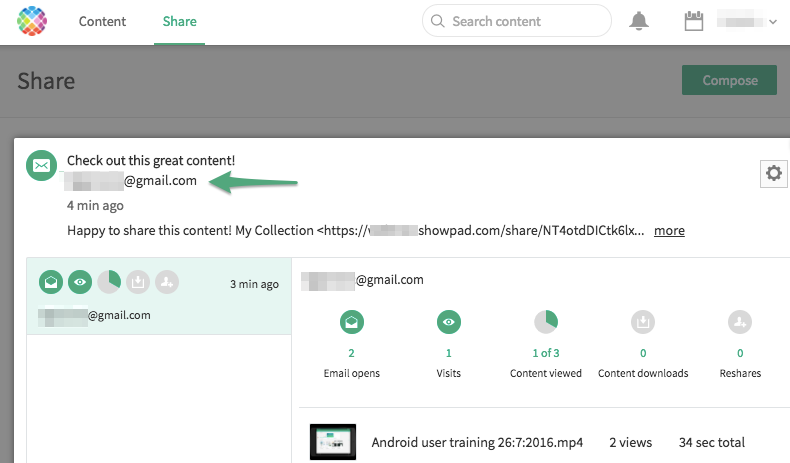 If the content was shared with multiple contacts in one email, you see the device and the browser type: