What's in it for you
After installing and configuring the Showpad for Outlook add-in, you can use advanced search to look for content and share it from your preferred platform. Style the email any way you want. Yes, you can even use the Comic Sans font if you prefer. Links to the shared Showpad content will be part of the outgoing Outlook email. You are also able to log this activity to Salesforce, MS Dynamics, or SAP C4C if your organization has a CRM integration configured.
See how it works
You need this to succeed
Showpad for Outlook installed and configured
Windows 10 (1803) and above to browse Advanced Experiences
Older Windows versions support searching in Advanced Experiences
The quick way to awesomeness
Compose a new email
Click Add Items
Add Content from your recent files, Experiences, collections, My Files, or search results
Select a sharing theme
Style the email any way you want
Press the Send button
Do this step by step
Compose a New Email and click Add Items.
Select the files you want to share and click Insert to add links to the chosen files in your email.
Recent: Shows your recently shared files, so you can easily share them again.
Experiences: Browse your Experiences to select content.
Collections (shown above): Displays the collections you already created. You can select particular content, or choose the entire collection for sharing. In that case, a link to that entire collection will be created.
My Files: Shows personal content you uploaded to Showpad and allows you to manage them in folders.
Search: Use our advanced search to look for content in your instance.
To add content from Advanced Experiences, navigate to assets as you normally would on the Web app, making it easy to find what you're looking for. Under the Experiences tab, click the Advanced Experience you'd like to share content from.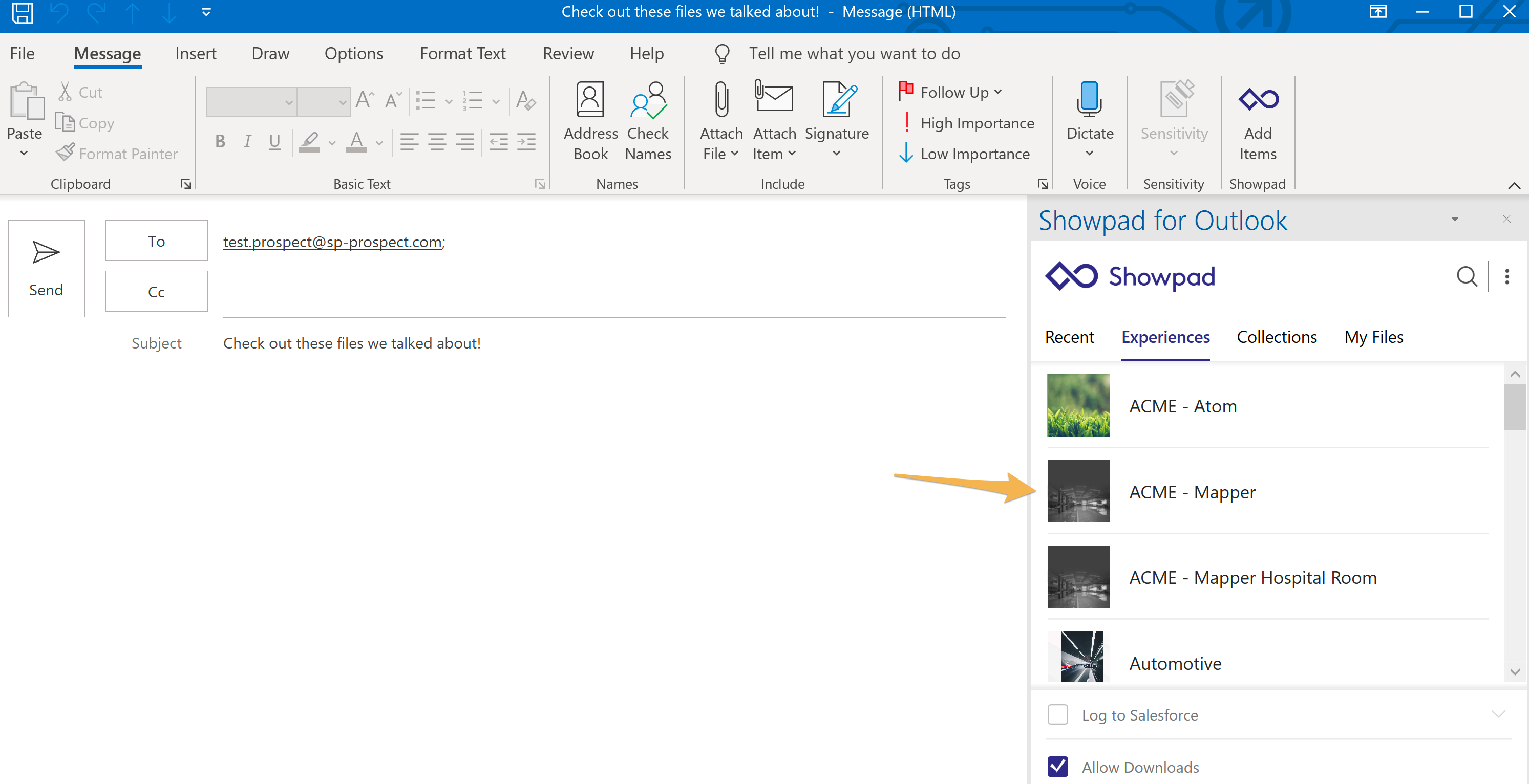 Once you find the content you would like to share, select the Asset icon of each individual piece.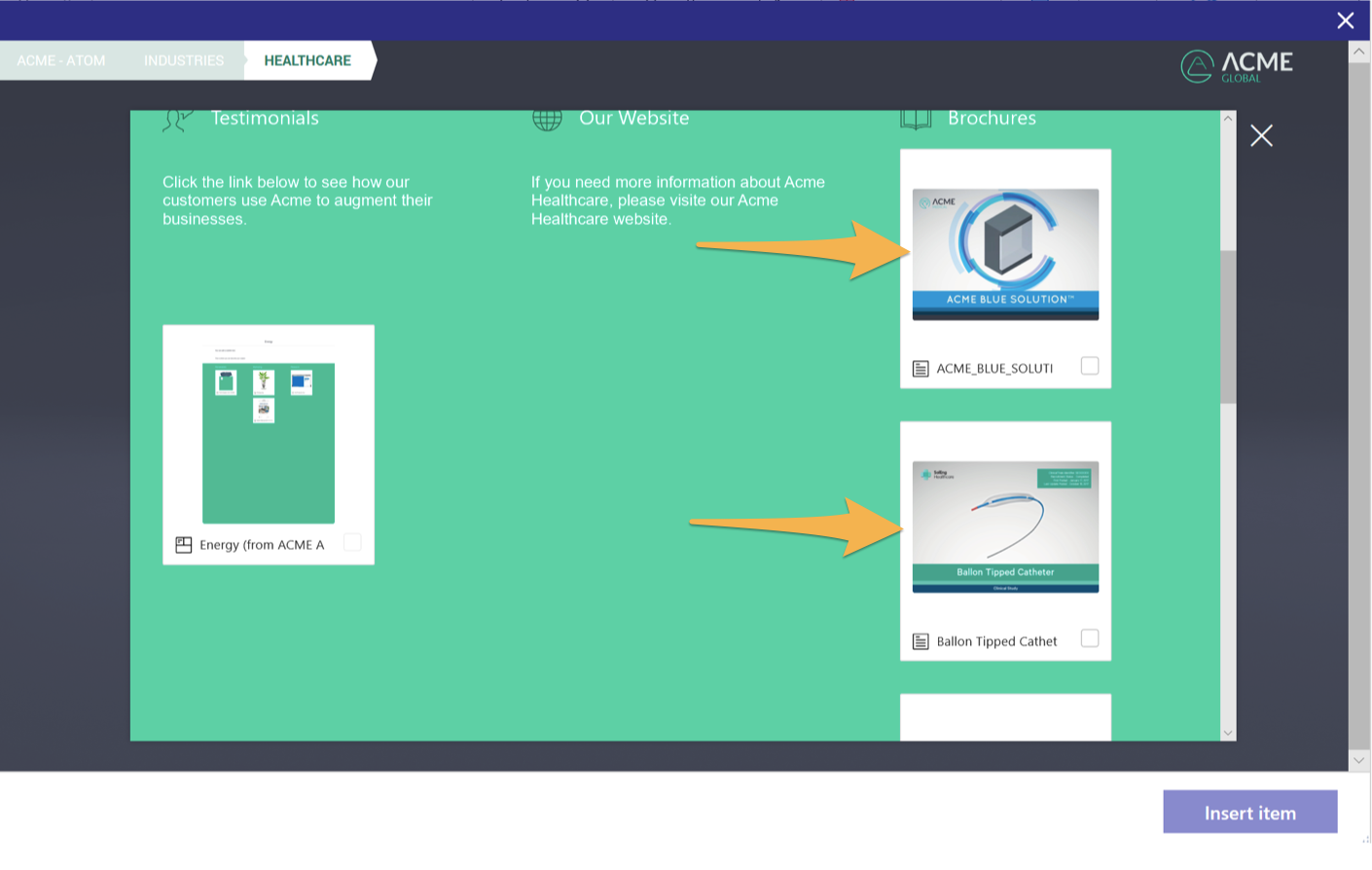 A new box will pop up to confirm your choice. Select the checkbox, then the upper right X in the Asset window to return to the Experience.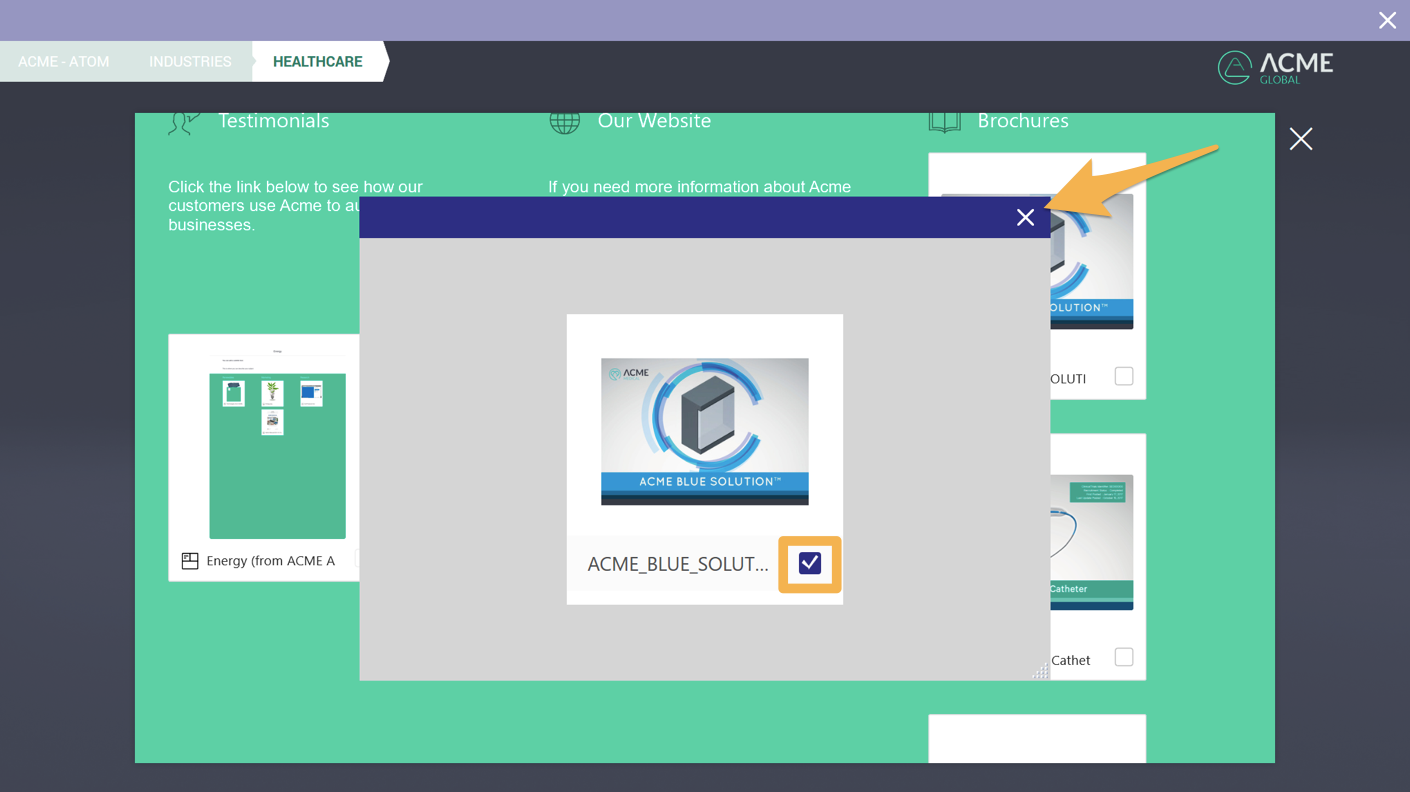 You can select more content by repeating steps 5 and 6, and when you're ready, select Insert item(s) when you're ready to send them in your e-mail.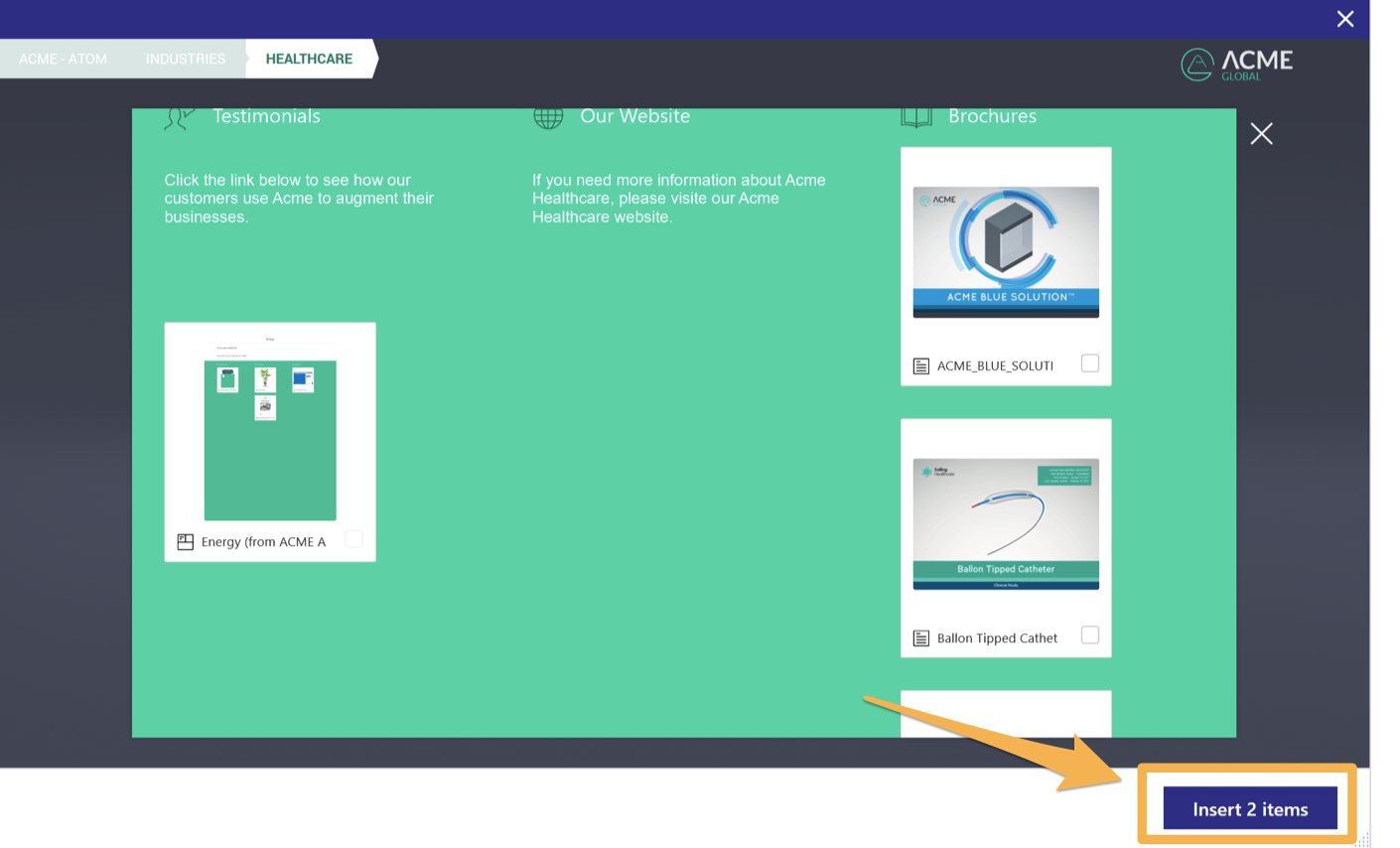 Note: If your email is in the RTF (text) format, Showpad for Outlook does not have the ability to add content.
Check the detail page(s) you want to share, then click Insert Item.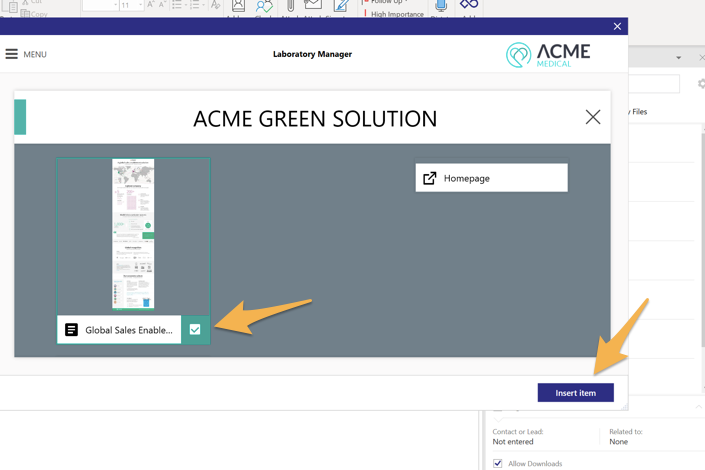 To search for content, click the search icon, start typing the name of the Experience, file name, or file extension in the search field. Suggested assets will appear as you enter text in the search bar.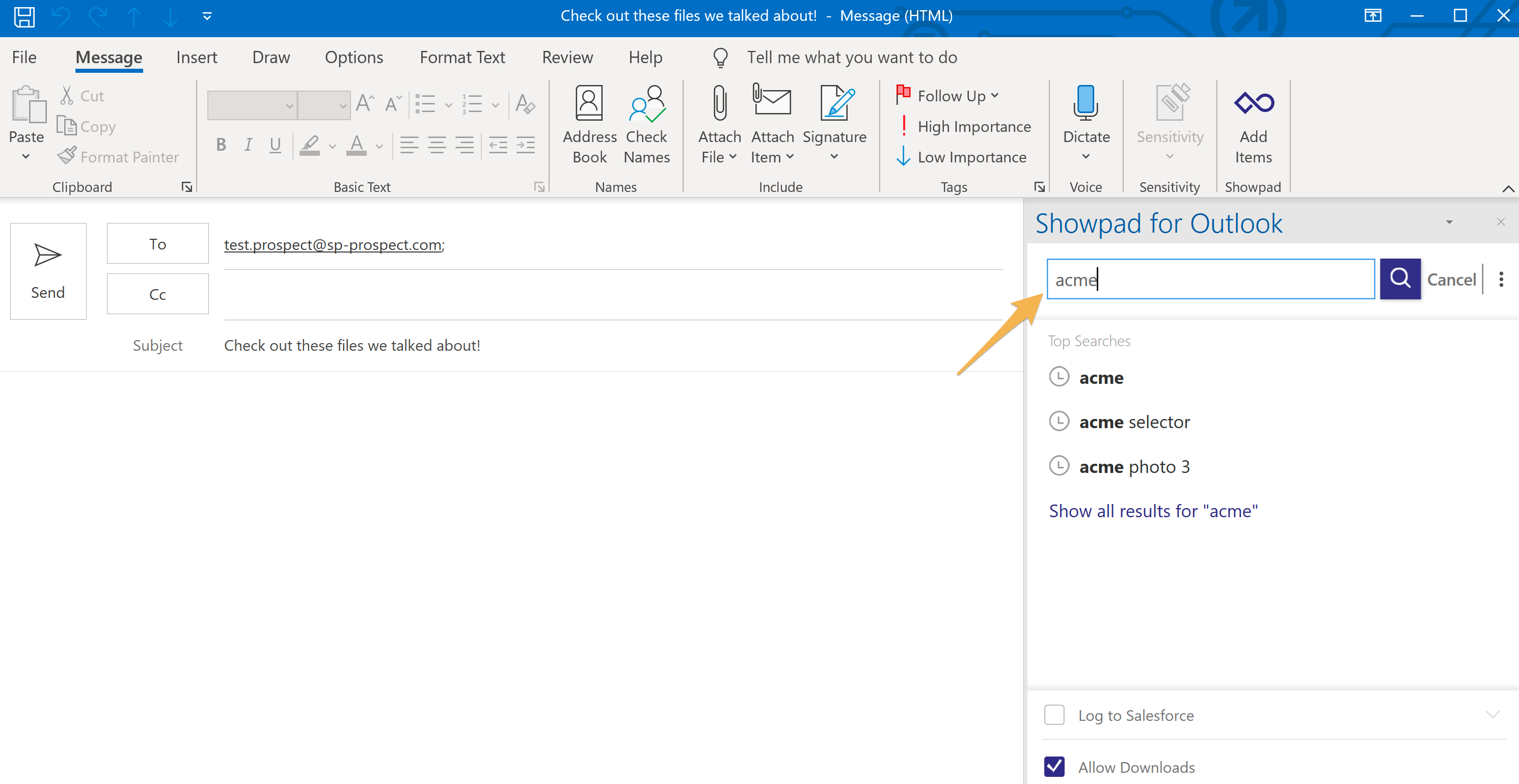 With the Search option in the Showpad for Outlook add-in, we give you the ability to find the correct matching documents based on:
whether the word appears in the title
whether the word appears in a document (PDF, Office files) and is a stemmed version of that word. We support multiple languages so words are appropriately matched to their language-specific stem
whether the word is part of a tag
You can configure the filter to have precise search results. Begin typing what content you are looking for. Suggested options will appear. Click Show all results to configure the filters.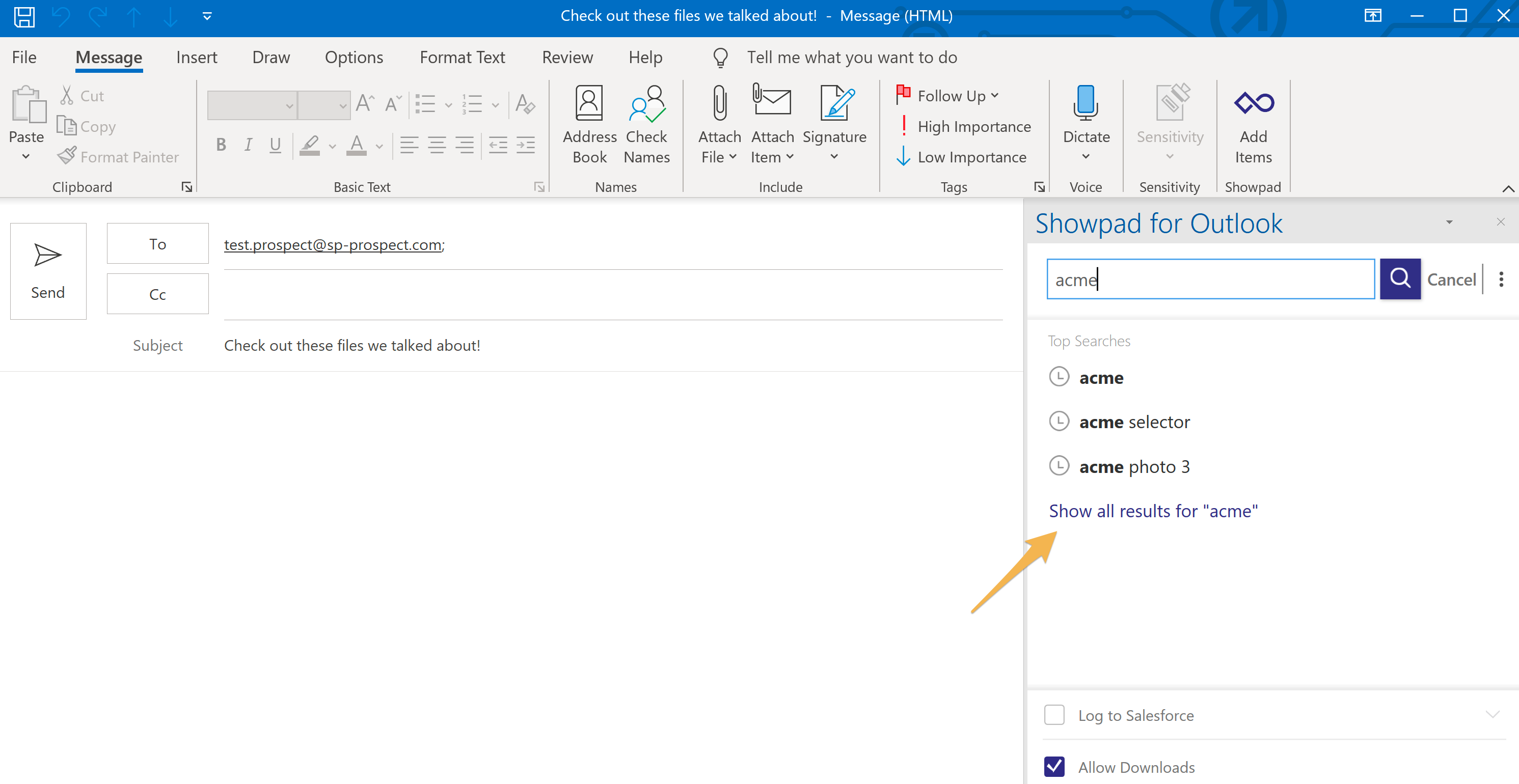 You can specify the document type you want results for or choose the tags you want to include.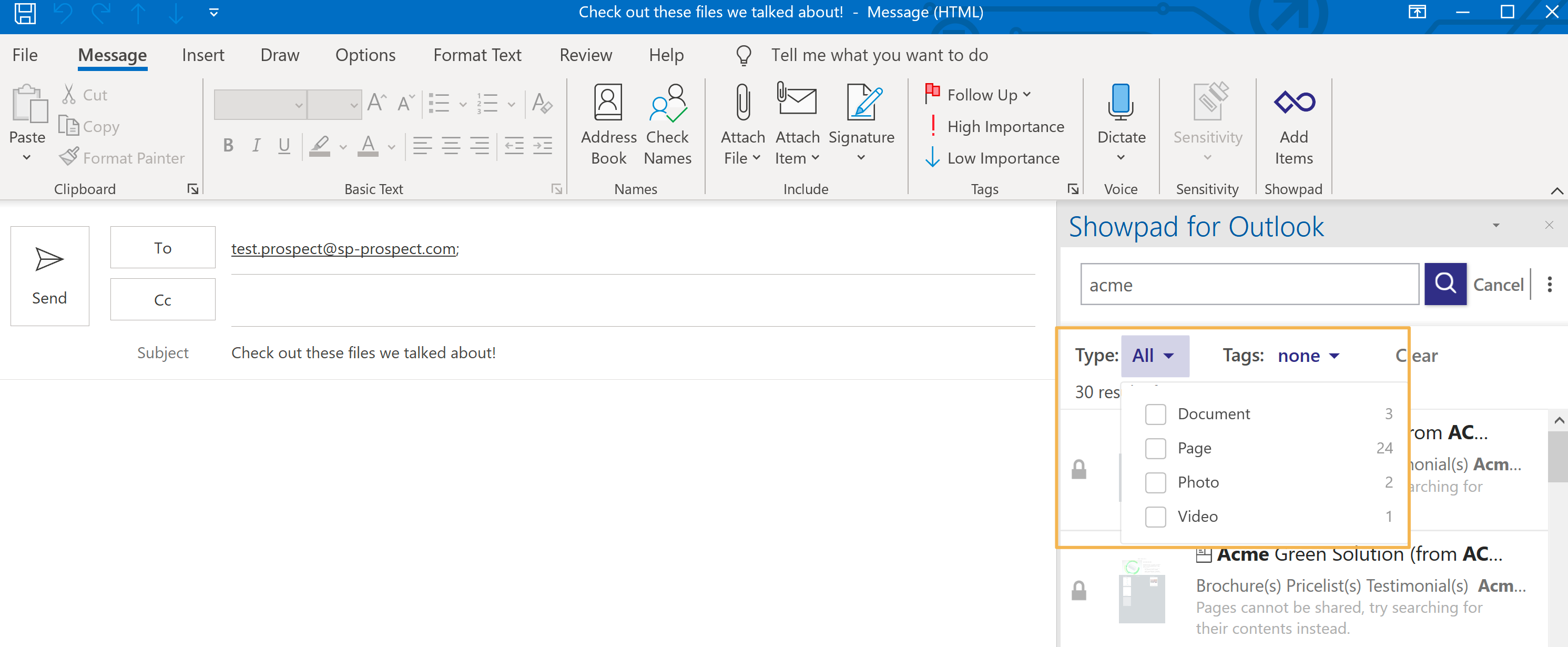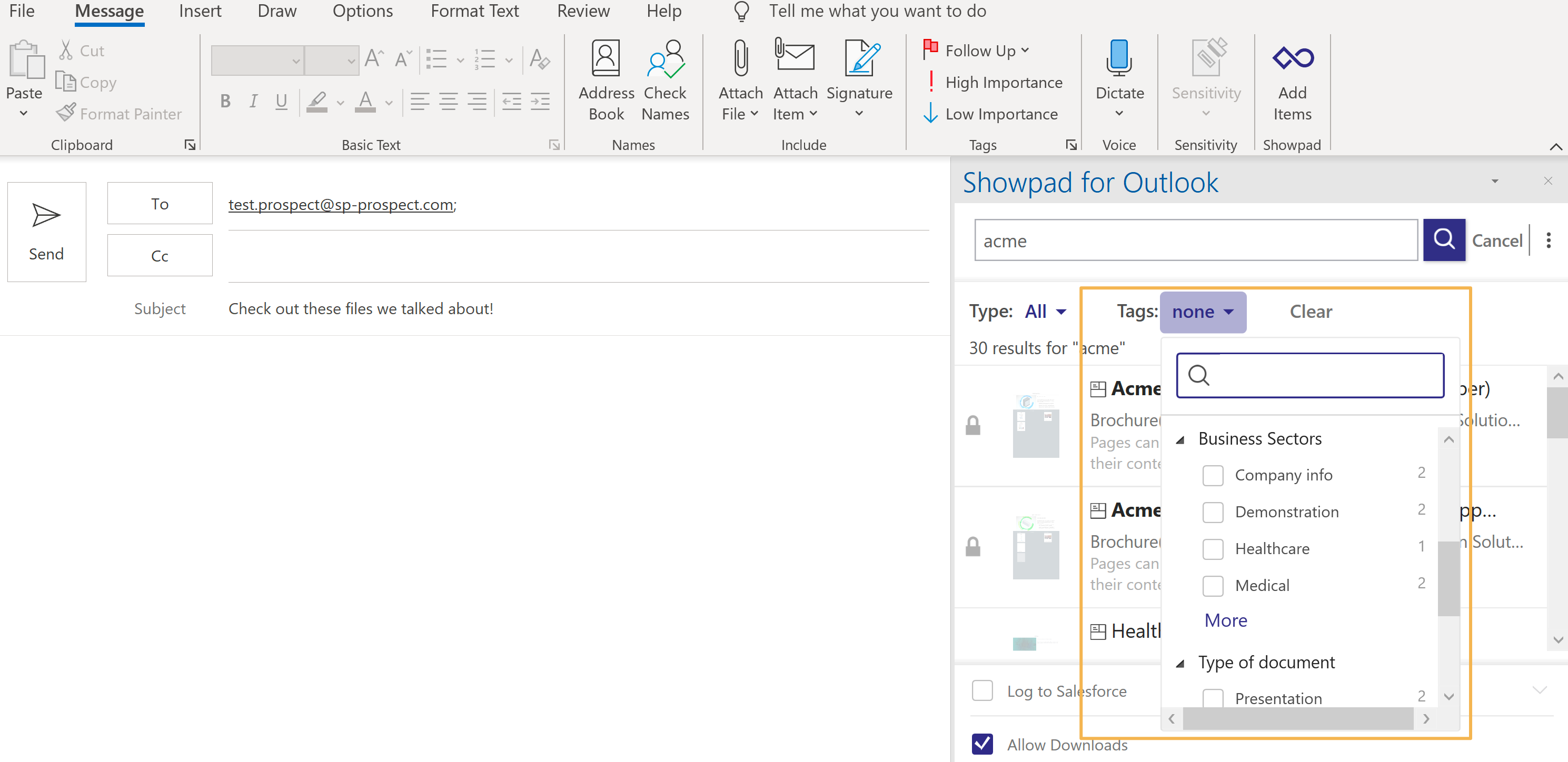 Choose to allow or deny downloading of your personal or confidential files by toggling the Allow Downloads setting. If an asset has been marked as not downloadable by your admin, this toggle will not override that setting.
Select your preferred sharing theme before you send out the links to your content. These themes show your shared content on a custom and company-branded viewer. These themes are defined by your Showpad administrator.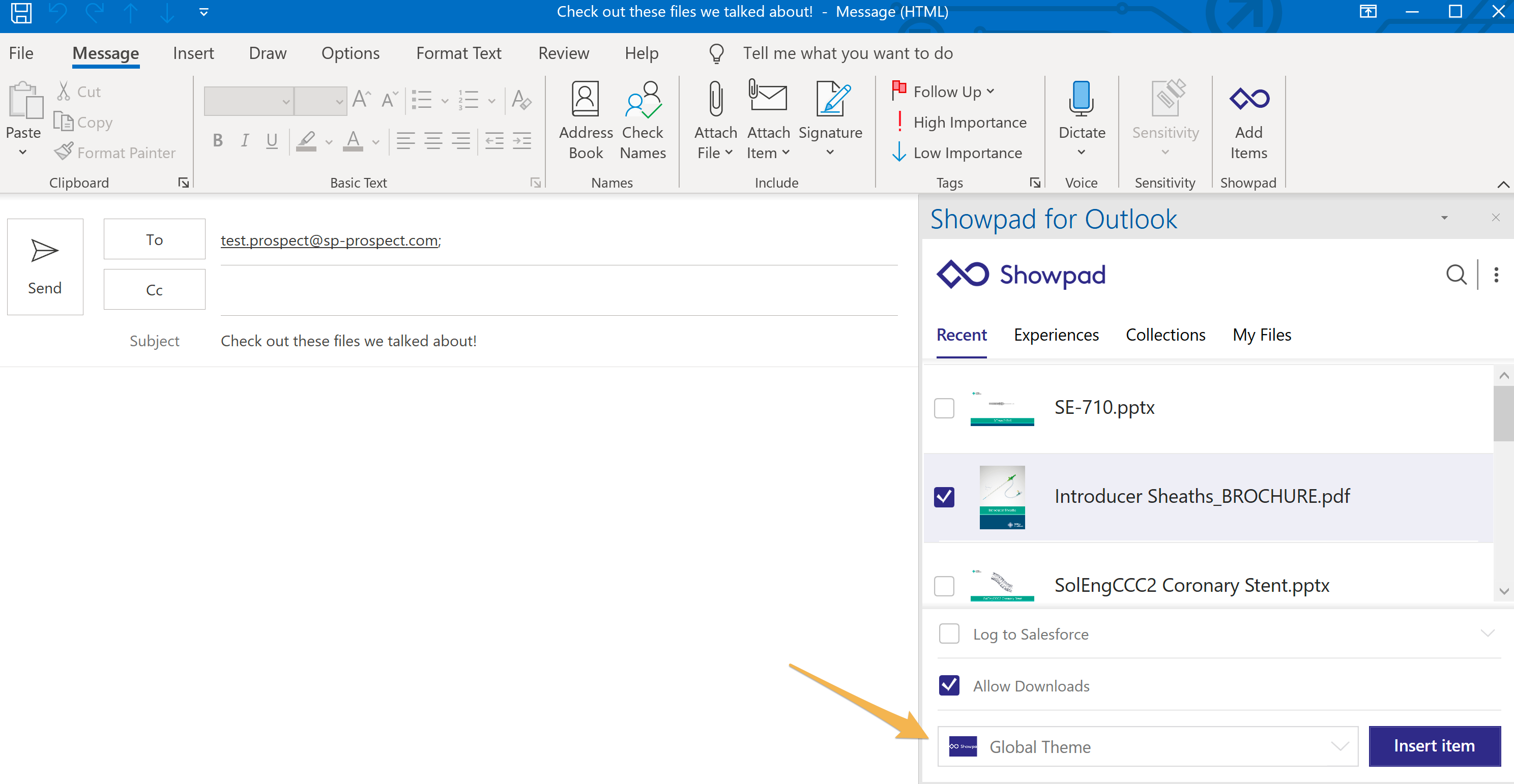 If you have a CRM integration enabled, you will be able to log Showpad for Outlook activity in your organization's Salesforce, Dynamics, or SAP C4C instance. Check the Log to CRM box to sign in with your CRM credentials.
In the To field of your email, type in the email address of your Contact or Lead. Clicking Check Names triggers the recipients to be verified and to be cross-referenced against your data in Salesforce, Dynamics, or SAP C4C. You can also start typing in the email body. That also triggers the Check Names behavior indirectly.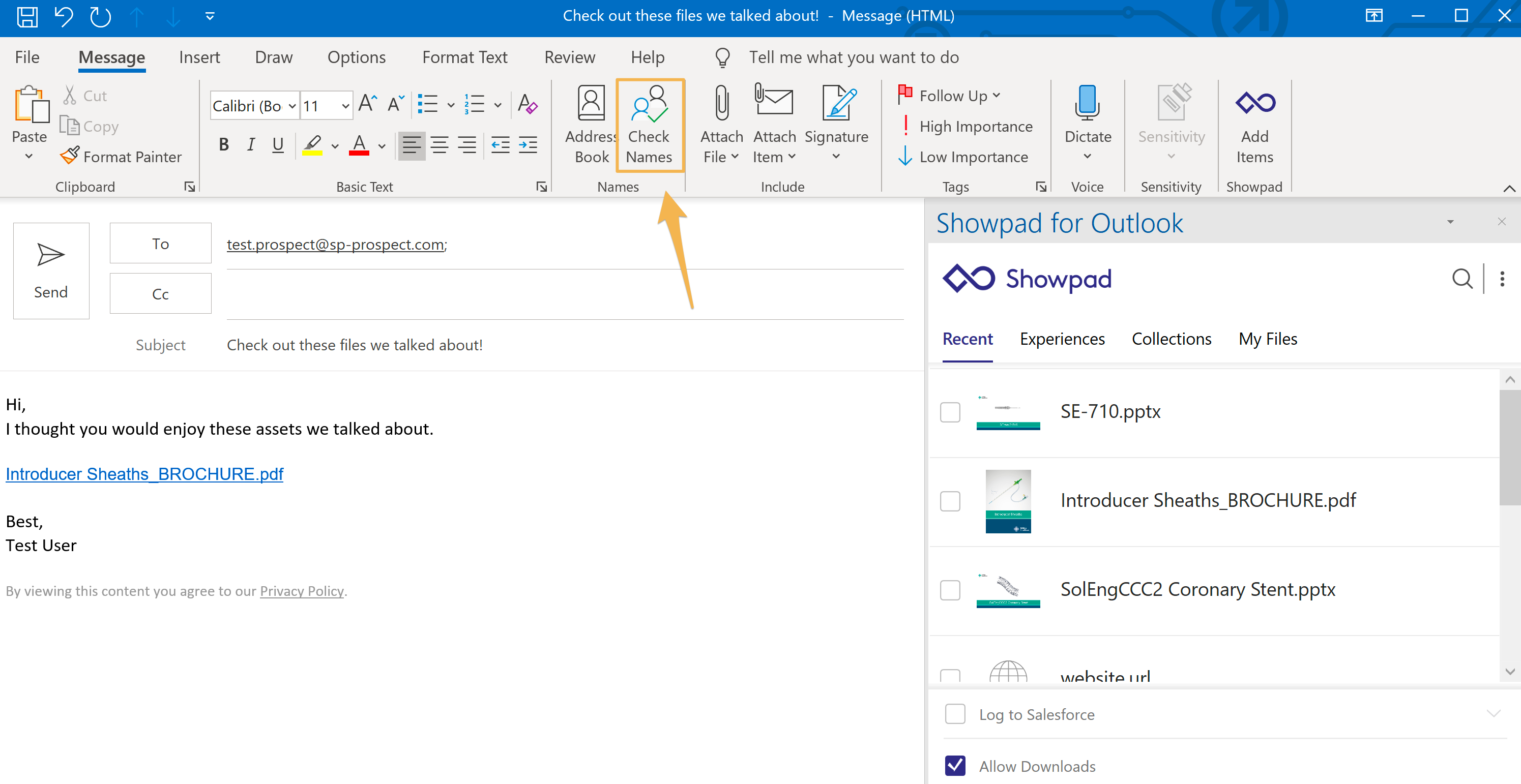 Another way to share content with a Contact or Lead is to manually search for them in the Contact or Lead screen and to click the correct checkbox. This associates the activity with this specific CRM record. You will need to manually fill in the recipient's email address in the To field.

To share content with one of your Opportunities, you can also search for them in the Related to search field. If you don't want to associate the email you're composing to an Opportunity, select None.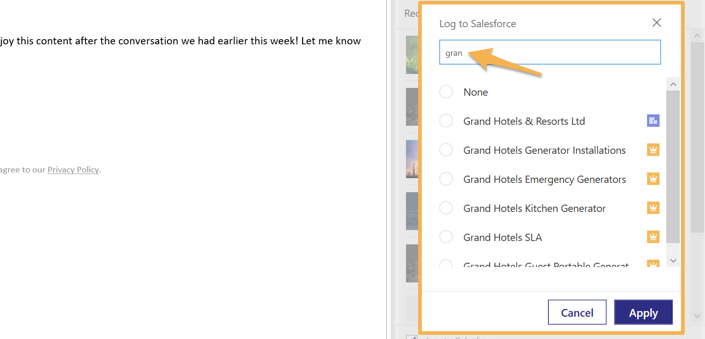 When you insert content into an email, your privacy disclaimer will automatically be included at the bottom of the message.

Note: Avoid saving your email, containing Showpad links, as a draft. There is a high chance that the links will not work as they should when sending the Share email later.
When your customer or prospect opens the link in the email, the collection will be opened in the selected Sharing Theme.

In your Share view in the Showpad app, you will see the insights about the content you shared. Showpad for Outlook can track the email address of your contact if it was only sent to one address. You see the content and what subject and message you used in your email message. If you share your content with multiple addresses, we can show you on what device the content was opened and on which browser.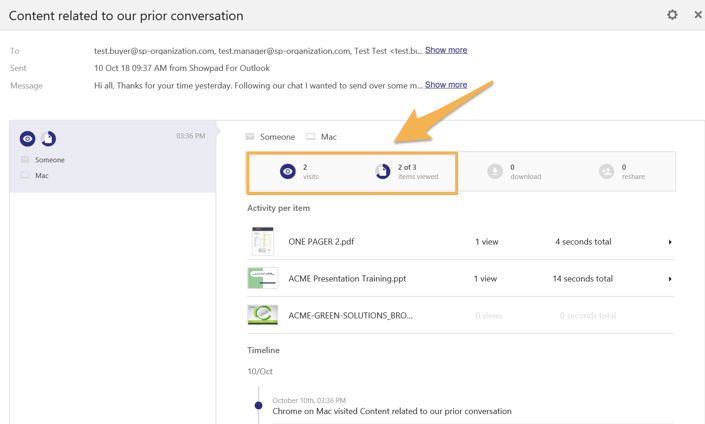 Note: It is not possible to track one single email that was sent to multiple contacts, including when they are in CC or BCC. It is also not possible to see that your Outlook email was opened in Showpad's sharing activity. This is because the email is not sent via Showpad but via Outlook. The standard settings in Outlook block tracking pixels which is how we register email open events. If you want to have confirmation your contacts opened your email, you can always enable the read receipt option in Outlook.
Once the recipient opens the email and clicks to view any of the content in the Share, both the Email Opens and the Visits counter will reflect that they opened the email and clicked some or all of the content.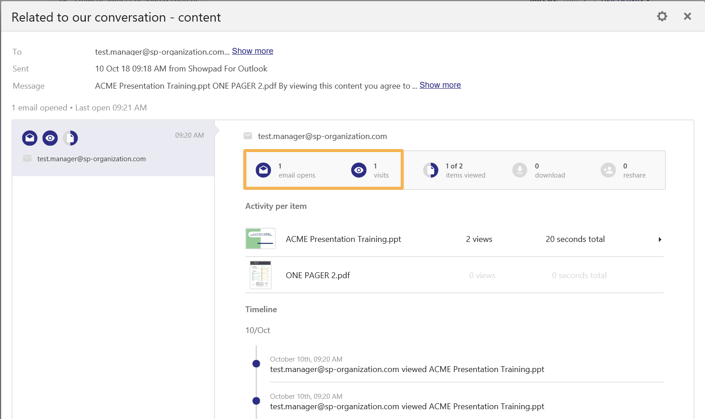 If the content was shared with multiple contacts in one email, you see the device type and the location if available.