Adding Showpad as a Web app inside MS Dynamics allows your users to quickly access their course work and browse and share content, all within their CRM. This allows for increased access and adoption of Showpad as a sales enablement tool, as reps can use it without ever having to leave their CRM. In this article, you will add Showpad IFRAMED into a dashboard.

Whether you use just Showpad Coach or just Showpad Content, or are a platform admin, the installation setup will be the same.
See how it looks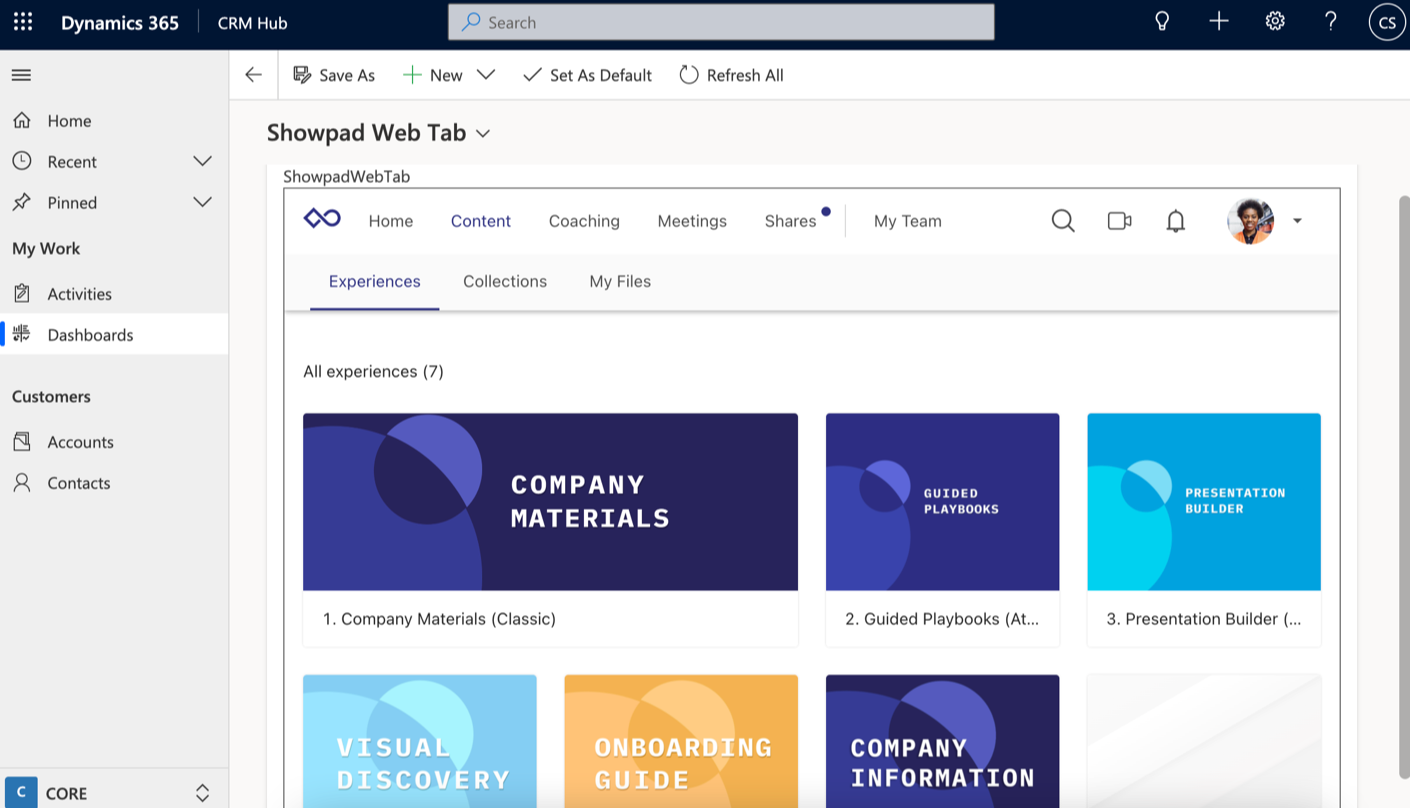 Key features
Display Showpad content and training materials in a Web Tab in MS Dynamics
Let your sales reps access Showpad easily from within MS Dynamics
Increase Showpad adoption
You need this to succeed
Administrator access on MS Dynamics
Access on Showpad's Online Platform
See how it's done
Navigate to the settings gear and select Advanced Settings.
Click Settings in the top menu, then select Customizations.
Click Customize the System. This will open a pop-up window.
Select Dashboards on the side menu. Choose New and select Dashboard.
Click the IFRAME option. In the name field, add Showpad Web Tab. In the URL field, add your Showpad subdomain. Check the box to Display label on Dashboard. Unselect the option to restrict cross-frame scripting. Click OK.
Name the dashboard, for example Showpad Web Tab, then click Save.
Back in the Dashboard overview, check the newly created Showpad Web Tab dashboard, and click Publish.
Ensure you've enabled all the roles needed for the dashboard within the Enable Security Roles section.
Back in the CRM hub, navigate to your dashboards and select Showpad Web Tab. Users will then need to log into their Showpad account.
Browse, search, share, and learn as you normally would in the Showpad Web app.