When utilizing Showpad's content sync capabilities whether via Sharepoint, Google Cloud sync, Box, or the Content API, you conveniently can have all your content and tags available in your Showpad Library. To keep your content management system as your source of truth, assets synced to Showpad are not editable. The option to Unlink an asset or tag allows you to unlink it from its original sync so you delete or edit it as necessary.
When you make an asset local, you will be able to rename it, upload a new version of it, or remove it. However, to avoid creating duplicates next time you sync with your external library, you should remove the file from your external content library.
See how it looks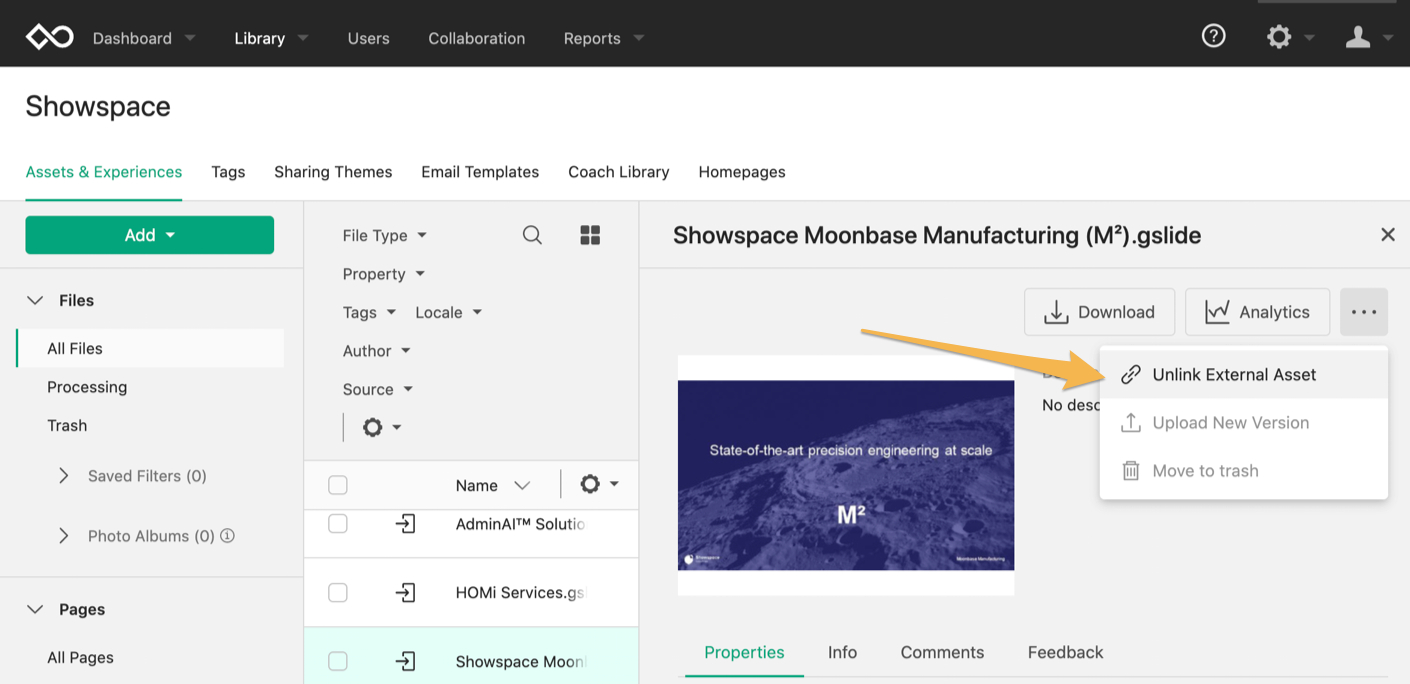 Key features
More flexibility over assets synced from content management systems
Make assets and tags local to Showpad by breaking the link of their synced library
Delete, edit, and rename tags and assets
Do this step by step
Unlinking synced assets
Navigate to your Showpad Library and find the asset you wish to Unlink. Synced assets will be indicated with the sync icon.
Click the three dot menu and select Unlink External Asset.
Confirm you want to remove the connection by clicking Unlink. Keep in mind, if you wish to avoid duplicates in your Showpad Library, remove the asset from your external library before syncing again. This action cannot be undone.
You can now rename the asset, upload a new version, or delete it.
To unlink external assets in bulk, select all the assets you want to make local. Click the Edit button.
Scroll to the External assets section and check the box to Unlink external assets. Click Apply when you're ready. These changes cannot be undone.
Unlinking synced tags
Navigate to the Tags tab of your Showpad Library. Find the external tag you'd like to unlink.
Click the three dot menu and select Unlink External Tag.
You can now rename and move the tag.
To unlink external tags in bulk, select all the desired tags and click Unlink external tags.
You also have the option to replace tags for any of those selected. Do so by clicking any tag, selecting the three dots button, and selecting Replace after locating the existing tag you'd like to replace.