Showpad's detailed Coach engagement reporting brings you the fine-grain details on how Users in your organization are learning with options to aggregate data by User and User Group. These detailed insights will help you see which Users are making progress and who may need some extra attention, or different training methods assigned.
Separate results by PitchIQ and Test and see average scores, percentage toward completion, and which Users who have been assigned have started their tasks. Every report is customizable with fields that can be added or removed with the tick of a box, so you can create and download the data sets that bring you and your peers the greatest value.
See how it works
Key features
View Coach progress metrics in one place
Sort by relevant time period
Download reports as a .CSV file
Compare course engagement stats between Users and User Groups
Reporting data is refreshed once an hour
You need this to succeed
Showpad admin account or promoted user with reporting permissions
A browser to use Showpad's Online Platform with Coach enabled
See how it looks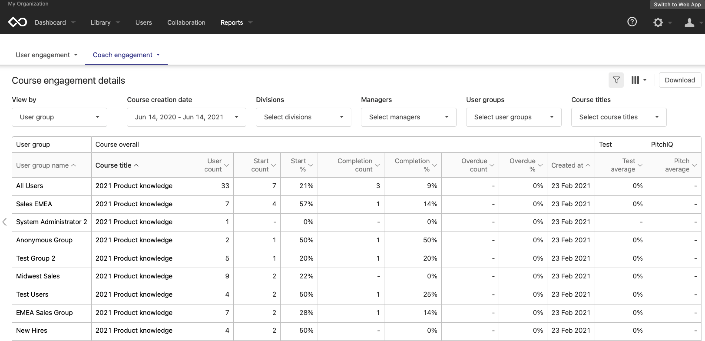 Do this step by step
Navigate to the Reports tab in the Online Platform and select Engagement Reports.
Select the Coach engagement tab. This will give you an overview of your data and what filters you can apply to drill down for specific information.

First, choose whether you want to View by individual User or by User group by using the drop-down menu.

If desired, choose a Course creation date range for the results you want to compare.
Next, if applicable, select which Divisions you want to compare. Check the box for each Division, then click Save.
Select to filter which Managers, User groups, and/or Course titles you wish to view. Check your preferred boxes, then click Save.

Use the options on the top right side to show or hide filters, add or remove fields in the report, or download the report as a .CSV file.

You are equipped with the ability to filter through all User's course progress, and to see at a glance specifics as broad as who completed each course to how far along have they gotten on assigned PitchIQs, and much more.