What's in it for you
To personalize your presentations, you can import Google Slides directly from your Google Drive into My Files, and edit them seamlessly in real-time, either collaborating with others or on your own. You can copy and edit slides provided by your Marketing administrator and feel confident on the go with your best custom presentations at your side.
See how it works
Key features
Bring your own presentations to Showpad
Edit Google slides with the click of a button
See changes in real-time
You need this to succeed
Access to a Showpad account with My Files enabled
A Google drive with content to load
This feature is available on Showpad's Web app
The quick way to awesomeness
Connect your Google Drive to Showpad
Import or download a Google Slideshow
Edit slides the same as in Google Drive
Share your presentation creations
Note: Permissions for editing Google Slides are handled by the admin by enabling the Can Be Personalized option. This setting is off by default.
Do this step by step
Setting up the connection with Google Drive
Add Google Slides from your personal or Shared drive by signing into Showpad
Navigate to Content, My Files, Add.
Choose From Google Drive and use your Google account to log in.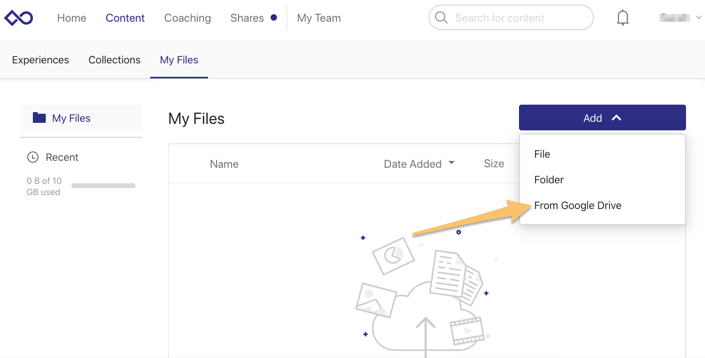 Once you set up your Google Drive link, you can Add from that Drive anytime.
Processing the imported Google Drive content
Processing happens in two steps.
First, the slide is imported from Google.
Next, it is optimized for a smooth display on Showpad. You will see a box in the lower right-hand corner of your screen as your file is imported that will let you know when it's done. When you add a slideshow to your My Files, there will be a pop-up box in the lower right corner of your screen that shows a green checkmark when it has been successfully loaded.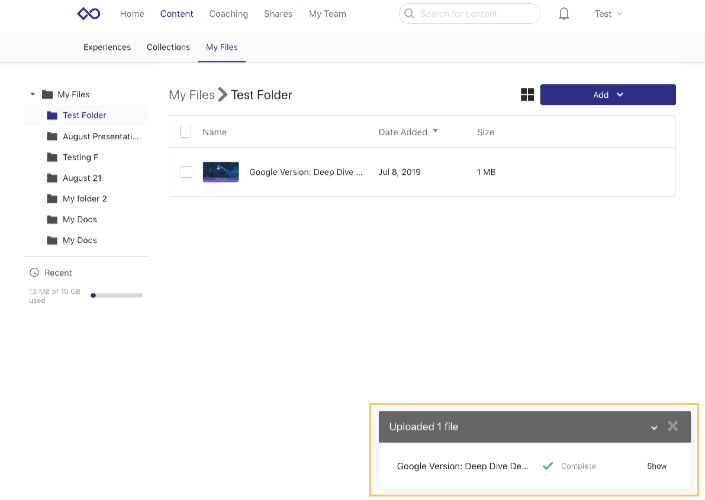 Using Google Slides within Showpad's Web App
When opening a slide, there's a menu bar at the top of the screen that allows you to select the following actions:
Share: via Email, Get a Link or Add to Shared Space
Add to collection: either the entire document or select just the pages you want
Annotate the slide: add notes and comments without changing the original slide
Edit the slide: download a copy or directly edit the content
Show pages: open a menu of the slides on the left side of the screen
More actions: Download, Like and Comment on the presentation
If there has been a change made to the slideshow you're currently viewing, there will be an extra option to refresh the page with the new edits.
Note: For the quickest processing time, edit in Google Slides first, then head to Showpad to see the change. It is possible to edit within Showpad as well via the redirect to Google. Changes will process and update no matter which way you decide to edit.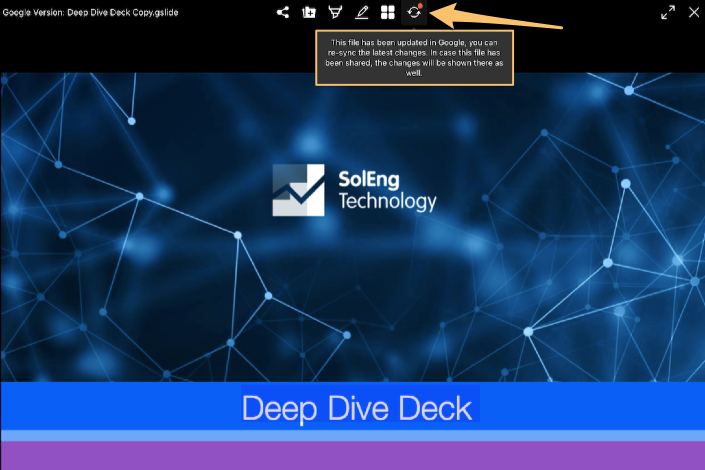 Editing Google Slides
If you decide to edit the slide, you will have the following options:
to download a copy and edit that version.
to edit the original. If the slide was provided by your administrator, you will only have the option to copy the slide and edit your version, so that the content will not change for everyone else.
After you make your selection, you will be redirected to the Google Slide editor. If you are collaborating with others on your team, you will be able to see their edits within Google Slides in real-time.
Google Slides with embedded media
When embedding video in your Google Slides for usage in Showpad, the video won't play after processing in your account. Clicking a video in a Google Slide links to the video file in Google Drive instead. Some viewers might not have access to this drive and won't see the video.
If you want to work with videos, an option can be to link to a public YouTube video and embed those inside your Google Slides. You also have the option to grant them access to the Google Drive video separately.
GIFs will keep working after the slide is optimized by Showpad. There's no need to remove the confetti shower GIF at the end of your Google Slides. Now go forth, and create the best presentations this side of the universe!
Note: If a Google Slide presentation is downloaded, it will need to be opened in Presenter mode in order for embedded animations to render properly. This is found under the View drop-down.