What's in it for you
When a user logs in to the Showpad platform, they're immediately brought to the Home Screen. They are presented with the option to discover or search for content. As an admin, you can bring their attention to particular content and messaging using Spotlights.
This type of announcement lets you display up to 7 messages on their Home Screen. Beneath the message you've chosen to promote, users will also see recommended content, which is 100 percent controlled by machine, based on that individual user's activity.
See how it works
Key features
Highlight content and announcements on the Home Screen with Spotlights
Automatically recommend content for your sales reps
Link to an Experience in a Spotlight message
You need this to succeed
Access to Showpad's Online Platform
Admin role or promoted user with Manage Spotlights and Announcement permissions
Showpad Content or Platform licenses to add content to a Spotlight
The quick way to awesomeness
Navigate to the Collaboration tab in the online platform
Create a new Spotlight
Include an image and attach assets
Publish for your users to see on their home screen
Do this step by step
Navigate to the Collaboration tab, then select Spotlights.
Click New Spotlight.
Add a subject and write a message for the Spotlight.
Content or Platform customers can include content in their Spotlight. To do so, click Insert Content within the message box. Use the search field to find content, or browse your experiences. Check the boxes for the content you wish to include, then click Insert Items.
To add a link to the Spotlight, copy the link you wish to share. This can be a link to an experience, external website, etc. Highlight the text in the Spotlight you wish to hyperlink, then click the link icon. Paste the link, then click Save. If you add a link to an experience, make sure the users receiving the Spotlight have access to it.

Note: To add a link to an experience, go to the Channel Builder, open your experience, and copy the Channel App Link from the settings tab.

To add an image, drag and drop into the box, or click Browse to upload your image. The max image size is 10MB. This image is visible in a 300px by 200px frame and will keep its aspect ratio after uploading.
Click the Show to dropdown menu, and choose Selected Channels or Selected User Groups.
Type into the User Group or Channels field and select from the list the Groups or Experiences you want to see this Spotlight message. If you select Experiences, anyone assigned to that Experience will see the Spotlight.
Check the box for Publish later if you wish to select a day and time the Spotlight message will be published. Leaving this box unchecked will publish the Spotlight upon clicking Publish.

Note: The timezone of your system is used when creating a Spotlight message. If you configure a Spotlight message to appear at 10 am tomorrow, it shows up at 10 am, relative to your system settings.

Choose an optional Expiry date.
Choose to Save as Draft or click Publish.
In the list of all Spotlight messages, you will see a column of Read percentage. This is the percentage of users that viewed the Spotlight message on their home screen out of all the assigned recipients. If a user no longer has access to the Spotlight as a recipient, their view no longer counts towards this percentage.
Understanding the user's Home Screen recommendations
Below the Spotlights, a user will see their recommended content. If a user doesn't have any Spotlights assigned to them, they will only see their recommended content. Recommendations are completely AI-driven, and they are prioritized based on what your individual user is actually doing within Showpad. Users will see up to 8 recommendations, which can be a mix of content and coaching materials. The recommended asset's name and description will appear, if applicable.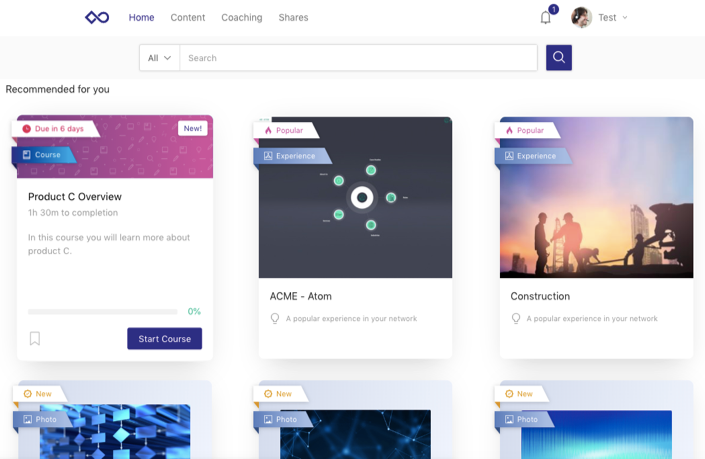 Content recommendations will take into account:
New assets or experiences: Anything that was recently published that a user hasn't seen yet
Popular assets or experiences: Highly viewed assets over their lifetime that are not used by the user
Trending assets: Highly viewed assets in the last 30 days
Updated assets: Regularly used assets that have been updated
Similar assets: Anything that is similar to currently used assets
Coaching recommendations will take into account:
Due courses: Uncompleted required courses assigned to the user that are due soon
Uncompleted elective courses: Uncompleted elective courses assigned to the user
Popular elective courses: Elective courses that other users have taken
Note: Updates to asset names and descriptions will require one hour to reflect on the home screen.