As an admin, you know how much simplicity is valued. When you log into Showpad, you are greeted right away by imaged insights and useful information on your team's activities. Read on to find out how to best utilize the two panels of your admin dashboard.
See how it looks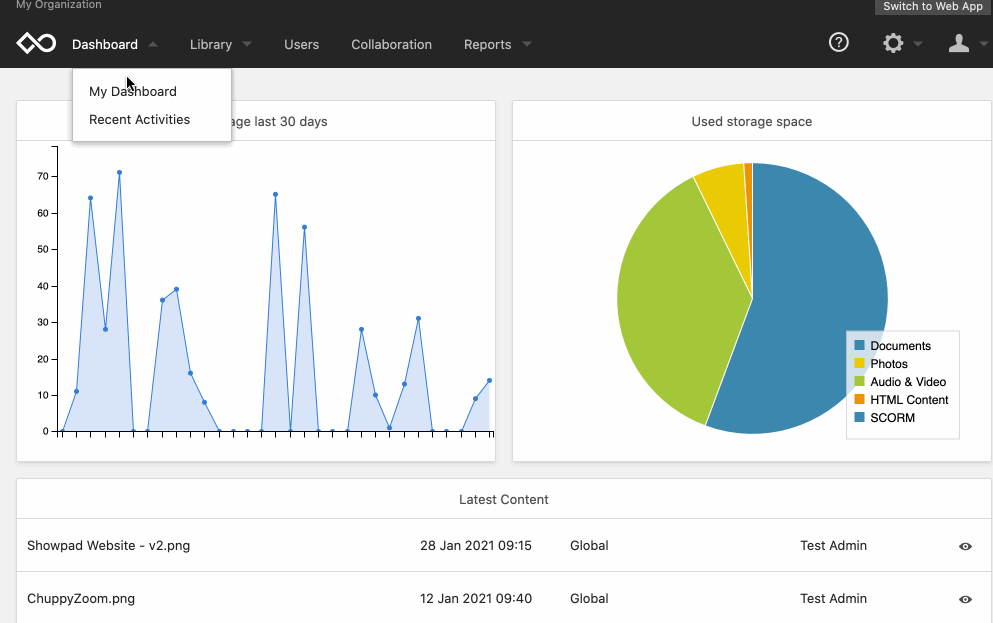 Key features
See assets at a glance
See and manage feedback in one hub
Two panels of insights
You need this to succeed
Admin or Promoted member/Library access to your Showpad instance
See it in a flash
Toggle between the automated Dashboard and Recent Activities home screens
Track app usage, storage space, the latest uploaded content, and received comments on My Dashboard
View, filter, and visit assets, feedbacks and comments in the Recent Activities tab
Do this step by step
My Dashboard tab
Your admin dashboard is a one-stop hub to keep an eye on your Showpad instance and the activity within. It's the first screen you see when logging in as a Showpad administrator.
What can you find in My Dashboard:
Two graphs indicating the usage of Showpad in the last 30 days and the storage space used.
A section including the latest assets uploaded to your Library. You can preview an asset by clicking the eye icon next to it.

A section displaying the public comments you received on your assets. You can answer or remove them by clicking the Comment link below the comment.

Recent Activities tab
You can toggle between My Dashboard and Recent Activities to get a full picture of your team within the platform.

The Recent Activities tab will allow admins to see Showpad action at a glance. Activities can be filtered by Types, File Authors, and Divisions. The Recent Activities page will always show activities that happened within the last 30 days, with time stamps under the activity description.

Here are the Activity Types and what they mean:

Comments: Public comments left by users on assets
Expired content: Assets that disappear for users after a certain date will appear here when they have expired within the past 30 days
Feedback: Private feedback sent to authors is visible here as well
Likes: See when a user has given an asset a thumbs up
New Content: Assets uploaded within the past 30 days
Released Content: Assets that were pre-scheduled to release will appear here at the time designated

Filter by Division and File Authors to find activities quickly. Click Go to Library when hovering over the activity to go directly to the related asset based on the type of activity viewed.
Promoted users within Divisions who can manage content will see activities that apply to their permissions here as well, within their division or list of content they have authored.

At times, you may receive feedback from your users. If the author of the asset has access to the Library, such as an administrator or promoted member, they will receive an email notification when feedback has been submitted. If they do not, you as the admin will be able to see all feedback within the My Activities page. The e-mail notification contains the same link that clicking Go to library provides in your dashboard.

Authors with library access and admins can choose to resolve or dismiss feedback and add an optional note to the submitter.

Feedback is private to the author(s) and admin(s) only. In the asset detail pane, you can view the history of all resolved, dismissed, and outstanding feedback from users.