What's in it for you
Adding the Showpad Web app inside Salesforce allows your users to quickly access their course work, content, and more within Salesforce. This allows for increased access and adoption of Showpad as a sales enablement tool, as reps can use it without ever having to leave their CRM. The Showpad Web app can be added as a Web Tab in Salesforce. Whether you use just Showpad Coach or just Showpad Content, or are a platform admin, the installation set up will be the same.
See how it looks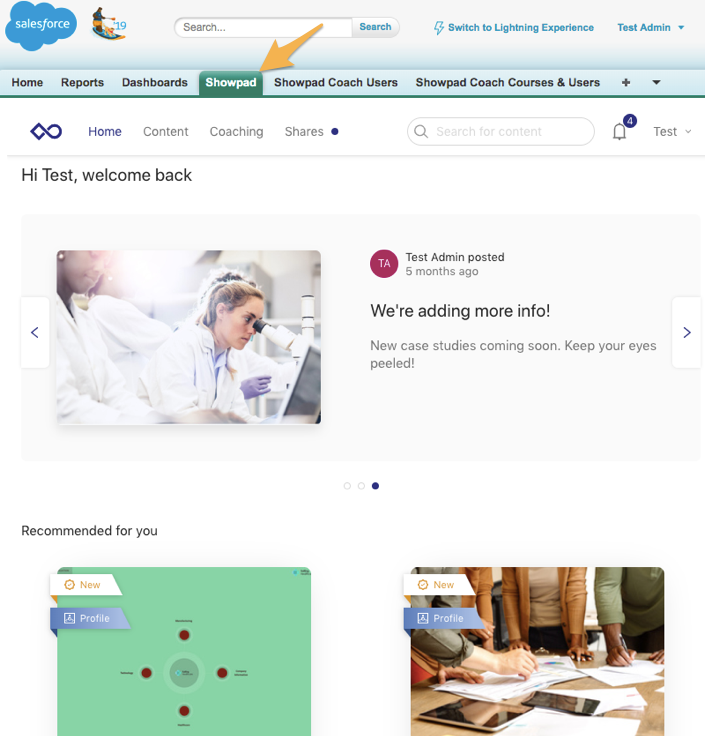 Key features
Display Showpad content and training materials in a Web Tab in Salesforce
Let your sales reps access Showpad easily from within Salesforce
Increase Showpad adoption
You need this to succeed
Administrator access on Salesforce
Access on Showpad's Online Platform
To follow this guide, switch to Salesforce Classic View if Lightning View is enabled
Select your Salesforce Experience
See how it's done on Salesforce Classic
In the top right corner of Salesforce, find and click Setup.
On left side-bar find Build, and click Create.
Once Create opens, click Tabs.
Scroll down the page to Web Tabs and click New.
We suggest utilizing Full Page Width, click Next.
Enter Web Tab Information and click Next.


Tab Content Definition: URL (if applicable)
Tab Label: Showpad
Tab Name: Showpad
Tab Style: Select one
Content Frame Height (pixels): 1200


In the Button or Link URL, enter https://OrganizationName.showpad.biz/content click Next

Allow access to all or specific profiles by selecting Default On and click Next

Include Web Tab in Custom Apps and click Save
Your users can now add the Web Tab in Salesforce. You can view and share the steps they need to follow to enable the Showpad Web Tab here.
See how it's done on Salesforce Lightning
Start by adding Showpad as a CSP Trusted Site. Navigate to Setup, then CSP Trusted Sites in Salesforce.
Click New Trusted Site.
Add a new CSP Trusted Site Definition, using https://yourdomain.showpad.biz as the domain.
Under CSP Directives, select the frame-src. Click Save.
Navigate to Setup, search Experiences, then select All sites. Click the Builder for your Experience Cloud.
Through the Builder, we will create a new page for the Showpad Web Tab. In the top menu click Home, then select New Page.
Select Standard Page.
Choose 1 full-width column for the layout. Give your page the name Showpad (you can leave the URL as showpad as well. Click Create to save the new page to your Experience Cloud.
We will now add an HTML Editor Lightning component and configure the page. Click the Lightning icon, then search for HTML Editor.
Drag and drop the HTML Editor to your page. Try to drag it as close to below the navigation pane as possible.
In the HTML Editor configuration pane, click Edit Markup. Add the following code, then click Save.

<iframe src="https://

yourdomain.showpad.biz/content/" style="width:100%;height:1200px;border:1px solid #aaa;"></iframe>
You will now see Showpad's login screen. To add your new page to the Experience Cloud navigation, click the Navigation bar to open it's configuration pane.
Click Navigation Menu, then click Edit Default Navigation.
Click Add Menu Item and select your Showpad Page. Give your new menu item the name Showpad. Click Save Menu.
Click Publish to make your changes visible to your Experience Cloud users. They will now have a Showpad tab, which behaves similarly to the regular Showpad web tab for internal Salesforce users. Just like with the normal web tab integration, your users will need to log into Showpad the first time they load the tab.


Your users can now add the Web Tab in Salesforce. You can view and share the steps they need to follow to enable the Showpad Web Tab here.