PitchIQ allows users to practice the skills needed to have effective sales conversations with prospects. Managers can then provide 1:1 coaching to their team. Some popular uses are for demo certification, employee message consistency, and on-boarding.
Showpad offers many custom settings that admins can configure for their users prior to them submitting their pitches for review. For the more non-critical pitches, such as sharing a great client story, you can request peer reviews for feedback, grading and constructive thoughts.
PitchIQ role-playing scenarios are built to mimic real-world communication and are an effective way to teach and learn among teams.
See how it works
Key features
Provide various options for users to submit their pitch submissions for review

Custom grading criteria so assessments are aligned with your organization

Set pitches to be reviewed by the learner's manager only

Allow users flexibility in when and where they record their pitches
You need this to succeed
Showpad Coach or Showpad Platform Plus or Ultimate package

Admin or promoted member permissions to course content

A presentation goal for your PitchIQ configuration
The quick way to awesomeness
Enable PitchIQ module in course creation step one
Provide details on the goal of the PitchIQ
Determine what type of PitchIQ it will be
Configure settings based on the PitchIQ type
Do this step by step
To start configuring a PitchIQ module, drag and drop it from the left side menu into the course. PitchIQ can work in connection with Learn and Test, or be a stand-alone module. If you started with the Standard template that already has one PitchIQ, you cannot add another. When adding the PitchIQ module to the course, the settings will automatically open. You can close them out by clicking the X, and reopen them anytime by clicking anywhere within the module. The next section will cover setting options.

Start by selecting the PitchIQ type from the drop-down menu. Choose from Recording, Authored, Upload, Screen Capture, or Voice over.
If you select Recording, Screen Capture, or Voiceover, use the checkbox to determine if it will be a webcam pitch. If left unchecked, users will use their microphone only.



Recording –

Users record a pitch using their device's microphone and/or webcam.

Write – Users write a pitch to simulate authoring an email.

A text box will be provided in which users will write a response to the PitchIQ goal.

Voice Over –

Users will be adding commentary using their device's microphone and/or webcam to a static PDF file. You can allow users to upload their own file, or as the admin, you can upload the file you want them to commentate. Accepted file types include: .ppt, .pptx, ppsx, .xls, .xlsx, .doc, .dox, and .pdf

Upload –

Users will upload a video file they've created outside of the Showpad platform. Video files can be uploaded in the following formats: .mp4, .mp3 .mov, .wmv, .avi, and .webm

Screen Capture – Users will record content on their screen along with either audio-only or webcam recording.

This is best used for process and product demo purposes.
Add a PitchIQ Goal to help explain what you want your reps to achieve with their pitch.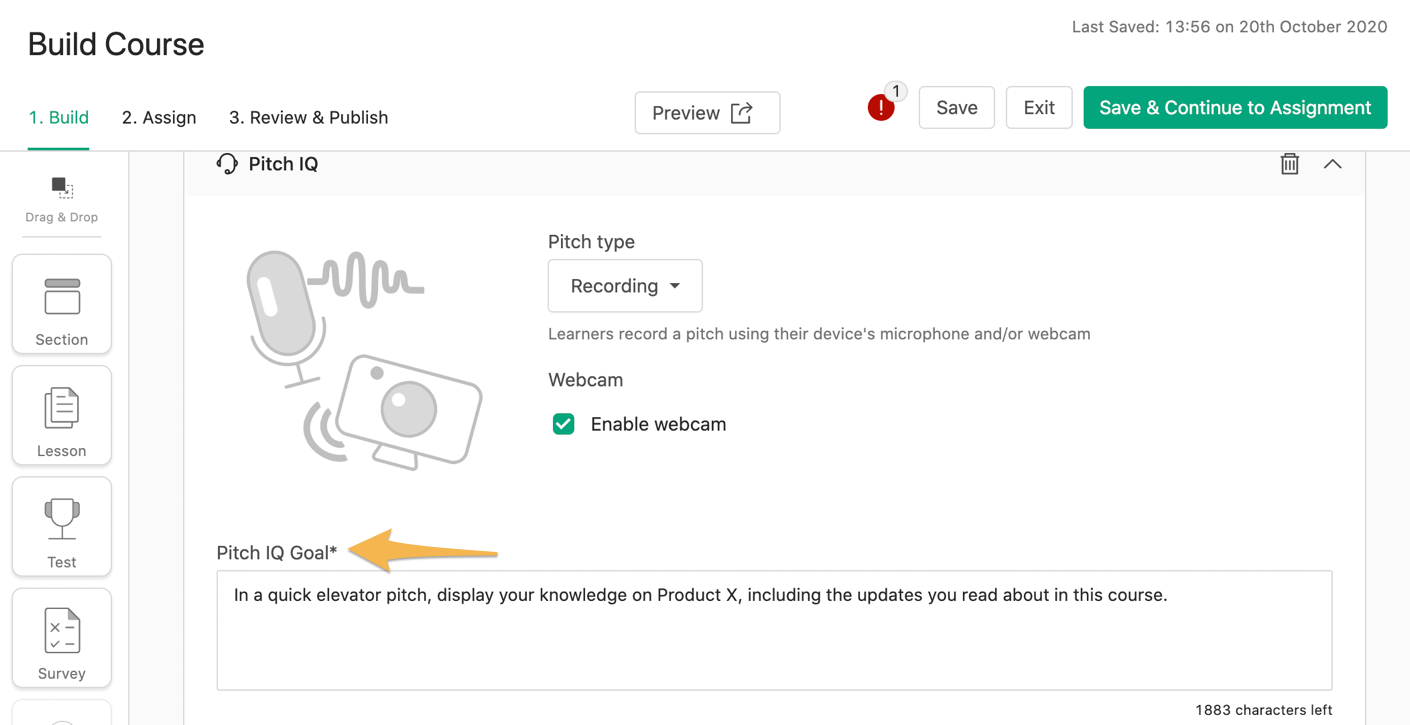 Next, choose your PitchIQ Metrics. Select the 5 metrics that align with the course you are creating. Only Default and Active criteria will appear as options for your users. Click the criteria to display a drop-down menu with the other criteria options that are available, as well as definitions for each. Read more about customizing PitchIQ criteria here.

PitchIQ Settings
Open the PitchIQ Settings by clicking anywhere within the module.


Setting a target time allows users to understand the approximate time this pitch should take. Going over or under the target time won't stop the recording. Their performance based on that understanding can be factored into your scoring criteria.

We recommend keeping the target time under 10 minutes.

Enter a passing score percentage. Check the box if you want to require users to get a passing score to pass the course. This means if they get below the passing score, they will fail the course.

Next, choose your PitchIQ panel for reviews. Select Managers, Peers, and/or Admins as reviewers.
If you select Manager, it will be the Manager assigned to the user group who will be assigned to review, not the Direct Manager.
If you select to have peer reviews, enter a max number of peer reviewers. The reviews will be assigned to random selection of users who are in the same user group and assigned to the same course as the user who submitted the PitchIQ. The reviews are distributed evenly among peers based on the number of peer reviews you indicate in the course builder. For example, it shouldn't end up that one user has been assigned three Pitch reviews while another is assigned zero reviews. Peer reviewers do not get automatic reminders about their reviews due, but admins and managers do.
If you select Admin(s), choose which admins you want to review from the drop-down menu.
When a user completes a PitchIQ, it is able to be reviewed at any time. Check the box if you wish to assign a due date, and add the number of days after a pitch is submitted that you want the review done. You can lock a final review date by checking the box to finalize scores upon the submission due date. This means reviewers will not be able to review a pitch past its review due date.
If needed, admins or promoted members with access can unlock a course that is past its finality date by picking a new deadline, which will allow it to be reviewed again.

Choose which scorers will count towards the Official Score. Check the checkbox from the group of panelists you wish to count for the official score.
Select if you want to make users PitchIQ submissions visible on leaderboards, on the social page, and in search results. If you select this option, choose if you want users to see everyone's pitches enrolled in the course, or only users within their group.