When a user logs in to the Showpad platform, they're immediately brought to the Home Screen. They are presented with the option to discover content from their Home Screen recommendations or search for content. Users will also see recommended content that is 100 percent automated, based on that individual user's activity.
See what's on the Home Screen
Below the Spotlight messages, a user will find their recommended content. If a user doesn't have any Spotlights assigned to them, they will only see their recommended content. Recommendations are completely AI-driven, and they are prioritized based on what your individual user is actually doing within Showpad. Users will see up to 8 recommendations, which can be a mix of content and coaching materials. The recommended asset's name and description will appear, if applicable.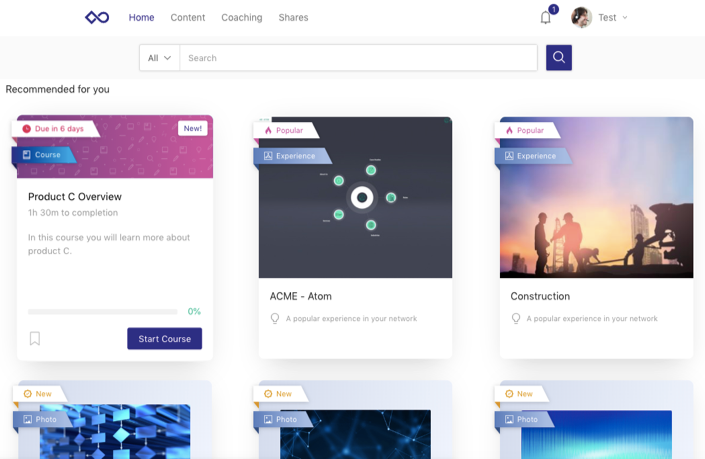 Content recommendations will take into account:
New assets or experiences: Anything that was recently published that a user hasn't seen yet
Popular assets or experiences: Highly viewed assets over their lifetime that are not used by the user
Trending assets: Highly viewed assets in the last 30 days
Updated assets: Regularly used assets that have been updated
Discover assets: Assets that are similar to other popular assets you've already viewed
Similar assets: Anything that is similar to currently used assets
Coaching recommendations will take into account:
Due courses: Uncompleted required courses assigned to the user that are due soon
Uncompleted elective courses: Uncompleted elective courses assigned to the user
Popular elective courses: Elective courses that other users have taken
Top Rated: Top scored PitchIQs
Note: Updates to asset names and descriptions will require one hour to reflect on the home screen.