What's in it for you
Channels allow you to organize your content and distribute it to the relevant users or user groups in Showpad. You have the ability to delete content from within a channel on Showpad. This method only removes the asset from the Channel, not the Content Library, so that you can still use that asset in other relevant Channels if desired. This is a good tool to use if you know you may want to use the asset elsewhere, but it no longer fits with the organization of a particular channel. 
Content can be deleted from Channels manually, or if you utilize Smart Folders, you can edit the associated tags to automatically delete content. Keep in mind that if your asset is just outdated and you only want to replace it with a newer version, you should update the file within the content tab instead of deleting it.
See how it works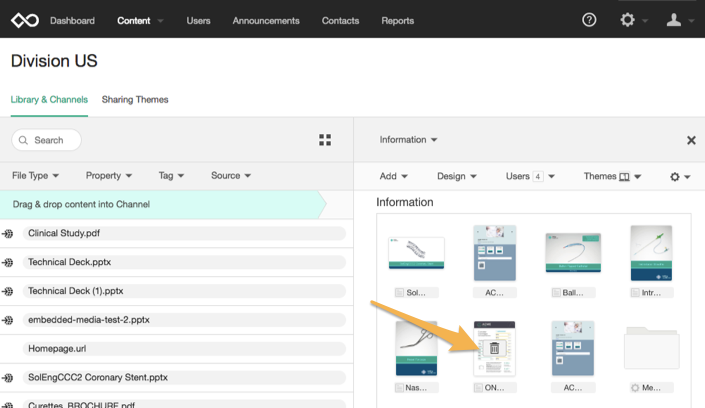 You need this to succeed
Administrator access on Showpad's Online Platform
Assets in your Content Library
One or more Channels available
Do this step by step
Delete individual assets 
In the top menu click Content.
If your organization uses Divisions, click the relevant Division.
Click the Open Channel Builder button. 
Select the Channel you'd like to edit.
Hover over the asset you want to delete. Click the trash icon. 
Click OK when prompted. 
If you use Smart Folders, you can also delete assets from a Channel by removing the related tags for the Smart Folder. Read more about editing Smart Folders.