What's in it for you
Microsoft PowerPoint provides an intuitive and clear way to display a lot of information. Like other types of documents, you can upload these files to Showpad. We convert all PowerPoint files to PDFs to ensure a great user experience while using the Showpad app.
When a prospect or customer downloads these files, the converted PPTX files will download in their original format, depending on how you, as an administrator, configured the permissions for these files.
Microsoft Office has options that let you embed fonts, for example, to match your documents with your company's branding. By using these options, the fonts, layout, and styling of the document won't change, and special characters don't become unreadable. To embed fonts in your Microsoft Office files, depending on which version you're using, please take a look at the article on Microsoft's support site.
PPTX and PPSX PowerPoint files can play embedded media on the Web app, iOS app, and the Windows app after the conversion by Showpad. In this article, you can find out more how this works.
Note: Only PPTX and PPSX files uploaded after Nov 14, 2018 will have playback capability. There will be no migration of existing presentations in Showpad. If unsupported effects are used on videos the rendering of the video may be impeded.
See how it looks
A PPTX with an embedded gif: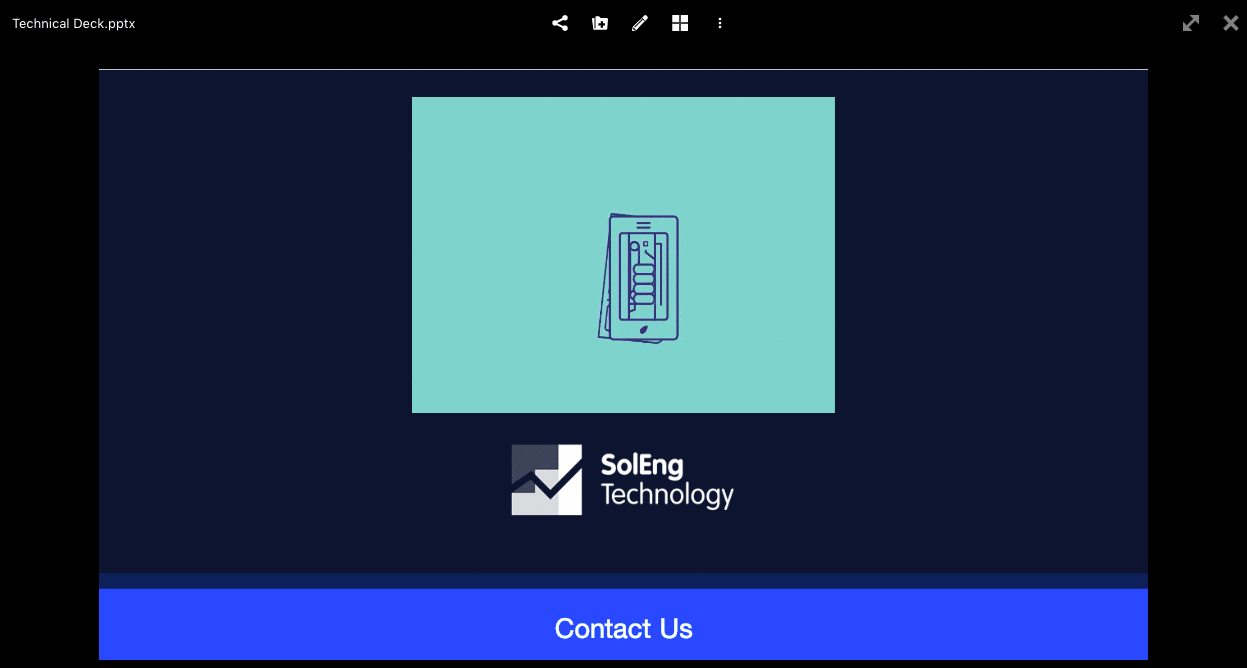 Key features
Files are converted to PDF for a great user experience
You can upload PowerPoint documents with a file size of up to 2Gb
Microsoft Office documents with a file size of up to 500Mb are optimized for mobile usage
For Powerpoint PPTX and PPSX files, embedded media can play in the converted document
As a customer, if enabled, you can download the original MS Office file
Note: While Microsoft Office documents with a file size of up to 2Gb can be uploaded and distributed, they cannot be previewed in channels. Reduce the file size to less than 500Mb for a better user experience.
How Showpad handles PowerPoint Files
Hyperlinks & Asset links
For hyperlinks and asset links, we advise converting your file to PDF and then add the links in the PDFs file. Take the PDF best practices into account when doing so.
Note: Exporting to PDF from within Microsoft Powerpoint allows you to keep the links when uploading the PDF to Showpad.
Asset links are also an excellent way of achieving the same effect as an embedded video in a Powerpoint presentation.
We advise converting the Powerpoint presentation to a PDF file, upload the video in Powerpoint separately add then add an asset link behind the preview of the video.
Read more about asset links in this article.
Powerpoint files with embedded media
For Powerpoint presentations, know that some functions are native Powerpoint concepts and will therefore not be available in Showpad as the file is optimized as PDF.
If your presentation includes videos or GIFs embedded in your PPTX and PPSX Powerpoint files, these will play back in Showpad with the play settings you designated in Powerpoint on all devices. Playback ability is only compatible for these two file types.
While the asset may be downloadable, the embedded media itself is not downloadable or shareable.
Best practices when using embedded media in PPTX/PPTS
We recommend reviewing these tips and recommendations when uploading PPTX/PPTS files that contain embedded media files:
Feature/Function

Best practices

Compatibility

Support for embedded media in Powerpoint assets in Showpad is supported specifically by PPTX and PPTS file types. PDF, Google slides, etc are not currently compatible.

Adding videos to PPT or PPTS files
For PPT or PPTS powerpoint files, playback for videos and GIFs is not compatible. You can use asset links to achieve using videos with presentations. If the videos also exist separately in Showpad, you can link from the presentation to the video. These asset links work offline within the Showpad app. The analytics for the video are tracked separately from the presentation.
Read more about using asset links.
Video specifications
Video files are best rendered when using a reasonable bit rate. We recommend converting to MP4 for optimal performance. Videos from streaming services such as Vimeo or Youtube will not play in Showpad. Effects added to the video can impede the rendering of the video within the PPTX/PPTS. To learn more about best practices with uploading video files, review this documentation.
Available PPTX customization settings
For embedded media in PPTX on the Web app, the following settings will work: crop/trim (in space and time), rotate, flip, turn sound on/off. For embedded media in PPTX on mobile apps, the following settings will work: rotate, flip.
Full-screen mode
Double-tapping the embedded video on mobile will show the video in full screen. This is not the same for the Web app.

Auto-play videos

The distinction between whether a video in a PPTX is set to automatically play or be done manually is inherited from the Powerpoint settings. The exception to this is when several videos are orchestrated on a slide, including at least one auto-play. In these cases, all videos become manual play.

Supported codecs
Processing failures may occur when the video is using an unsupported codec. The codecs supported by this feature can be found here.
Sharing embedded media in assets

While sharing assets that contain embedded media is supported, it is not possible to specifically share embedded media that is part of a presentation. It is also not possible to download a media file from a single slide.

Analytics

Assets containing embedded media will be tracked just as other assets are. There are not specific analytics, shared insights, or shared spaces insights for the embedded media files individually.

PowerPoint files with transparency

The layout and design can be broken after processing Powerpoint files that use transparent images. By changing this to solid fill, it can fix the problem. Right-click on the image in Powerpoint, format shape, fill, solid fill.

PowerPoint files with
reduced image quality

The image quality can reduce when uploading PowerPoint files and PowerPoint files that are exported as PDF. This can happen when using smaller PowerPoint slide sizes with images that are bigger than the PowerPoint slides. The image quality improves when you make the original slide at least as big as the image.
If you encounter issues with uploading these files and processing fails, we recommend you reach out to support@showpad.com before clicking Continue or Cancel. This will allow us to investigate what is causing the processing issues with the affected files. Assets that contain embedded media that did not process successfully will render incorrectly to users.

Best practices for uploading other Microsoft Office documents
Learn about other Microsoft Document best practices and requirements by checking out this article.