Locking pages lets you, as an admin, keep control of mixing and matching the content by grouping proprietary and regulated information. This feature avoids bad communication that occurs when incomplete information is shared with buyers.
When making documents available for sales reps, you can have a situation where you need to make sure that specific document pages can only be shared with other pages. An example of this might be a medicine brochure that can only be included with the page explaining possible side effects. Another example is a page that cannot be shared without the disclaimer.
Note: The locking works for a range of document pages that follow up on each other. For example, grouping pages 3 - 7 means that pages 3, 4, 5, 6, and 7 will always be grouped together in a share and a collection.
When locking a range of pages, they will always be grouped together in shares, collections, and Shared Spaces. In this article, we will explain how to lock these document pages together by using the file permissions in Showpad's Online Platform.
See how it looks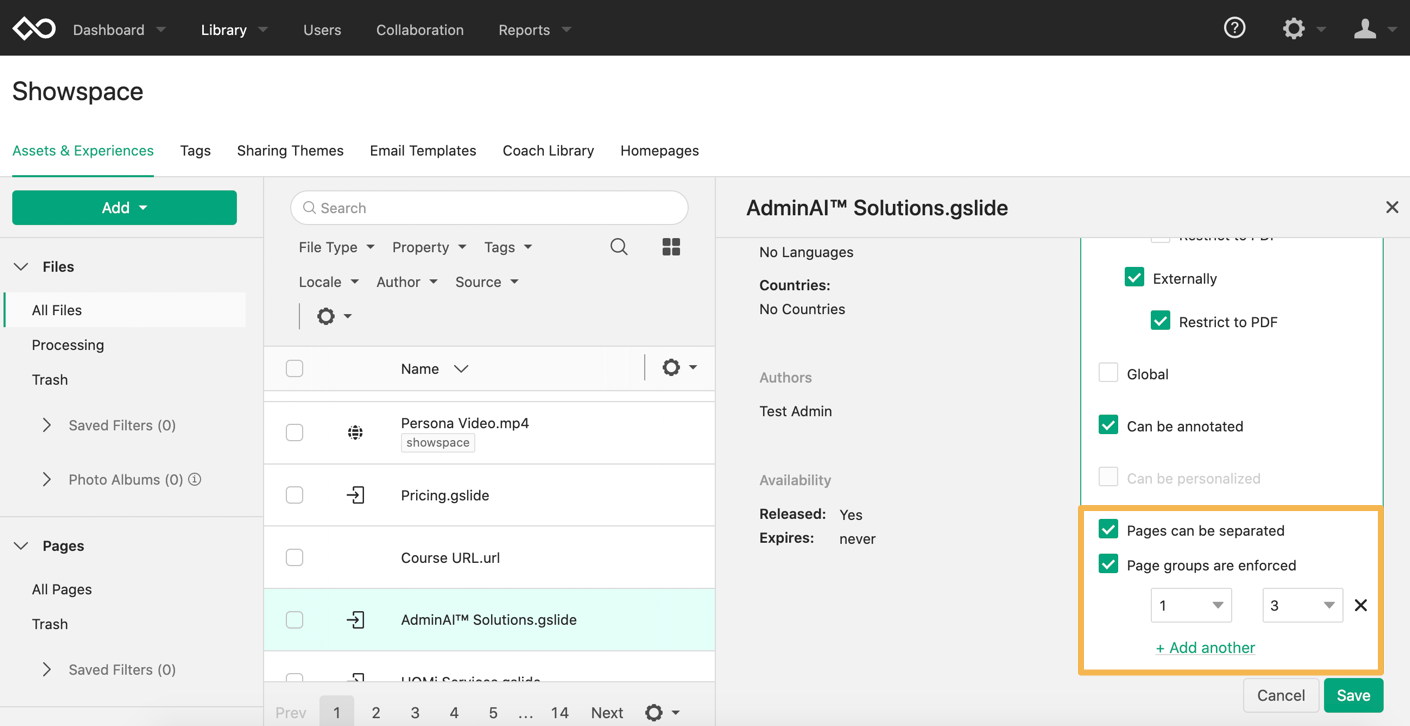 Key Features
Admins can group proprietary and regulated pages so they are always shared together
Sales reps don't have to worry about including regulated or confidential outlines
Works for multipage PDFs, Powerpoint, Excel, and Word files
By default, all document pages can be shared without locked pages
The locking works for a range of pages
Available on the Web app, iOS, Android, Windows, and Outlook add-in
You need this to succeed
Admin access on Showpad's Online Platform
Available for Essential, Plus, and Ultimate packages
A document that consists of multiple pages and slides
The quick way to awesomeness
Open your asset library
Select the file that contains multiple pages that you would like to lock together in a group
Edit the permissions
Select Allow page separation
Select Enforce grouped pages to lock pages together
Click Update
Do this step by step
Open the Library tab and locate the asset that has multiple pages.
Click the asset to open the detail panel. Find the permissions in the right pane and click the pencil icon.
Find the Allow page separation settings. This box is checked by default. When enabled, your sales reps can mix and match all pages of this document with other content. Disabling this option means that your sales rep can't select pages to share and the document will always be shared as a whole.
If you enable the Enforce grouped pages option, you can group the pages that will be locked together.
In our example, we group pages 1 and 3. They will always be shared or added to a collection together.
If we want to add another range, click + Add another and you will notice you can't select pages 1 and 3 because they are already grouped together. In this case, we added pages 4 and 5 as a group.

Make sure to add your pages in ascending order or you will see the following message.

If your sales reps now share a document and they want to select pages, they will see that pages 1 and 3, and pages 4 and 5 are grouped together. In this example, we will share page 4. You will noticed it says 2 pages are selected when selecting a single grouped page, as they must be shared together.
When composing the sharing email, pages 4 and 5 are grouped together automatically.

Prospects will always see the grouped pages together.