We are here for you
We've got your back whenever you are stuck using Showpad and when you want to learn more about how our features work. On this page, we explain the different methods you can use to get help, search for information, and how you can share your thoughts about how to create the best buyer experience. If something is cloudy in your Showpad world, and you have a question, we have the following great resources to clear the fog. 
Three keys to unlock the Showpad-aid kit
The Help Center is the first stop when you need answers. Here, you can learn why you should use a feature and it explains how to switch it on. It hosts a ton of useful information and answers that you can search and browse through. There are also guides available to get you started with Showpad features.
The Showpad community is the place to be for asking public questions, giving answers, and sharing ideas with other Showpad enthusiasts and specialists. It is monitored by many fellow fans, providing quick access to help and different perspectives for you to consider.
You can contact our support team by creating a request when encountering a problem with your Showpad instance by creating an online ticket.
You need this to signal us
A question, an answer, an inspiring idea you'd like to share
A browser on a desktop or mobile device
The help.showpad.com address -you're on it!-
To participate and post in the community, you need a login to sign in
The quick way to receive guidance
Go to https://help.showpad.com. You might want to bookmark this address for future reference.
Administrators, users, and developers can use the search and browse the sections to find out more about Showpad features.
If you want to browse interesting topics and have an open conversation about Showpad, click the Community tab.
To post questions and participate in ongoing community conversations, you need to sign in.
To create a support request, click the Help button at the bottom right of the Help Center to contact us. You can find this button on all articles and on the main Help Center screen.
To see the list of your support requests, community contributions, and posts you follow, choose My activities after clicking your profile.
Using the signal flares step by step
Searching and browsing the Help Center
The Help Center has three main categories. This is your first stop to look for answers and information. Depending on your role within your organization, you can find the following information:
Administrators set up and manage Showpad content and users
Users share and use content by using the Showpad apps and integrations
Developers create magic by using Showpad's API, SDK, and HTML apps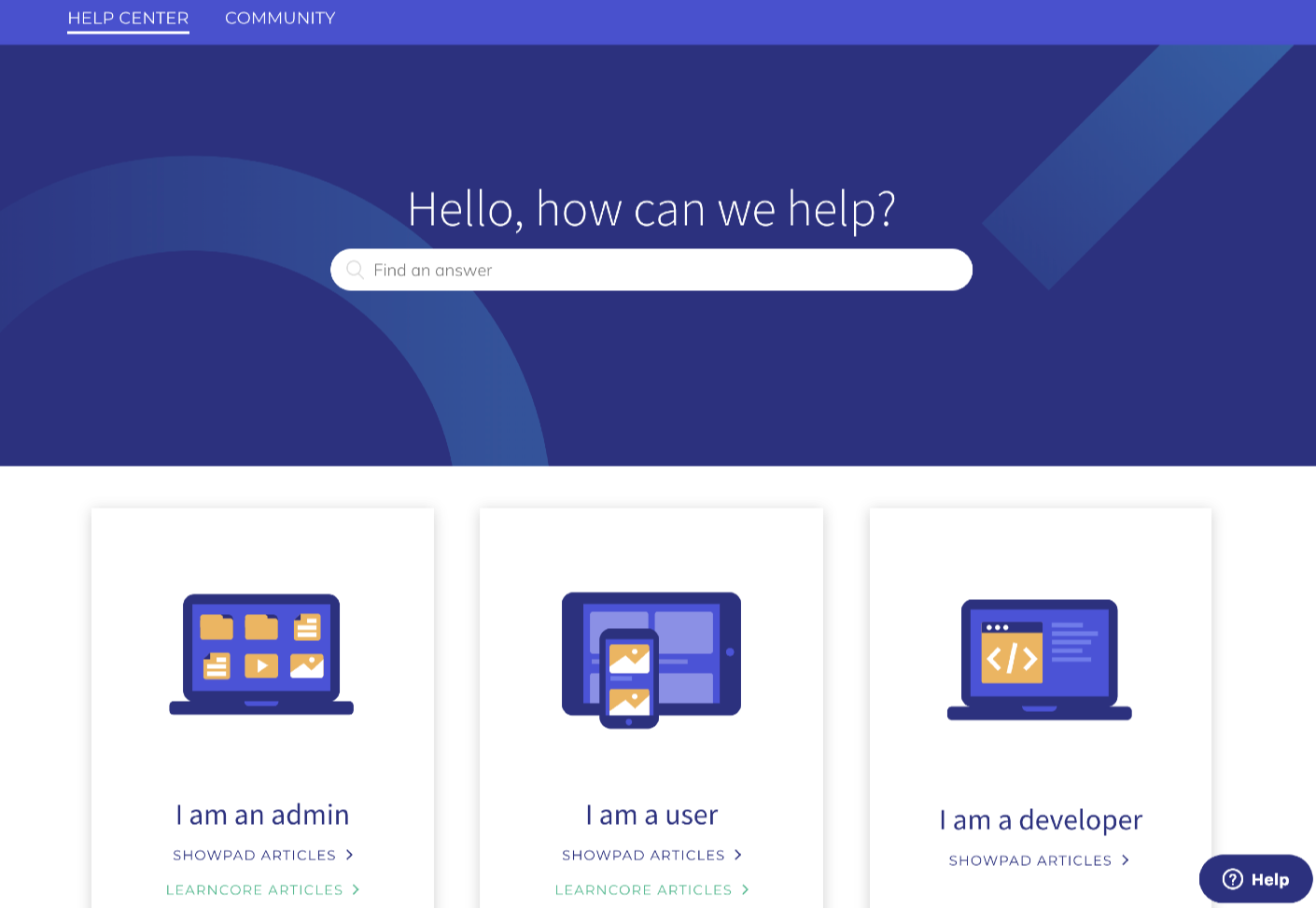 The quickest way to find what you are looking for is using the search functionality. Type your question and you will automatically see article suggestions.

To browse all content, open the categories and browse through the available sections.

When opening an article, you'll see all corresponding articles of that section on the right side of the screen.

Related articles can be found at the bottom of the page.

Back on the main page, the top menu gives you access to Showpad updates, upcoming features, other great resources like a glossary, all of the available features, and the locations to get the latest versions of our apps and integrations.

---
Using the community to have helpful interactions
In the Showpad community, you can help and inspire each other with questions, answers, tips and tricks. Share with other fans what you love about Showpad. There are sections available for admins, users, and developers, making it easy to find topics of interest. It's the perfect spot to ask, share, and inspire each other.
We created community guidelines to make it a spot where Showpad enthusiasts feel welcome.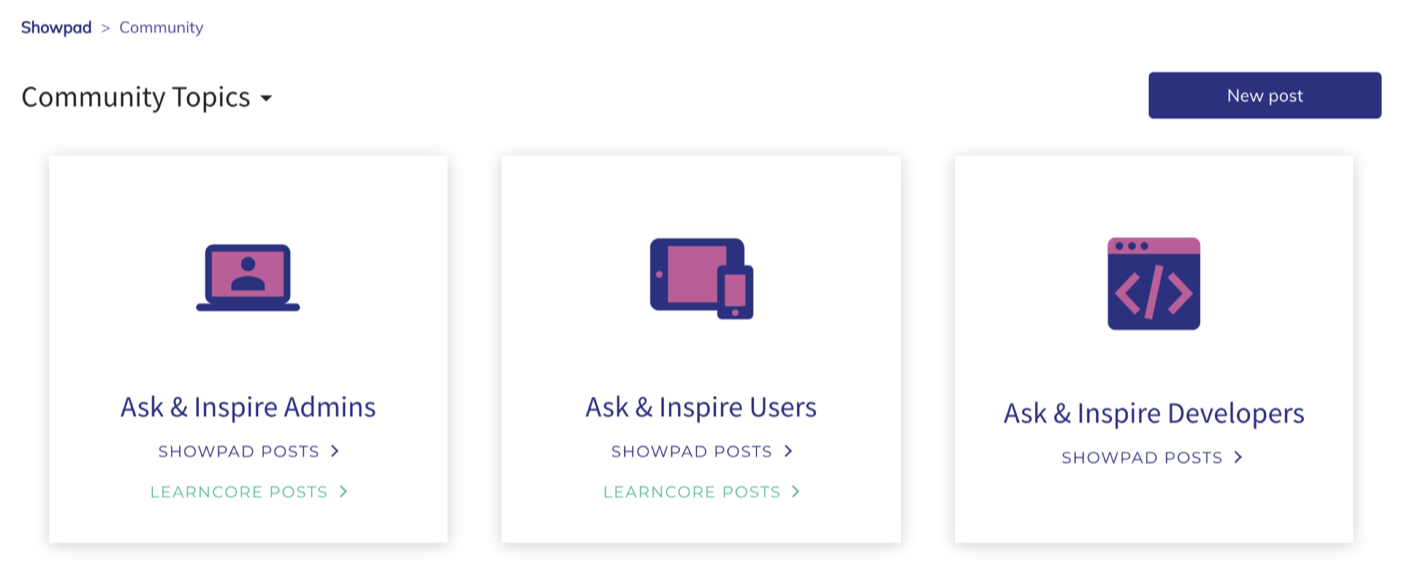 When opening the Community tab, you can browse the available topics. To contribute and create a new post, click New Post.
Give your post a descriptive title, add the Details and select the Topic where you want this post to live.
Posts and comments are moderated and won't be available straight away. To learn more about this, open the community guidelines.
You can edit and delete your post by clicking the settings icon.
To receive notifications about topics or posts, click the Follow button when you are signed in. If a new post is created on the topic you are following or a comment was added in the post you are following, you will receive an email notification. The posts you are following are also visible in your profile when clicking your name on top-right.

---
Creating a support request
If you have a Showpad issue or question and you need to contact our great support team, you can send an online request. When you have a profile, it's possible to follow up on them and see all your interactions. This profile is also used to interact with our community, so we recommend you to sign in.
To create an online ticket, click the Help button at the bottom-right of the screen.

Enter the subject you'd like to receive information on. You'll see that we suggest our top articles that might help you with your question.

Clicking Contact us will open a form where you need to type your name, email address, topic, and message. Give us as much information as possible and you can always add a screenshot or screen recording by dragging and dropping files onto this form.

Another option is to create a request by selecting Submit a request at the bottom of an article in the Help Center.

This will open a detailed form, where you can add as much information as possible.
To see the list of your requests, choose Sign in at the top right location of the page. Click your profile and select My activities. You will see your previous requests and filter them by status to find what you're looking for. On your profile, you can also see your community posts and comments.

Note: Learn more about the SLA's we created for support requests to outline expectations. You can meet our support team here.