What's in it for you
At Showpad, we care about your privacy and the privacy of users and their prospects. We want to give you all the necessary tools to configure these settings to comply with local legislation and company policies.
We provide flexibility in our Online Platform, that translates to our mobile apps, email plugins, and integrations. Being a company based in the EU, the General Data Protection Regulation (GDPR) requires us to ship with a privacy policy that refers to the default Showpad privacy principles. This enables you to use our product out-of-the-box, and still give you granular control over the privacy settings. The privacy policy will also adapt to the language set by the browser. If that language is not supported, we'll use the language selected in your operating system. If neither language is supported, the language will default to English.
This article explains the tools we provide to make your organization compliant with what the law states at your geographic location. It is not possible to turn activity tracking off, which is why we recommend notifying your customers and prospects with a privacy policy.
Note: We strongly encourage you, as being the so-called data controller, to consult your legal department and use your own, customized privacy policy and settings.
See how it works
Key features
Setup custom privacy settings
Use the default Showpad Privacy Policy or, preferably, your own policy
Set consent options for prospects
Define how long users can be logged in on Showpad's Web app
Anonymize user data based on user groups
Define the prospect privacy disclaimer
Select how and how long prospects are tracked
Choose how long personal data is stored
You need this to succeed
Advice from your local, legal instance
Understand which privacy settings apply to your country or region
Access to Showpad's Online Platform
The legal way to awesomeness
Go to the Privacy tab in the Admin Settings
Add your custom privacy policy or use Showpad's default policy
Configure the Remember me option for the Web app in the User Settings
Configure anonymization of user data based on user groups
Edit the disclaimer that prospects see in Prospect Settings
Select the consent options
Choose how long prospect data is stored
Review the Data Agreement Specifics
Do this step by step
A privacy policy is a legal text that discloses the ways a company gathers processes, uses, discloses, and manages a user or prospect's data. Before such actions can take place your users or their prospects will have to actively give consent to that privacy policy. Depending on the chosen consent setting, consent may or may not be a requirement for prospects in order to consult the content. Of course, where no consent is given, no tracking shall occur on the interaction of the prospect with the content.
Note: Users and administrators who sign in to Showpad will have to pass through a consent pane. This applies to the Online Platform, the Web app, our mobile apps, email plugins, and integrations. This cannot be changed in the Online Platform.
If consent by a user was given on one platform, it won't be asked again when signing in on another. However, if the privacy policy changes it's necessary to give consent again.
In the Privacy Policy tab, you can select to use Showpad's privacy policy or to add a URL to a custom privacy policy. At any time, you have the option to request the consent again after updating the privacy policy.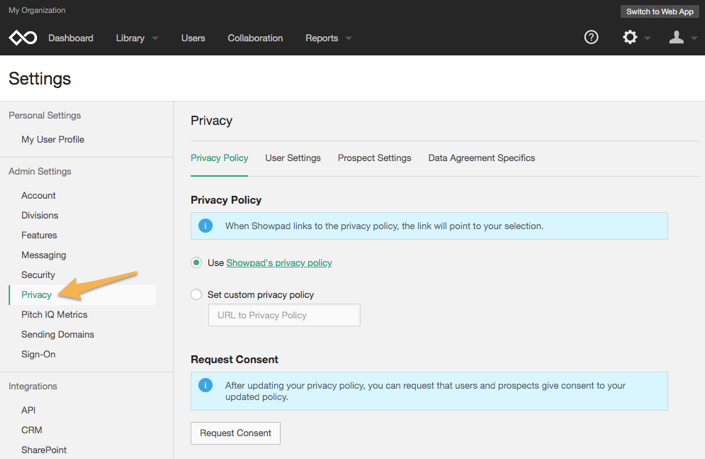 Select Set custom privacy policy if you want to use your own privacy policy. You can click Showpad's privacy policy to see what we included by default.
After every privacy policy change, you can request that users and prospects give consent to your updated policy again.
When clicking Request Consent, the consent is requested again.

After clicking Request, users and prospects will have to agree with the privacy policy again.

---
In User Settings, you configure login settings for your sales users. With the Remember Me option, you allow a checkbox to be visible on the login screen of the Web app. When checked, users automatically sign in on Showpad for up to 14 days, or until they log out.
In this tab, you can also anonymize the user data. This means that in the Showpad reports, the personal data of your users which are part of that anonymous group aren't visible anymore. They will be visualized as Anonymous User. You need to have user groups to use this feature.
Note: If you disable the anonymizing, reports will still show anonymous user data up until the moment it was deactivated.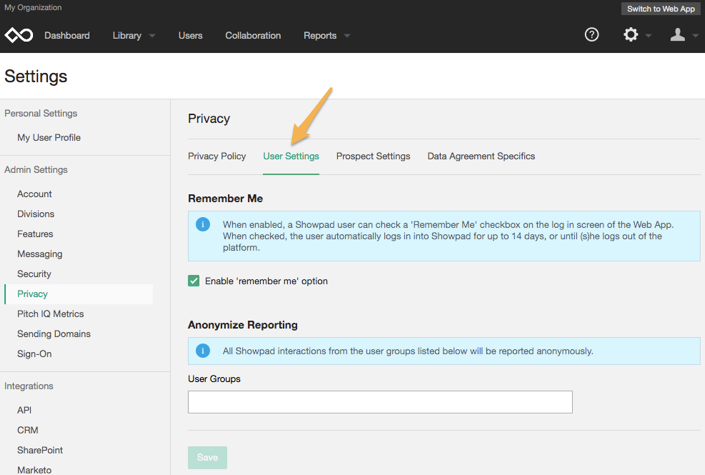 Enable or disable the Remember me option to let users automatically sign in on the Web app.

Anonymize user details, visible in the Reports tab, by adding the user groups you want to anonymize.
---
In Prospect Settings, you can configure the privacy settings for the prospects of your users. It enables you to customize the Sharing Disclaimer, change the consent options, and to configure the right to be forgotten.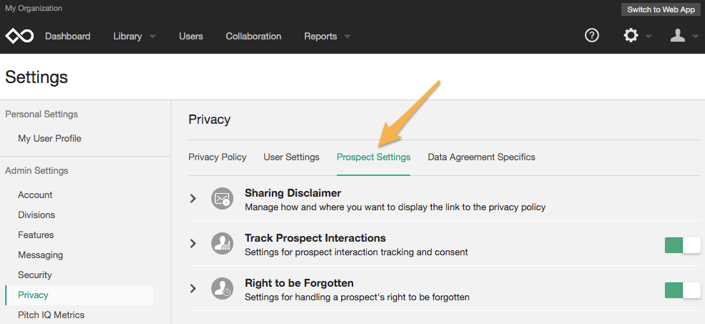 You can start with creating a custom Sharing Disclaimer. This disclaimer displays the link to the privacy policy and is visible in a blue header at the top of the page when prospects open shared content. It's also visible in the email the prospects receive.
You have the possibility to show the disclaimer for prospects that don't get to see a consent window. You can turn off the disclaimer in the emails that prospects receive as well.
Click the caret to open the Sharing Disclaimer settings.

Change the disclaimer. You will see a live preview of the updated disclaimer. The placeholder that links to your privacy policy is added in the following format: {privacy}Privacy Policy{/privacy}. Adding these tags will link to the privacy policy selected in the Privacy tab.
Enable or disable the disclaimer on shared content for visitors that were excluded from consent. Clicking preview shows you how it looks.

Enable or display the disclaimer in emails sent from Showpad. This makes the disclaimer visible at the bottom of sharing email prospects receive.
Click the Track Prospect Interactions caret to setup how the consent for prospects is handled. We offer three consent options to track prospect interactions. Depending on how you configure it, a prospect sees a dialog box with a link to your default or custom privacy policy. You also have the option to disable tracking completely, but we don't advise you to do that.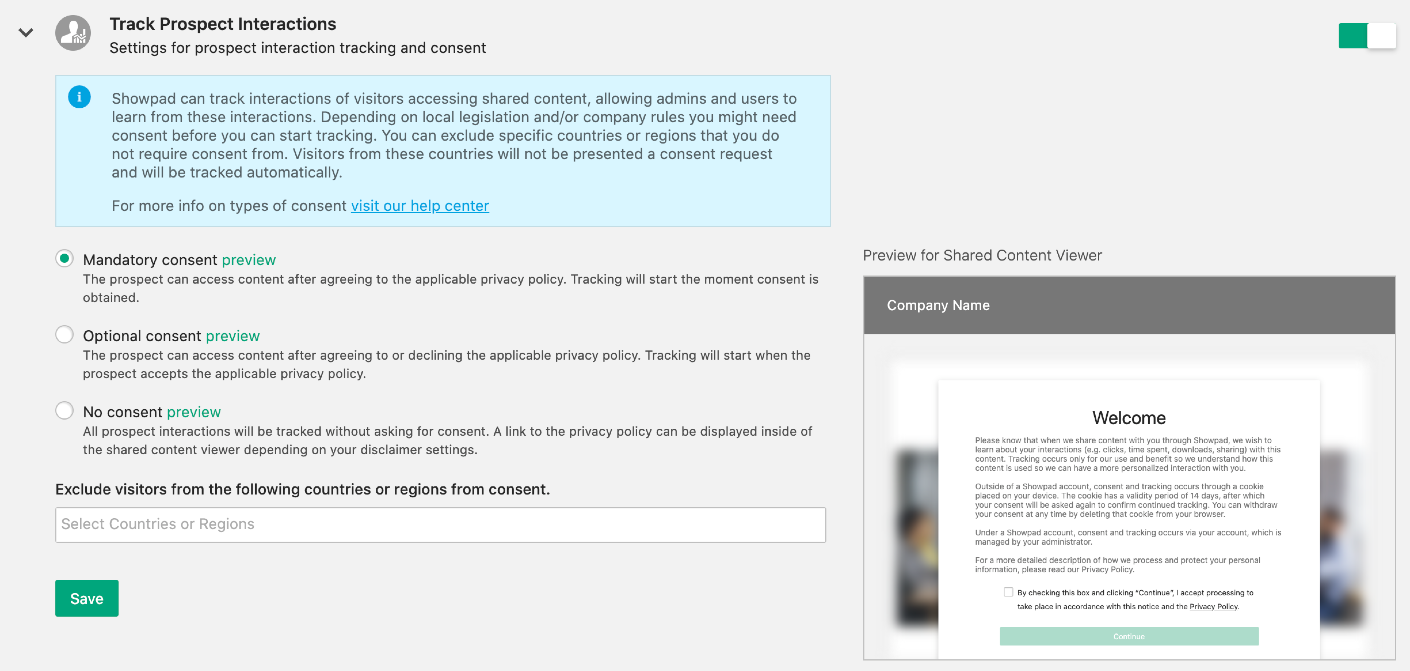 In Showpad's Online Platform, you enable one of the following options:
Mandatory consent: The prospect has to accept the privacy policy in order to have their activity tracked. They can access the content after agreeing to the applicable privacy policy. Activity tracking starts at the moment consent is obtained. This is the default option. You can exclude visitors from other countries or regions from giving consent. The United States is excluded by default.


Note: The prospect location is resolved by IP address. When a VPN connection is used, the location of the server they connect to will be used to determine the location. There are cases when the location is incorrect due to variances in IP lookup services.

Optional consent: Prospects see the dialog box but can view the shared content without accepting the privacy policy. When selecting that option, prospect data will not be tracked. You can exclude visitors from other countries or regions from giving consent. The United States will be excluded by default.

No consent: The prospect won't see a dialog box to give consent. Consent will thus occur implicitly. The option is available for all regions but keep in mind that this option may not be legal in the territory where you are seeking to interact with the prospect.
The Right to be forgotten setting for prospects makes personal data and sharing activity anonymous after a period of inactivity. By default, the data will no longer be linked to a prospect after 24 months of inactivity. If the prospect interacts again with the shared content, the counter resets. You can modify the time to be forgotten or switch it off completely.

---
This tab links to a document that contains the latest overview of all Showpad sub-processors and an overview of all data categories processed by Showpad.