Content Recommendations in Salesforce automatically suggest the most relevant content for your sales conversation. The recommendations, which serve up materials such as videos, ebooks, whitepapers, and infographics, are based on deal data in Salesforce. This will give you the best suggestions on how you advance each deal. You can then create a link to share the recommended content and search in your Showpad library to add other assets to your Share.
See how it looks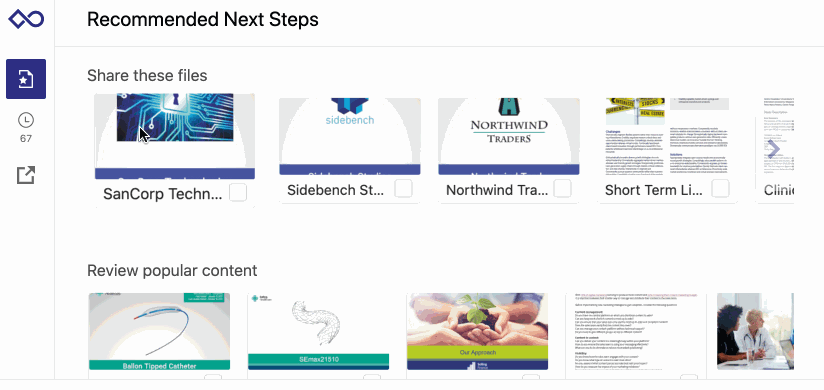 Key features
Recommended content for Opportunities, Accounts, Contacts, and Leads via the Showpad Insights app in Salesforce
Automatically suggests the most relevant content for each sales conversation
Using machine learning, recommended content will improve over time
See other popular content for your organization that might help you win deals
Learn from internal content to prepare meetings with your prospects
Easily share the recommended content by generating a link
Browse, search, and share any other Showpad content
See this step by step
Content recommendations are available at the Opportunity, Account, Contact or Lead view. Navigate to one of those objects.
The menu at the left shows three options:

Recommended next steps
Activity
Open Web app
Recommended next steps
Share these files. Using machine learning, we recommend you to share these files for this opportunity. Hovering on a file gives you three options. Generate a link to share this file, hide this file for any future recommendations, and open this file in Showpad's Web app. It also shows how it helped to close a deal. This is based on tags, hand-picked content, the Stage field, forecast category in Salesforce. All the files are compared and using machine learning, we can show that a deal was closed with this content or not.
Review popular content. This shows you the content that is generally popular in your organization. You can share these files if they are interesting for this specific prospect.
Learn from these files. Here you can find internal content that can be relevant for this opportunity. Internal content can be used for example to prepare for meetings with a prospect.
Note: The content you see here is based on permissions that are given by your administrator. If a file has the "Can be Shared" file permission, it will show up in the "Share these files" section.
If it's not Shareable, it is displayed in "Learn from these Files."
You can share the recommended file by generating a link with a custom branded sharing theme. Click the check box of the asset(s) you want to share, then select Get a link.

Enter a description for the share.
Enable the Log to Salesforce checkbox.
Verify the Related to for which account, contact, or lead the share is related to.
If you're at the account level recommendations, you can choose a Contact or Lead associated to the Account. You can only add one contact.
If you'd like to add more content to share, you can search for the asset you'd like to include.
Select a Theme, then click Next when you're ready.
Click Copy Link and send the link via your favorite sharing tool.
Click Done.
Activity
The activity that was done in Showpad is visible in the Activities tab, for this specific opportunity, account, contact, or lead.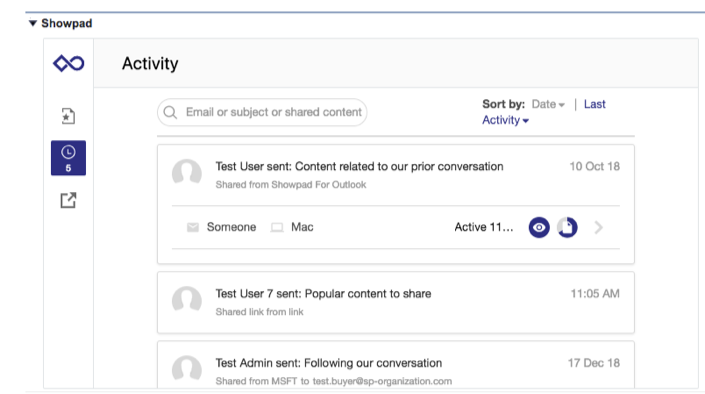 Open the Web app
The last icon you can click opens the Showpad Web app in another browser window, to view all available content.