For a user to see the content in a division, he needs to be included in a user group that is assigned to that particular division. By default, the All Users group can access the division and we recommend you to create and use specific groups to manage access.
Simply adding a user group to a division does not grant access to the content of that division. The user group must be added to the specific Experiences within the Experience Builder before the users will see the content in the available Experiences of the division.
Note: User groups must also be specifically assigned to the Global division if they are to be assigned to Experiences in that division. All user groups are not automatically assigned to the Global division by default.
See how it looks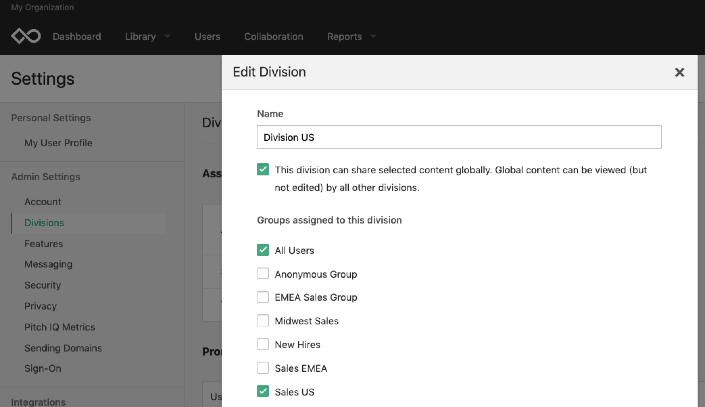 Key features
Give users access to a division by selecting user groups
Prohibit user groups to see content from another division
You need this to succeed
Ultimate plan on Showpad
Divisions activated and created
User groups and users
The quick way to awesomeness
Assign a user to a User Group if you haven't done so
Assign the User Group to a Division
Assign the User Group to an Experience in that Division
The user will now see the content from the selected Experience in that particular Division
Do this step by step
Make sure you have users in your user groups. There's more about that in this article.
Click the Admin Settings icon in the top menu.
Click Divisions.
Open the drop-down list and click the division you want to assign the user group to.
Move your mouse over the Assigned Groups section and click the Edit button.
Select the user group(s) you want to assign to this Division. By default, the group All Users is available, but we recommend to create specific user groups. (By country, region, department,...)
Click the Update button.
This user group has access to this division, and you'll still need to give access to the preferred Experiences in that division. Click the Library tab and open the Experience Builder. You'll see that no users or user groups are assigned to this Experience.
Select the correct user group(s) and click Add. The Experience permissions will be updated. All users in this group will now have access to content in this Experience.