One of the key foundations of Showpad is the ability to share content with customers and prospects and track how they engage with those files via the Shares feature.
After uploading your assets, you make the content available for users in the Experiences you created. Your sales reps can only share and access content if they have access to those Experiences.
Users also rely on finding content fast using the search option. We included information on how you can prepare your content so it can easily be found by our search engine.
See how it looks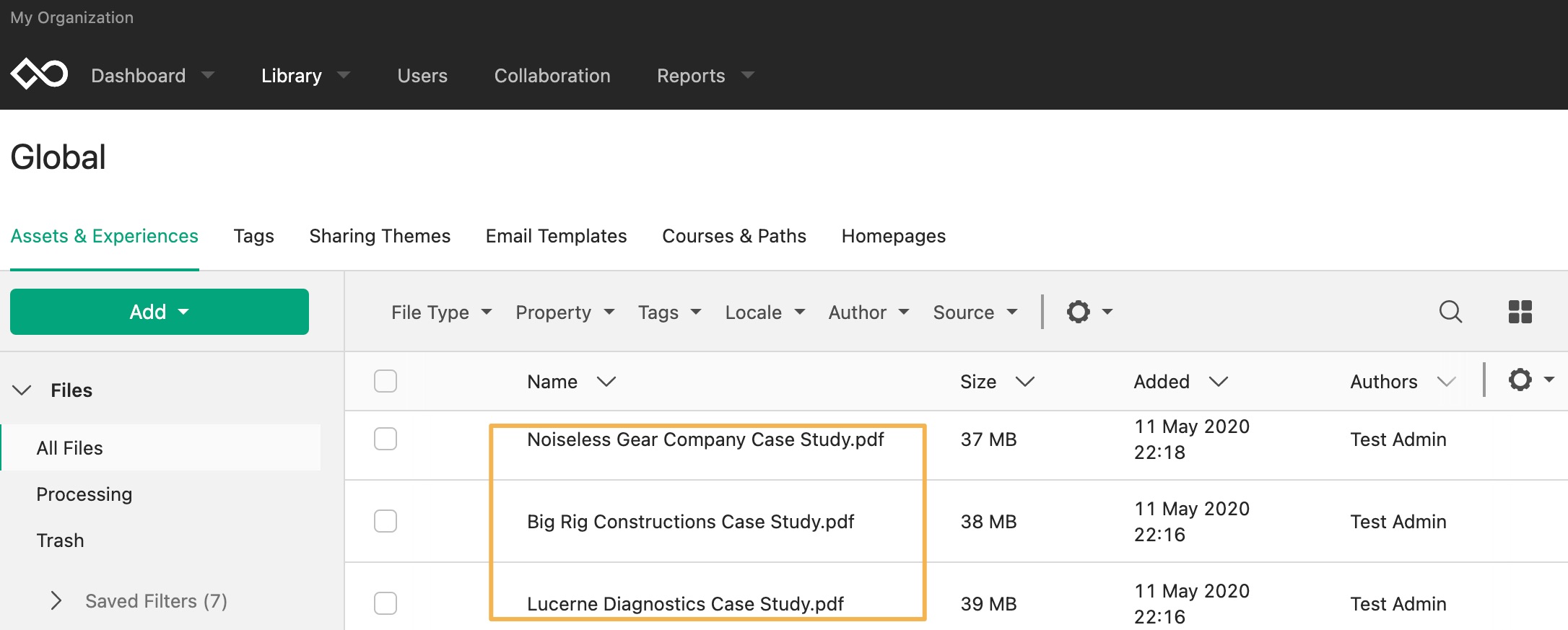 Giving your content a clear name is one way to make sure your users can find and share content with customers and prospects.
Key features
Upload assets to your Content Library and add them to Experiences
Search for existing assets in your Content Library and add them to Experiences
Name or rename your assets so they are easily found by your users
You need this to succeed
Assets in your content library, available for your users in their Experiences
Your users need the Web app, Showpad mobile apps, or plugins to share the content
The quick way to awesomeness
Add or search for existing content and add it to an Experience
Name or rename existing assets so they can be found easily by your users
Add the content to an Experience
Let users find or search for content to share with buyers
Do this step by step
Give your assets a name so they can be found quickly by your users. You can also rename existing assets using the following guidelines:

Naming: Give the asset a clear name. A document named "untitled123_sd_final.pdf" makes it less easy to find.
Tags: Be aware that tags you add to assets don't influence search results for your users. Tags allow them to filter the results on a specific topic. A good tag structure makes it easier for users to find content.
Description: The asset description is searchable. It's recommended to add information in the asset description.
Upper and lowercase: Capital letters don't influence the search results.
Spaces: Spaces and underscores are treated as regular characters.
Courses: If you also use Showpad Coach to train your users, lessons, and PitchIQs will be found based on the title of the associated course.

When adding content to an Experience, you can also look for specific assets using the search function in the Online Platform. When searching, the engine also crawls through the content of documents.

Note: When using the search function in the Online Platform, the search engine splits the search terms into text and numbers. For example, if you search for "4th" this will show content with a "4" and content with "4th."

When you select an asset, you can edit the sharing properties in the asset library.
Make the asset available in the Experience(s).