One of the key foundations of Showpad is the ability to share content with customers and prospects and track how they engage with those files via the Shares feature. After uploading your assets, it's important to make them available in the Experiences you created. Your sales reps can only share and access content if they have access to those Experiences and content.
See how it looks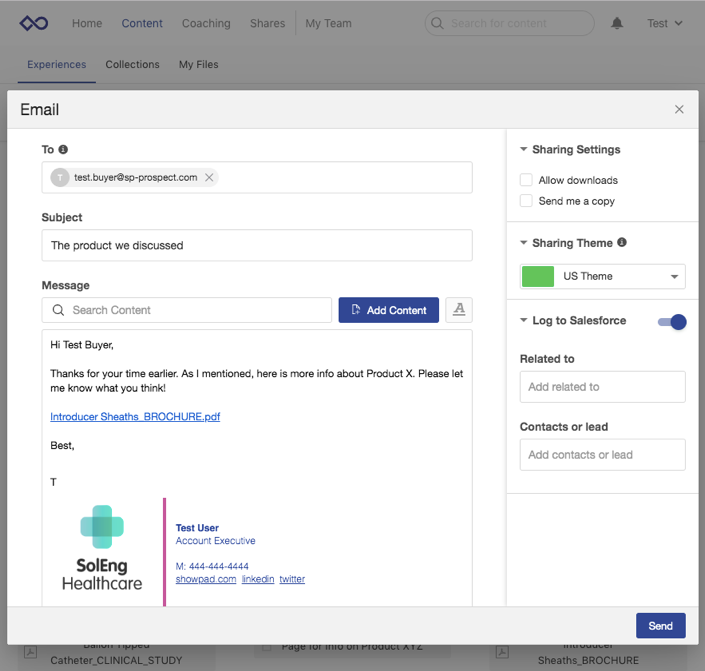 Sharing via email on Showpad's Web app is just one of the options for how your users can share content with customers and prospects.
Key features
Users can share a single asset and multiple assets via email
Search for assets in your Content Library and add them to Experiences
Share a Collection that contains some assets and pages users have selected
Create a link to a Share
Share from our Outlook add-in and Gmail plugin
Choose a company-branded theme to display Shares
You need this to succeed
Assets in your content library, available for your users in their Experiences
Your users need a device with the Showpad app installed
If enabled, users can use Showpad's Web app to share via the browser
Showpad for Outlook add-in installed when using that email client
Showpad for Gmail installed for users that use Gmail
The quick way to awesomeness
Determine and search for content that users can share
Edit an asset's sharing properties in the asset library
Make the asset available in the Experiences
Let users share the content with customers and prospects
See the Shares analytics
Do this step by step
Determine which uploaded content users can share.
You can also look for specific assets using the search function. When searching, the engine also crawls through the content of documents.

Note: When using the search function in the Online Platform, the search engine splits the search terms into text and numbers. For example, if you search for "4th" this will show content with a "4" and content with "4th."

Once you select your asset, you can edit the sharing properties in the asset library.

Make the asset available in the Experience(s).

Let users share content with customers and prospects. They can share via:

The Showpad Windows app (mail)
The Showpad iOS and Android apps (mail and link)
The Showpad Web app (mail and link)
The Showpad email add-ins (Outlook and Gmail)

It's important to know that sharing via a link and via our email plugins, does not give detailed analytics in the report settings of the Online Platform. You will see the device type and browser version because it is not possible to track who opened the link and who opened the email when it was sent to multiple recipients.
You can customize the look & feel of a Sharing theme.
See Share analytics under the Reports tab.