Microsoft Office documents provide an easy and quick way to create your documents. Like other types of documents, you can upload these files to Showpad. We convert all Microsoft Office documents to PDFs to ensure a great user experience while using the Showpad app.
When a prospect or customer downloads these files, the converted Microsoft Office files will download in their original format, e.g. .xlsx, .docx., etc. Of course, this depends on how you, as an administrator, configured the permissions for these files.
Microsoft Office has options that let you embed fonts, for example, to match your documents with your company's branding. By using these options, the fonts, layout, and styling of the document won't change, and special characters don't become unreadable.
Note: To embed fonts in your Microsoft Office files, depending on which version you're using, please take a look at the article on Microsoft's support site.
This article covers all Microsoft Office Documents that are not PowerPoint. To find out about PPTX and PPSX files, check out this article.
See how it looks
A PPTX with an embedded gif: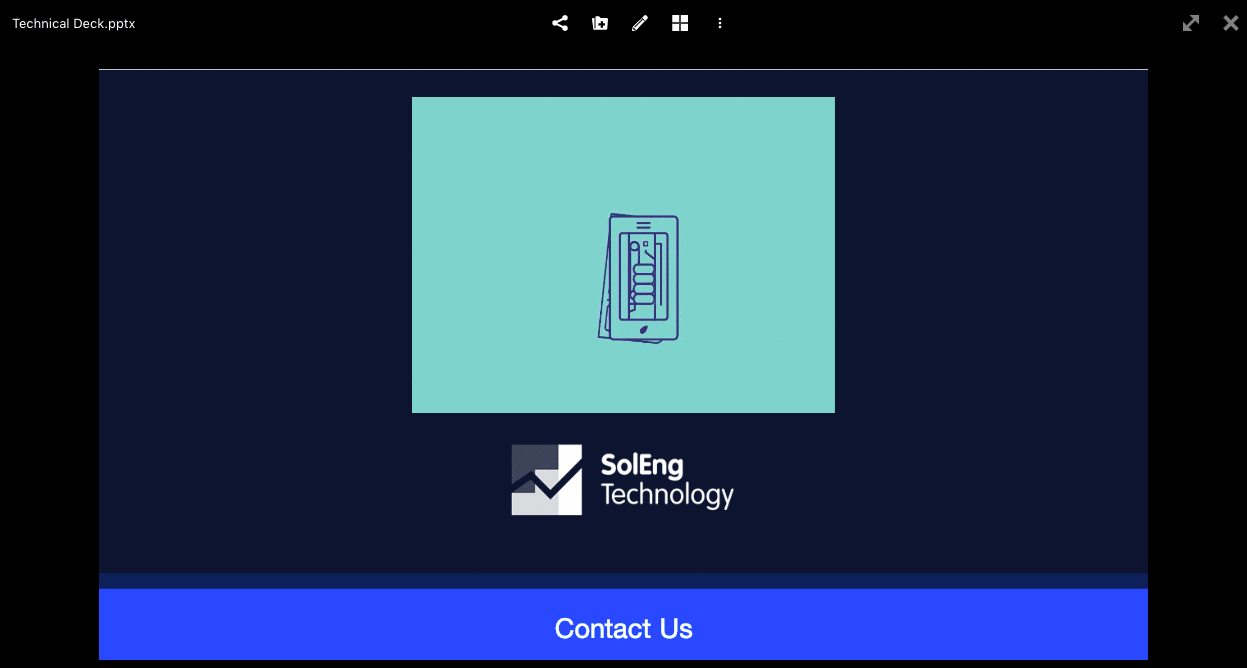 Key features
Files are converted to PDF for a great user experience
You can upload Microsoft Office documents with a file size of up to 2GB
Microsoft Office documents with a file size of up to 500MB are optimized for mobile usage
As a customer, if enabled, you can download the original MS Office file
Note: While Microsoft Office documents with a file size of up to 2Gb can be uploaded and distributed, they cannot be previewed in Experiences. Reduce the file size to less than 500MB for a better user experience.
How Showpad handles Microsoft Office documents
Hyperlinks & Asset links
For hyperlinks and asset links, we advise to convert your file to PDF and then add the links in the PDFs file. Take the PDF best practices into account when doing so.
Read more about asset links in this article.
If you encounter issues with uploading these files and processing fails, we recommend you reach out to support@showpad.com before clicking Continue or Cancel. This will allow us to investigate what is causing the processing issues with the affected files. Assets that contain embedded media that did not process successfully will render incorrectly to users.

Best practices for uploading Microsoft Office documents
Familiarize yourself with the export possibilities and settings of your Microsoft Office applications. Try to create and upload your documents by taking these guidelines into account:
Feature

Best practices

Converting PDF

If the structure of your document is not correct after uploading, we advise converting to PDF before uploading. Especially for Excel files, changing the layout of the document can prevent the file from looking different.

Converting file types

Some file types embedded in a Powerpoint presentation will not be supported when viewed in Showpad. We recommend converting that content to a supported type. All supported content types are listed

here.
Macros in MS Office files

The conversion to PDFs also means that macros will not be viewable in Showpad since this is a native Microsoft Office concept. It's also possible that the upload of your document fails because of this. Remove existing macros from the file if that's an option, or, export the sheet as a PDF file and upload that document to Showpad.

Large dataset Excel files

When working with complex, large dataset Excel files, it is possible that you can't preview the file in Showpad. A message shows up, saying "This document could not be previewed with your browser. Please download the file to view it." A workaround is to save and upload the file as an XLS file (97-2004 format) instead of a more complex XLSX file format.

Using custom fonts in
Microsoft Office files

If you have customized fonts in your Microsoft Word documents or Powerpoint presentations, we recommend you to include the embedded fonts in your DOCX and PPTX files. This will prevent the font from rendering in ways other than intended when the font is not a standard option.

In some cases, certain fonts will still display differently in Showpad, even when embedded in the document. This is dependent on whether the font is supported by our viewer tool.

Displaying images
correctly in your
document

An Office document can contain many hidden objects. These can be the result of past manipulations, copy/paste actions from web pages, file corruption, etc., and they may be difficult to trace. To remove any hidden objects that might prevent your images from being viewed correctly, you can follow these steps in the Office editor: In the menu, go to "Edit" > "Go To..." Click the "Special..." button Select "Objects" and click "OK". All objects (if any) should now be selected, even those that are usually invisible. Now that you know where they are located, it's just a matter of deleting the irrelevant ones to have a blank document again.