What's in it for you
When you invite your sales reps to start using Showpad, we automatically send email instructions. These instructions explain where to sign in on Showpad, display the login credentials, and where they can download the mobile apps and email plugins.
As an admin setting up your Showpad instance for the first time, you may not want anyone checking out the shop before it's fully set up. With the Hold Invitation Emails feature, you can set up your experiences and add users without anyone receiving an invitation to check it out until you're ready. When you're done configuring your Experiences, you can turn off this option and send all your users their invitation email.
Although changing the invitation email's content is impossible, you can add a custom footer that can, for example, describe your organization's privacy policy.
We send out these invitation emails from our domain. However, the Shares sent out by the users can be sent from your email domain. To set up your sending domain, you can take a look at this article.
See how it looks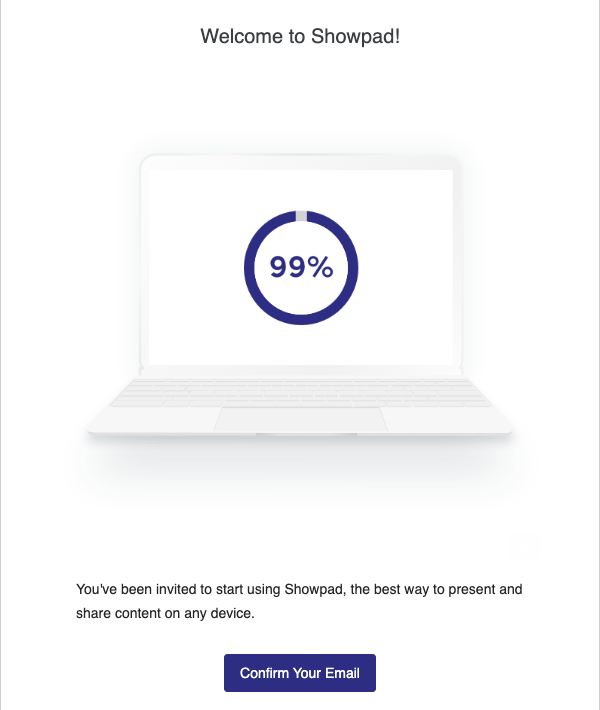 Key features
Send an automatic instruction email
Customize the footer with company information or privacy policy
Create users but hold their invite email
Add new users to experiences or courses without inviting them yet
You need this to succeed
Showpad admin access
Add the showpad.com domain to your safelist to prevent spam categorization
Email address of the user you want to invite
Do this step by step
---
Add a custom footer to your invitation email
To add a custom footer in the invitation mail, click the settings gear icon in the Online Platform and select Admin Settings.
Select Messaging from the lefthand menu and scroll down to the custom footer feature. Check the box, add your custom message, and click Save.
When the message is ready, follow the instructions on how to create a user and start inviting your users, or read this article to resend invitation emails.
---
Hold all invitation emails
Click the settings gear icon in the Online Platform and select Admin Settings.
Select Messaging from the lefthand menu, scroll down to the Invitation Email section and check the box to hold all invitation emails.
Click Save, and when prompted, select Enable.
---
Invite your users and turn off the Hold Invitation settings
Navigate to the Users tab.
You can invite users individually or all at once:

To send one-off invites, locate the user you wish to invite, then click Invite.

To invite all users, select Send Invitations in the User tab. You will have the option to resend pending invitations and first invitations. Select the applicable boxes, then click Send.

To turn off the Hold Invitations setting, navigate to Messaging in Admin Settings. Uncheck the hold invitations box, then click Save. Select Disable when prompted.