Global Assets allow Showpad content managers (administrators and promoted members) to share content from a source division to other divisions in just a few clicks. This is a huge timesaver and allows for more centralization and controlled localization of content.
Yes, you can keep all content in the existing Global Division and update all assets there, but this is a task that only administrators can do. To save time and centralize the content management we recommend using Promoted Members. For example, an English written document exists in the US Division and can be shared with the EMEA Division by a Promoted Member, without interaction of the Administrator.
It is important to know that you can make assets globally available on your divisions, but tags are added separately and are not transferred automatically.
See how it looks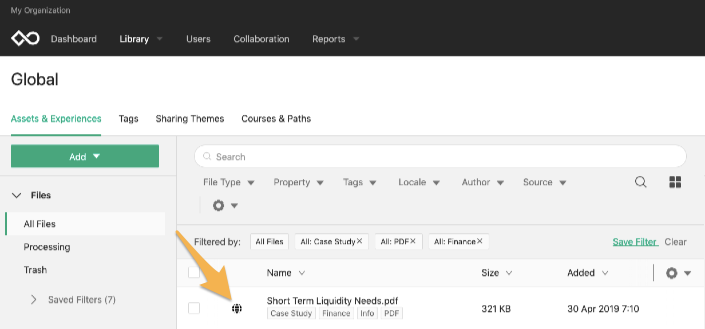 Key features
Make regional content available across other divisions
Create new tags for this regional content in those divisions
You need this to succeed
Ultimate pricing plan on Showpad
Divisions activated and created
Content available in your division
The quick way to awesomeness
Set a Global Division in Divisions
Select the assets you'd like to share globally
Globally shared assets will have a globe icon
Do this step by step

We will need to configure one or more divisions from which content can be shared with other divisions. These divisions will act as source divisions and assets in these libraries can be set to global. That means they are available as read-only in all other divisions. It's not possible to share to individual divisions. In other words, assets are shared globally on all divisions.
Open Admin Settings.
Set a Global Division by going to Divisions, click the settings icon and choose Edit.

Enable the checkbox: "This division can share selected content globally. Global content can be viewed (but not edited) by all other divisions."

Go into the global division's library to start sharing content globally.
This can be done by selecting one file and clicking Edit under the permissions section.

Check the box for Global to allow the division to be shared across other divisions.

You can also bulk edit the files by selecting the assets you'd like to share globally across all divisions by checking their checkbox and then selecting Edit from the drop-down menu.

Globally shared assets will have a globe icon in front of their names in the library.