What's in it for you
Before you can start using the magical sharing features of Showpad, you'll need to make sure you have content available in the Showpad app. Your marketing colleagues can provide a lot of interesting and awesome content and not all devices have enough available storage to store it all. Wouldn't it be sad you'd have to delete your latest holiday pictures on your device to make room for new brochures?
To solve these storage problems, we provided 2 options to sync and download the available marketing content on your device. You have the option to always download all content or to only download the content on demand.
Note: For security reasons all Showpad content, along with the application itself, cannot be downloaded onto external storages (such as an SD-cards). This helps prevent the accessibility of confidential information by other parties.
Key features
Keep device storage under control
Always download all content automatically in the Showpad app
Only download content when opening the file in the Showpad app
Choose your success platform
See how it's done on iOS
When signing in on the iOS Showpad app for the first time, you have 2 options: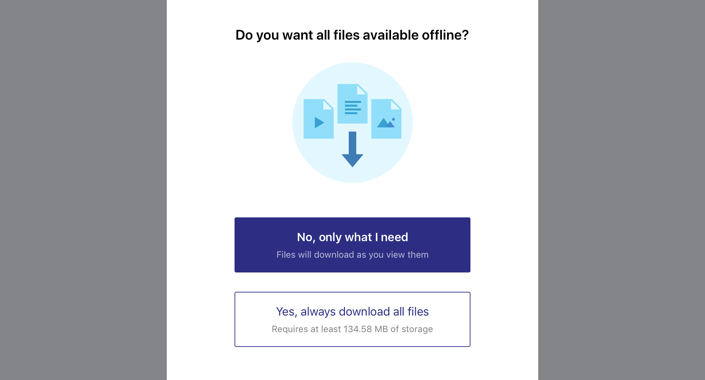 1. No, only what I need.

When selecting this option, the content will download when you open a selected file. This means an internet connection is always necessary. Once the content has been downloaded, it's available offline on your device for future usage.
2. Yes, always download all files.
When selecting this option, all available content will always be automatically downloaded in the background. This requires a stable internet connection to make sure everything is downloaded correctly. You can continue working in Showpad during this process.
When the Always Download All Files option is enabled, you won't be able to remove the downloaded files from your device. To remove the downloaded files, disable the Always Download All Files option first in your Account settings.
If you are on a mobile connection, large files can take longer to download and will affect your data usage. You can enable or disable the usage of your Cellular Data connection in the Account settings.
Note: When you're offline and you create a share, it will go out once the connection is back online.
You also have the option to pause downloads and continue downloading the content once you have a wifi connection available.
Updates to the content are not automatically downloaded to your device. However, the Showpad app checks for updates in the background on a regular basis. If future content updates are available, you will see a notification in the top right corner. You can start syncing your content by tapping the icon. After downloading the updates, you'll see what's new and what changed in which channel.

Every time you sign in on the app after you signed out, the latest content updates will be updated in the background. In this case, you won't see what's new and what changed in which channel.
Downloading content in the background
Background activities on your iOS device, like syncing your music, downloading files from your iCloud drive, downloading content from Showpad,... are handled by iOS.
When Showpad's app is closed on your iPad or iPhone, iOS determines whether or not Showpad content will be downloaded. Background downloading of this content is influenced by the state of your device. We recommend
using a good wifi network. 
having your device fully charged.
disabling low-power mode.
Changing the download settings
If you want to switch between both options, you can go to Account and change the Always Download All Files setting.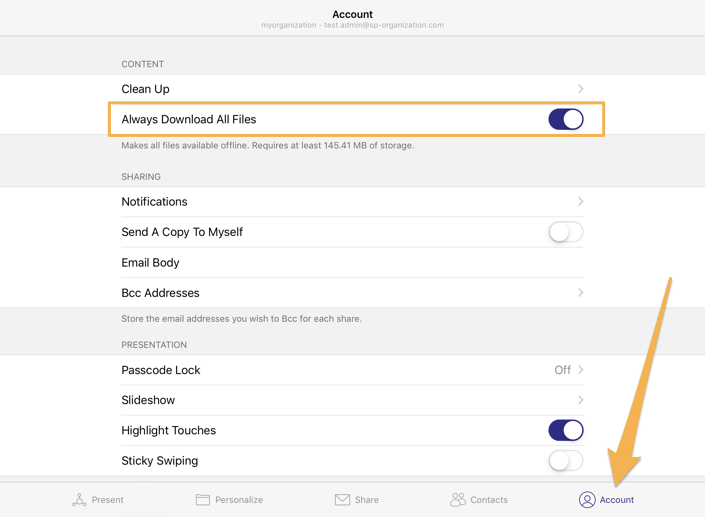 See how it's done on Android
When you sign in to the Showpad App, you'll get a choice how to download your content: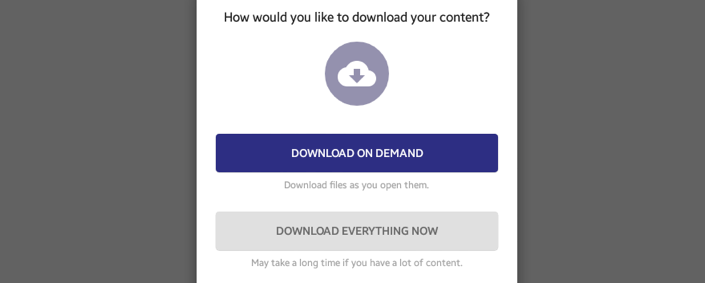 Download on Demand: The content will be downloaded the moment on tap on one. This means an internet connection is necessary. Once the piece of content has been downloaded once, it's available offline.
Download all files: All available content will be download at that time. This requires a stable internet connection during that action. After downloading, all content is fully available offline.
Now all the content will be downloaded to your device and for new content updates, all content will be downloaded as well.
You also need an internet connection for the following actions:
Update your content
Mail your content 
Synchronize contact data 
If at any point, you want to switch to Downloading all content, you can go to the settings of your Showpad app.


Select Download all files during update
Tap Download all files now
To remove the downloaded content from your device, tap Remove downloaded files.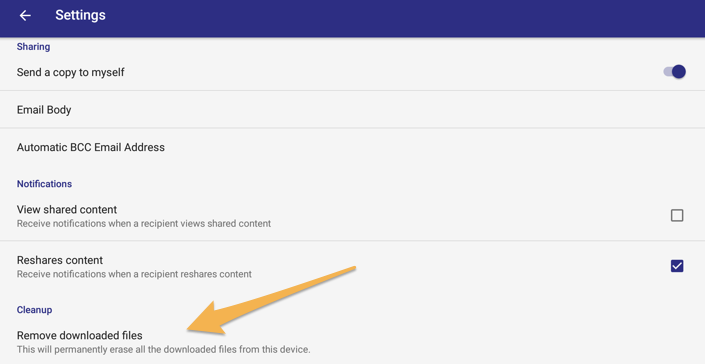 See how it's done on Windows
When you sign in on the Showpad Windows app, the content will not be downloaded on your device automatically. This means an internet connection is necessary if you want to display content. You will need a connection for the following actions:
Update your content
Share your content 
Synchronize contacts
You can make your content available offline, by downloading it manually. This is very useful when you have an appointment where no network connection is available. This also means your content will be available ad hoc as it is readily available on your device and you are not dependent anymore on your internet connection speed.
You can download selected channels on your device by swiping downwards on a channel. Once you've selected all the channels you want to download, you can choose Download Selected.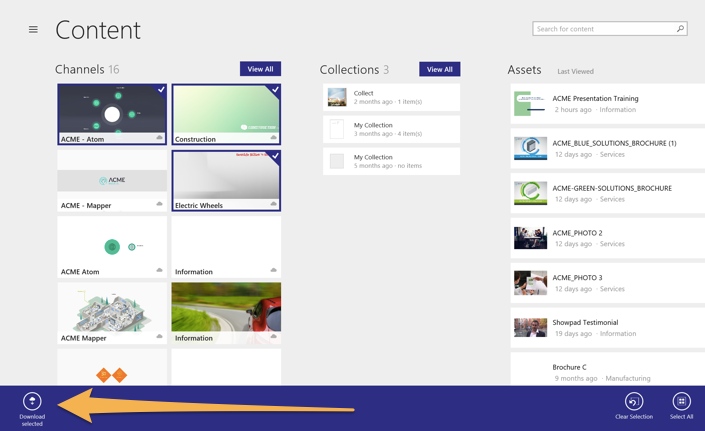 You can also download a channel while you're viewing it by clicking the same button.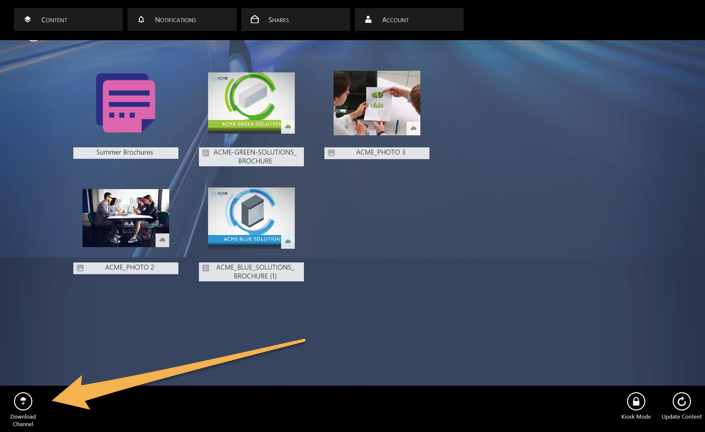 Note: Downloading content can take some time if you have lots of content available in your Channels.
You can also choose to download all the content inside a Channel by swiping from below the screen to inside the screen and then choosing Download selected when you're already browsing a channel. If you're in Desktop mode, right click on the assets or Channels to select and download them.
There are 4 possible icons you see for your content and Channels, that show you the offline or online status.
A cloud icon means that all the content is available online. You will need a connection to browse the content.

A download sign appears next to the channel and it stays there until the content is downloaded.
If you see no cloud or download icon, the content is already available offline.

When downloading content and you see a red dot next to the download icon, it means there are updates available in that particular Channel. If there are no changes then there is no red dot. The app can only detect newly added content or updated content if a previously downloaded version of the channel or folder is already stored on your device.
To remove downloaded content from your device to free up disk space, you can
Open the Account settings.
Click or tap Content Cleanup.

Additionally, check this article to see how you can update the content.
See how it's done on the Web app
When using the Showpad Web app in your browser, all your up-to-date content will be automatically available. It's not possible to use the Web app while you're offline.