PDF documents uploaded to Showpad are processed before they are added to the Content Library. We do this automatically to prevent slow loading documents on devices, and users can have a great Showpad experience. To avoid errors during the optimization of these PDF files, the general rule is to keep your files as simple as possible. If the optimization fails, you have the option to upload the file. However, the Use optimized file option will be grayed out in the file properties and the original document will be used instead.


See how it works
The quick way to awesomeness
We recommend you to follow these guidelines for using an optimized PDF file and guarantee a great user experience.
Optimizing PDF files with Acrobat Pro or a similar tool
1. Recommendations for creating PDF files
Familiarize yourself with the export possibilities and settings of your native application (Adobe Illustrator, Photoshop, Indesign or similar). Try to create the document in your native application with the following guidelines.
Images

Optimizing for web

Enable "optimize for web" to reduce file size without losing quality.

Resolution
Avoid full resolution images with a large file size. A resolution between 72DPI and 100DPI should give a good result. If you have to zoom up to 50% on an image document, use a higher resolution of 150DPI.
Transparency
flattening
Enable transparency flattening If your document contains transparency.
Color models
Use RGB image settings instead of CMYK (used for printing) to see the correct colors.
Image complexity

Avoid using complex images with lots of layers or vectors. It's better to flatten and export as an image. You can use this image in a PDF document.
When using vectors in tools like Adobe Illustrator, we also recommend removing unnecessary vectors before creating asset links in order to make it work.

Embedded media
Using embedded media (GIFs, video) is not supported in PDF files.
Widgets/Annotations
Widgets are a special type of annotations on a PDF that are not visible in Showpad.
It's better to recreate the PDF without widgets and annotations before uploading.

Fonts

Embedding

Use subset embedding for optimal performance. Your document will load faster if only the characters that are actually used in the document are stored in the PDF file.
If you want to avoid the file size being too large, avoid full font subsetting. This will create a copy of the entire font set including characters not utilized in the document. However, if you want to later make changes that may include those characters, fully embedding will be necessary.
If you don't embed fonts your PDF reader will guess what closest matches your custom font, known as font substitution. Substitution can result in significant differences between the intended design and what actually appears when the file is uploaded into Showpad.
PDF elements look different on Showpad after uploading.
If the uploading and processing succeeded but looks different on Showpad, you can turn off Use optimized file on the Online Platform. This displays the original file instead of the optimized Showpad version.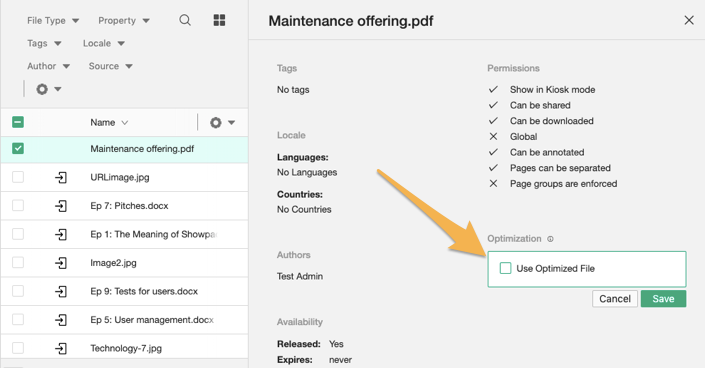 As an administrator, open the Online Platform.
Go to Assets & Experiences.
Select the PDF you uploaded.
Scroll down to Optimization in the file properties.
InDesign settings for successful processing results.
We recommend you the following settings in InDesign. You can save these presets for future use with Showpad.
General Settings.
Compression.

Output.

Advanced.

Note: PDF files, secured with a password, cannot be processed. You can still use the file in your Content Library and Experiences, but it won't be optimized. If you want to let Showpad optimize the file, you will need to remove the password.
---
2. Optimizing PDF files with Acrobat Pro
If you have PDF documents that are not processed or viewed as expected on Showpad, you can use Acrobat Pro or a similar tool to optimize your document. Upload your document to the Asset Library after applying these settings:
Open the file in Acrobat Pro.
Go to File, Save as other, Save as Optimized PDF

The default Mobile setting is a great start if you encounter an issue with PDF files. Click Save and upload the document to Showpad to see that this resolves your issue. You can customize these settings by changing the recommended resolution of the images and using the subsetting of fonts. Read the guidelines above to optimize images and fonts. In this screen, you also have the option to discard objects that are not necessary. These objects can be interactive, like buttons to trigger a link.

Note: Some hyperlink parameters, like Mouse Actions in a PDF, are incompatible with touch devices. Consider using standard hyperlinks to make it render correctly.

If you still encounter a problem after using the Mobile setting, enable Transparency and select Low or Medium Resolution. Save and upload to the Asset Library.
Another option is to flatten the file to a lower PDF version. If this conversion fails, you will get an error message displaying the underlying issue. This is why it fails to process on Showpad, and you can resolve the error in your original file.
PDF color changes on iOS
The reason why colors in photos or PDF documents look different on your iPad is probably that they use the CMYK color profile. The iPad does not supply a device calibrated CMYK profile which may cause CMYK content not being displayed correctly. Typically colors are too saturated.
You will need to re-save the PDF as RGB. To do so, please follow the following steps in Acrobat Pro: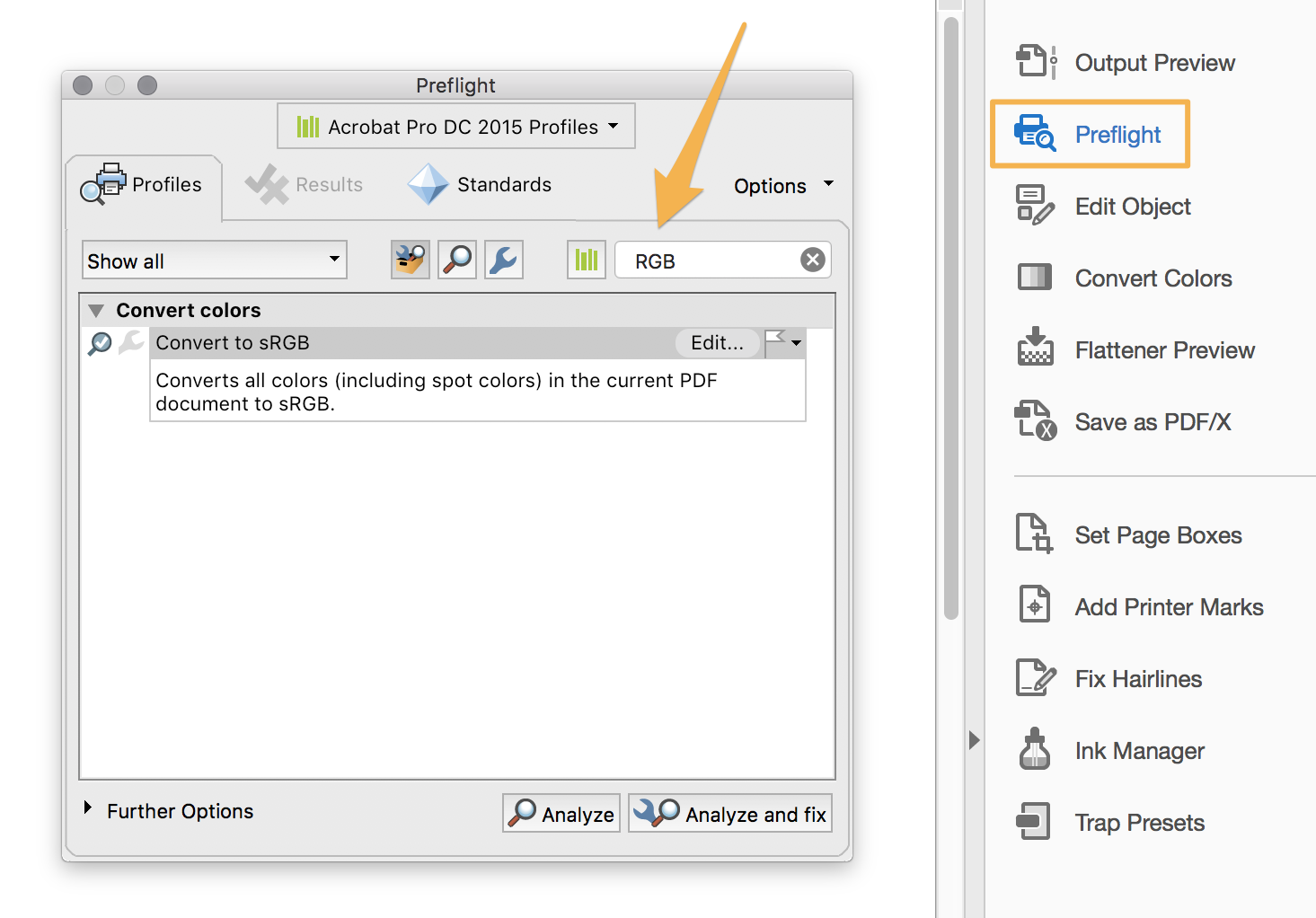 Open the file in Acrobat Pro.
Go to Tools, Print Production, Preflight and convert the images with the RGB profile.
Click Analyze and fix.
You can achieve the same result in Preview on a Mac, by creating a Generic PDFX-3 document with the Quartz Filter.
As a test, you can open the file in iBooks. If you see that the issue is also present in this app, it means the issue is iOS related and is not caused by Showpad. You'll need to check with the creator of the file and try to recreate the PDF with the RGB profile.
PDF font changes
Some fonts allow for better readability results than others so, it is advised to choose fonts that allow good online readability when creating a PDF document. However, as creating documents from scratch is not always the case, it might happen that you already have the finalized PDF and cannot change the font. If, after uploading a PDF document to Showpad, users notice readability issues (e.g. blurry characters) there is a quick fix that will increase the font quality:
Open the PDF document using Adobe Acrobat and navigate to the Tools tab.
Select Print Production, under Protect & Standardize.
Choose Flattener Preview and enable Convert All Text to Outlines and Convert All Strokes to Outlines. Also, make sure to apply those changes to all pages.
Click Apply, save the document and upload it again to Showpad.
---
3. Troubleshoot when optimizing didn't work
It is possible that you still receive processing errors after optimizing your PDF file. Most likely, your file became corrupt, and you'll need to find a way to resolve this issue before uploading again. There are several possibilities you can try if errors still occur.
Some examples:

The PDF document contained image masks that were not down-sampled.
Open the file in Acrobat Pro.
Go to File, Export to, Postscript. The file will now be totally flattened.
Open the .ps file you just generated.
The file will now open in Acrobat Distiller as a PDF, with all the elements flattened.
Upload the flattened PDF to Showpad.
If this doesn't solve the problem, you'll need to check with the creator of the file.
Processing or viewing issues because of image masks.
Image masks are often used when using transparent images in PDF documents. Using masks can cause an issue when the PDF is processed on our Showpad servers. Even though your file will not always be stopped at processing, you may end up with viewing issues later on. Therefore, as a rule of thumb, we recommend flattening transparency in Acrobat Pro.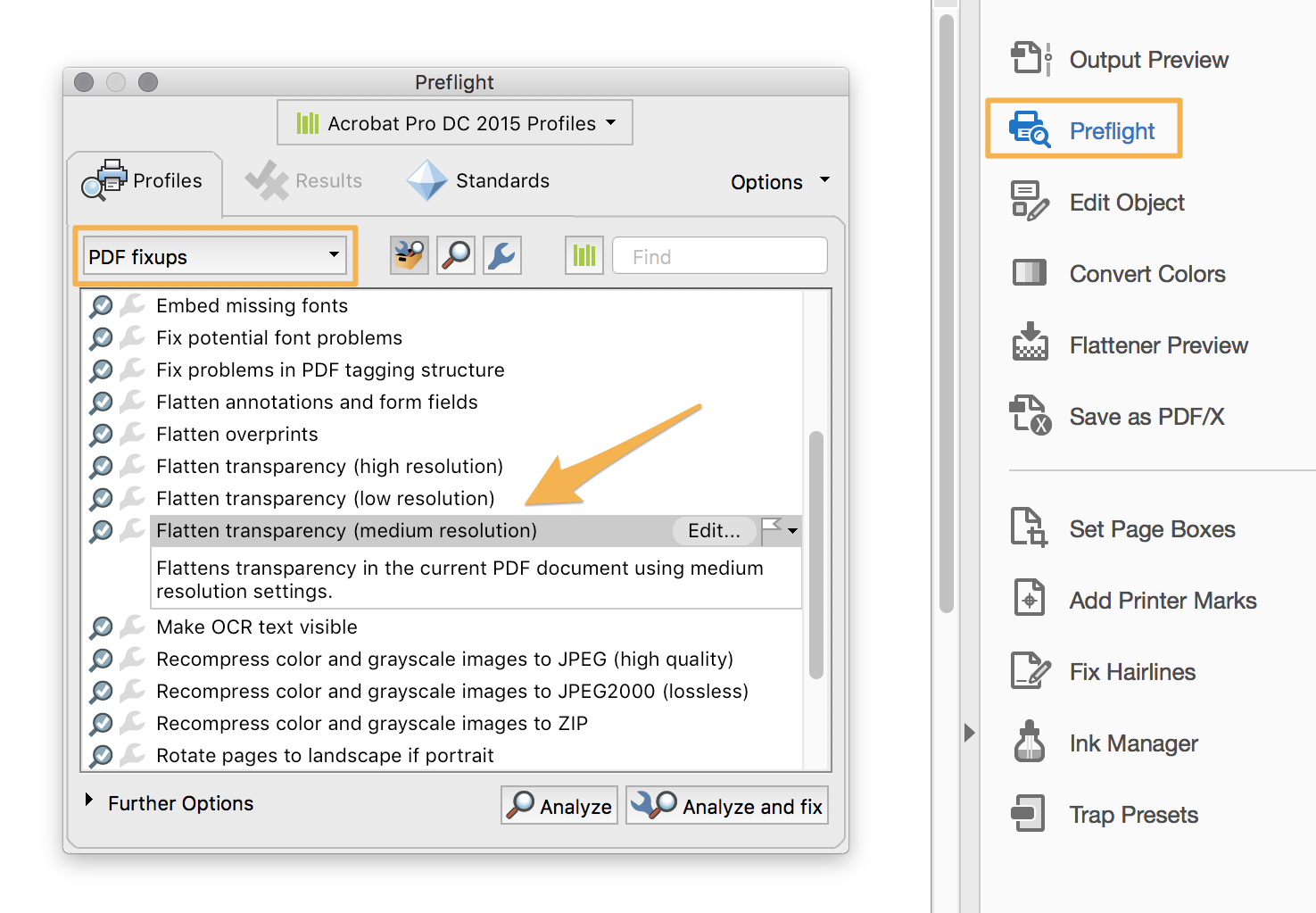 Open the file in Acrobat Pro.
Go to Tools, Print Production, Preflight, PDF Fixups, Flatten transparency.
Select a low or medium resolution.
Save the file and upload to Showpad.
Pages show offset
If pages are partially cut off, the page boxes of the PDF are not set-up in a right way.
PDFs are divided into page boxes. Pages boxes will define the format and size of the PDF pages.
For typical use on the web, you need to make sure that the media box and the crop box are the same. You can use Preflight in Acrobat Pro to make sure they are set with the same values.
Vertical scrolling on long sized files
If you have a long PDF file with a custom height (not a standard A4, A3,... format), you have to split up the pages manually. Pages are not cut automatically during the processing on our servers.