Showpad's PowerPoint integration allows your users to edit PowerPoint files that you provide in the Showpad Web app. It helps users to have a personalized sales conversation by editing the slides in PPT and PPTX documents. Using this integration guarantees users to always have the latest branding and messaging format.
Together with our collections feature, personalizing PowerPoint slides form a dynamic duo. You can provide non-editable, larger PowerPoint files and separate files where your users can add and edit prospect names, agenda items, and any other ideas that personalize the presentation. Your sales reps can mix and match these slides in a collection, without having the larger PowerPoint file to be processed again.
To make this work, we install a middleware tool called Showpad Edit on the devices of your users. Showpad Edit is available for Microsoft Windows and works with all the latest versions of Microsoft Powerpoint, natively installed on their machines.
Note: While the Showpad Edit middleware tool is only available on Windows, your users can use our online Office 365 integration to edit MS Office documents on Windows and macOS.
Showpad Edit syncs a copy of the original PowerPoint file that you provide and uploads it to the user's Personalize tab, in the My Files section. We don't edit your original PowerPoint file that was provided in Showpad and create a copy of that original file instead.
In Showpad's Online Platform, you, as an administrator, can set permissions to allow personalizing of the PowerPoint files you created. Enabling the edit capability in the Online Platform does not make all files editable by default. We allow you more control to enable editing on a per-document basis to ensure only the desired assets are able to be modified by users.
Note: Showpad always optimizes files to make sure that users have a speedy and active buying experience. Just like content that you upload to the content library, existing animations, videos, and macros won't be available for users in the optimized document.
See how it looks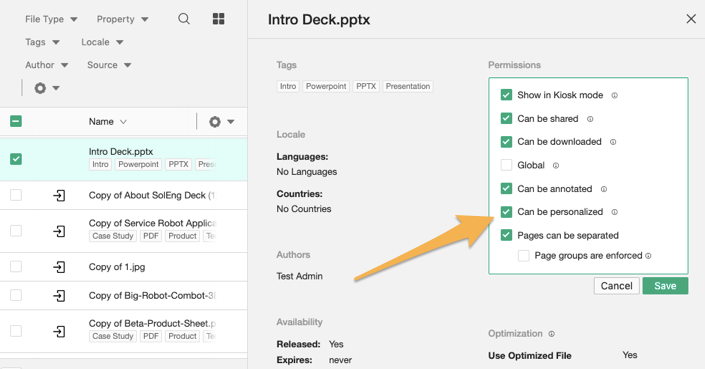 Key features
Users can tailor content to their prospect's needs
You provide the latest, marketing-approved content and style
Users mix and match non-editable and editable documents in a collection
The Showpad Edit middleware tool automates the syncing of modified documents
Personalized documents are uploaded to their personal My Files Experience
Sales users enjoy an optimized version of the edited PPTX document
Set the file permissions for PowerPoint file to allow editing or not
Updates to Showpad Edit are installed automatically
Installations with an MSI have to be updated manually
You need this to succeed
A Showpad Plus or Ultimate plan
Administrator access to Showpad's Online Platform
PowerPoint (PPT, PPTX) files available in your content library
Users need a device with Microsoft Windows 7, 8.1, 10 installed
Microsoft PowerPoint 2010, 2013 or 2016 installed natively
Permissions on their device to install Showpad Edit
Showpad Edit installs when editing a document for the first time
Users need the Showpad Web app and a compatible browser
Do this step by step
Sign in on the Online Platform and open the Library tab. Choose a division, if relevant.

Click the pencil icon to open the permission settings for the selected PowerPoint file.

Allow users to create a copy and edit the PowerPoint document by enabling the checkbox for Can be personalized.

For all non-PowerPoint files in your content library, this permission setting is grayed out.
Note: If you have installed the Showpad Edit app and users still get the message that it must be installed, the issue may involve the proxy that your company is using. Whitelist https://showpad-local-edit.app.showpad.com to guarantee user access.