What's in it for you
Showpad offers Shared Spaces to give you the power to create your own micro-site where you can interact with colleagues and customers. These secure and collaborative spaces host content, comments, and more all in one place. Furthermore, you as the sales rep, are the administrator in this environment. Access is by invitation only to ensure your content remains secure and visible only to the intended audience.
Activities of Shared Spaces give a more meaningful overall view of what content is engaging customers and how to align your marketing and sales objectives for more successful deals. To keep it simple with your sharing process, you can still email files directly or generate a link under the Emails & Links tab.
Note: Shared Spaces is currently available on the Web app. This will be supported on our other platforms soon. In addition, the current version of this feature cannot log activity in Salesforce.
See how it looks
Key features
A secure space to share and discuss content with your prospects and customers
Ideal for longer sales cycles where traditional sharing methods may not be enough
Customizability options for each customer type
Ability to transfer ownership of a space when necessary so no insights are lost
Allows participants to invite other members to the space so key stakeholders are present
You need this to succeed
Access to Showpad's Web app
Showpad Plus or Ultimate plan
The quick way to awesomeness
Log in to the Showpad web app
Navigate to the Share tab and then Shared Spaces 
Click New Shared Space and begin customizing and adding content
When your space is ready, start inviting external participants
View insights at any time directly in your shared space
Do this step by step
What's on the menu

Creating a new Shared Space
Login to your Showpad account on the web app and navigate to Shared Spaces under the share tab.

Click New Shared Space to begin building your space. You will need to create a title for this space to differentiate it from others you may create later. You will also be able to choose from your available sharing themes and configure settings related to download and invite permissions, as well as notifications. Click Create once you are done.

Once you have created your space, you can begin tailoring it to your intended audience. As the owner, you will be able to live edit the space moving forward. You can begin by writing a short introduction or welcome note that your customer will see when they participate in the space. You can also upload the customer's logo to help customize it for your audience. The maximum size of the logo permitted is 5 MB. The other aspects related to the look and feel of the shared space, such as your company logo, will be managed by your administrator.


Under the banner, you will find the content added to that space. If you are first building your space, you will click

Add Content

located in the menu banner or at the bottom of your space. This will open the standard content picker you are used to seeing with traditional shares.

Note: For Advanced Experiences, you will not be able to browse content the traditional way. However, you can use the search bar to locate the specific content you would like to add to your space.

After you add content and see it visible in the space, the asset name will default to the file name as it was uploaded. By clicking the pencil icon, you can change this to something more user-friendly or customer specific. You can also add a short description of the asset to be visible from the main page to help engage a customer to view the content.
At any time, you can move the order of assets by clicking the three dots to the left of the asset and dragging it to the desired location. This way you can map out your sales conversation in advance and draw your customers to certain assets before others to tell your story.
When you want to see how your shared space looks to your invitees, you can quickly preview it from their perspective by clicking the Preview link in the blue banner. This will also be where you access your settings, add content, invite new participants, and access insights at any time moving forward.

Inviting people to interact with content
When you're ready, it's time to start inviting people to your space. Click the Invite button and enter the email address(es) of the invitees. You can include a custom message with your invitation. 
After you have invited someone, you will get the option to fill out the profile details of that invitee by clicking Edit profile next to the recipient. The recipient will also have the opportunity to fill out their own details at the time they create a password.
You will notice your name above the content area on the landing page of the space. As you invite others to your space, you will see their names as well. The left-hand side will show internal members of your organization who joined and the right-hand side will show any external participants you invited to the space. Their status will also be visible here. This indicates whether their invitation is pending, they have current access, or their access has been revoked. It will also list the date of their last activity within the shared space.

When you invite a customer, they will receive an email with your personalized note and a request to activate their account. 
When they click Visit The Shared Space they will be asked to either create a password or they will have the option to register with their LinkedIn account.
If you are inviting an internal Showpad user to your shared space, their email should auto-populate as you begin to type. The invitation they receive will look different than what a customer sees. They will be prompted to use their Showpad credentials to login in to the shared space.

Back in the shared space, you can hover over a participant's name to see their company and job title, if you have added that information already. Click the pencil icon to edit their profile information at any time. You are also able to revoke access to the space individually in the edit profile window.
If you'd like to see a full list of participants, click People in the menu area to the right. You can also edit their profile information, and revoke or grant access from this view. In the event they did not receive their invitation to join the space, you can trigger a new invitation here by clicking the ellipsis by their name.

One collaborative function of shared spaces is the ability for participants to leave comments on assets. You can see these by viewing the asset itself, or view the most recent overall comments in the right pane of the space's main page. By default, all participants will receive a notification when a comment is posted. If a participant wants to @mention someone specifically, the available people in the shared space will pop up when they type the @ symbol.
After creating different shared spaces, you can view them all in a summarized fashion by navigating back to the main shared spaces tab. You can sort them by name or last activity.
In this view, each box will contain a shared space and it's overall summary. This includes the number of documents in the space, the number of comments, latest activities, and so on. These details provide a quick overview of what has been occurring within that particular space. You can expand the activities to get a bigger picture of what has occurred. You can also access the settings for the shared space or close it by clicking the ellipsis.

Note: Closing a space does not mean you are deleting it entirely. This means the space has been deactivated for participants but you, as the owner, will retain access to it. This will typically occur after a deal is won or it is no longer active.

When the number of shared spaces begins to grow, it may be helpful to filter them in order to find what you need quickly. In the summary view, you can sort by status (open, closed, or both) and by owner (owned by me, shared with me, or all). 

Can you log activity of shares spaces in Salesforce?
The current version of shared spaces does not work with our Salesforce integration. The ability to log activities and meetings from a shared space will be included in a later release of this feature.

What happens if the Showpad admin changes the permission settings of content I have in my shared space?
If the admin disables sharing on an asset that you have in your shared space, that asset will have a Sharing disabled by admin label added to the asset. Prospects and customers in the space will no longer see the asset at all, including comments.
What happens if an asset that I have in my shared space is expired or deleted by the admin?
A deleted or expired asset will appear but no longer have a thumbnail. In addition, an Access revoked by admin label will appear in the asset information. The prospects will not see the asset once it's deleted or expired.
All activity related to this asset will remain in order to maintain historical data. However, the asset will have a Removed label to indicate it's no longer available in the shared space.
You will no longer see comments related to the removed asset.
What happens if you revoke a person's access to the shared space?
When they try to access the shared space, they will be notified on the login page that their access has been revoked.
Can external people request access to the shared space?
If an external person accesses a shared space directly, they will be asked to provide their email address. If they have already been added as a participant, they will be instructed to access the activation link their profile. Otherwise, it will inform that their request for access has been submitted. Once you as the owner has approved access, they will receive an activation email to access the shared space.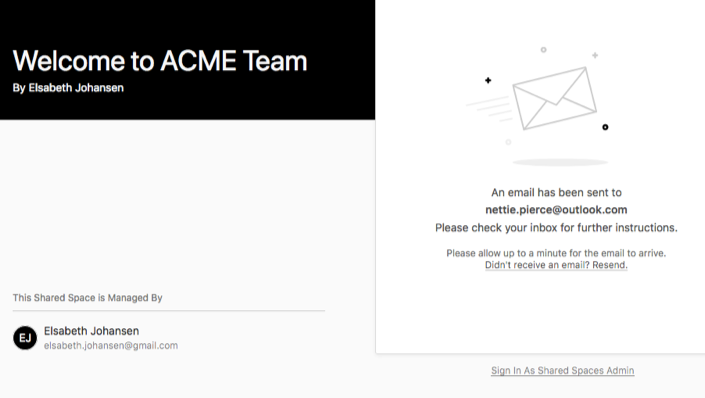 What happens if one of the participants adds a comment and then later deletes it?
The comment will be deleted from view on the asset; however, information about when the comment was added and deleted will remain in the activities.

How will I know if an invitee set up a login to my shared space?
Once someone accepts your invitation and creates a password to login to the shared space, you will be notified via email. If the recipient does not receive the invitation, you can trigger a new one in the People section.