You can see overall Content Analytics with the Reports feature on Showpad's Online Platform. Analyze which content is the most valuable for your sales teams and prospects by viewing engagement data down to the page for both Marketing Content and personal User Content.
Marketing Content allows you to scope your data down to just the assets or shareable Pages created and distributed by the marketing team. You will see the most relevant content listed, based on activity and engagement.
User Content allows you to view and track content customized by your sales team when they are uploaded into the My Files section.
See how it works
Easily run reports and see valuable information about marketing and user content
Narrow in on an asset's single page level analytics, or page subsets
View assets that are created and personalized by your sales reps
Analyze viewing and share data for sales reps and prospects
View activity on shareable Pages created in Showpad like other assets
Show trends and distributions
Quickly export this information by downloading analytics data in CSV format
You need this to succeed
Showpad's Essential, Ultimate or Plus pricing plan
Administrator access to Showpad's Online Platform OR
Promoted Division access with reporting access to at least one Division
Learn how it's done
To see the available reports, log in to the Online Platform and click the Reports tab.
The Content Analytics report is divided into three categories: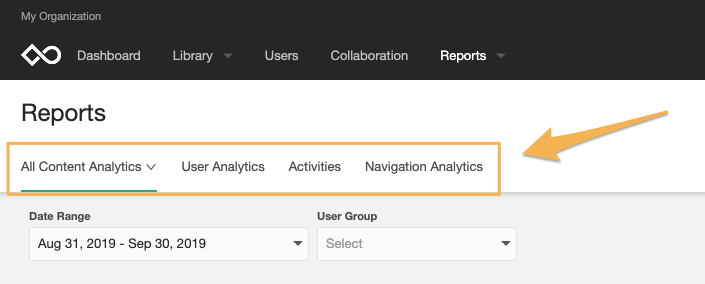 All Content Analytics
The All Content Analytics page displays data about how content is being used within the organization for specified time periods and, optionally, by user group. This allows you to identify the most used assets for the entire organization, taking into account both marketing and user content. It's possible to make the distinction between content viewed when shared (Recipient Views) and by users themselves on Showpad (In-app Views). This way, you not only know what marketing collateral is loved by your sales reps but also by your prospects. You may find it helpful to have insight into usage rates per device to better understand how your users access and use Showpad. This information is located within the In-app Views By Platform dataset, available both as a donut graph or a trend chart.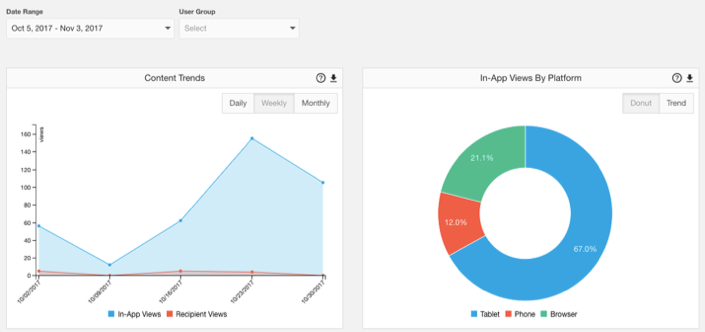 Here's a list of additional analytics available in the All Content Analytics tab:
Content Usage In-App: The Content Usage In-app metrics allow you to compare assets by average in-app views vs. the number of in-app views. You can select specific asset types to filter by. In the example below the data is showing usage for documents, URLs, videos, and HTML content only. Data for photos has been disabled. Enabling zoom allows you to see more precise time data as you using your mouse or trackpad. Hovering your cursor over an asset, represented by a colored circle gives further detail on the viewing activity.

Content Usage Via Shares: The Content Usage via shares metrics shows the number of views by recipients vs. the number of shares for content which is also able to be filtered by asset type. If there is no sharing activity for a certain asset type, it will be omitted from the graph. Similar to the Content Usage by In-app views, you can see specifics on certain assets by hovering over the circle.

Top Content: This table shows the top content that has had an activity for the given time period. You can see the data by user group, too. You can sort in ascending or descending order by clicking the desired criteria indicated below. The sorting works similarly to what you might be used to in a spreadsheet. You can also choose which criteria you want to be visible in your Top Content table by clicking the Advanced Mode drop-down. The selected criteria shown here is the default setting.

When you hover your cursor over the asset, you will see a View button that allows you to view the file. If a file or video has been deleted, it is not able to be viewed. Like the other reports, this can also be exported as a CSV by clicking the download button. The export only includes assets that have had activity within the given time period.
If you would like to drill down further into the metrics on a particular piece of collateral, simply click the file name in the table or use the search bar to find the file name. Doing this will show you headline metrics related to that asset along with data on the following:
Viewing activity trends
Sharing activity trends
In-app views by platform
User content interaction

Note: When clicking the document name, your previously selected filter will disappear on the detailed view. Your results may look different because, on this screen, you can only filter on time period, not on other items.
To drill down on a single piece of content further, view the Page-Level Analytics of the asset you selected. To do so, click the View As filter drop-down, and select By Page. Choosing All will give a breakdown of analytics per page, or you can select a page or range of pages you'd like to view. This capability extends to HTML5 files, with analytics on which pages were visited and for how long. HTML5 page analytics data before this feature's release on November 19th, 2020 will not appear.

If you are unsure which pages you want to dig into by their number, it can be helpful to use the Select by thumbnail tool to get a preview of each page. Select the Pages, then click Apply. The data you will now receive pertaining to the particular pages will be:
View per page
Time per page
In-App Activity, Per page
Sharing Activity, Per Page
Note: Page-level analytics is available via the API.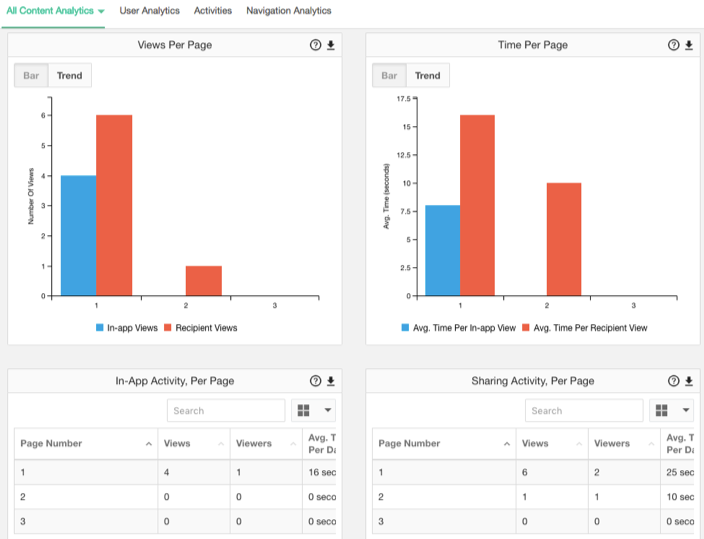 Under All Content, you can go deeper and see analytics for both Marketing Content as well as User Content. The latter will give you insight into how users personalize their content and how efficiently that unique content engages prospects. The two types of content that you can explore individually are explained below.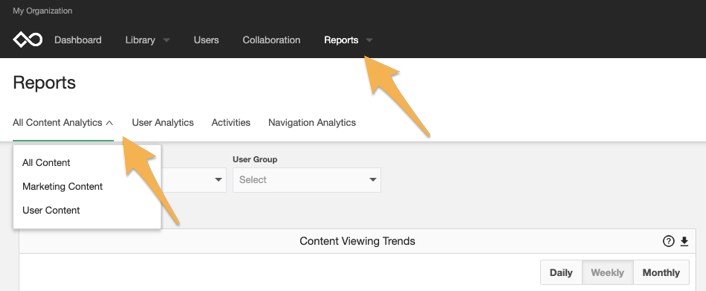 Marketing Content Analytics
Marketing Content is the collateral that you, as Showpad Administrators, upload into the platform for your users to share with prospects. This will aid your team in determining which content you create is most valuable for your reps. When your sales users edit existing Microsoft files using the integration, this section will also show you the number of versions with any activity that exists for each original asset along with the analytics on the modified versions. With Marketing Content, you have the option to use various filters to tailor your reports based on the needs of your organization. The available parameters are Date Range, Division, Experience, Tag, and User Group.


If you filter on a specific experience, Showpad counts the number of asset views where the user was inside the sales experience in the mobile app or Web app.
That asset can also be viewed in other locations, outside of the experience. For example, viewing the asset from a collection, a shared space, or in the content picker when creating a share.
Because of this, there are a lot more views when you don't filter on experience than when you do filter on an experience. The filter on experiences only filters the events in the background by location.

With Marketing Content analytics, Showpad offers advanced tag filtering. By clicking Switch to Advanced in the drop-down tag filter, you have more flexibility in what tags to include or exclude in your reporting. This is especially helpful when your organization has a significant amount of content uploaded to Showpad. To return to the standard filter option, click Switch to Basic.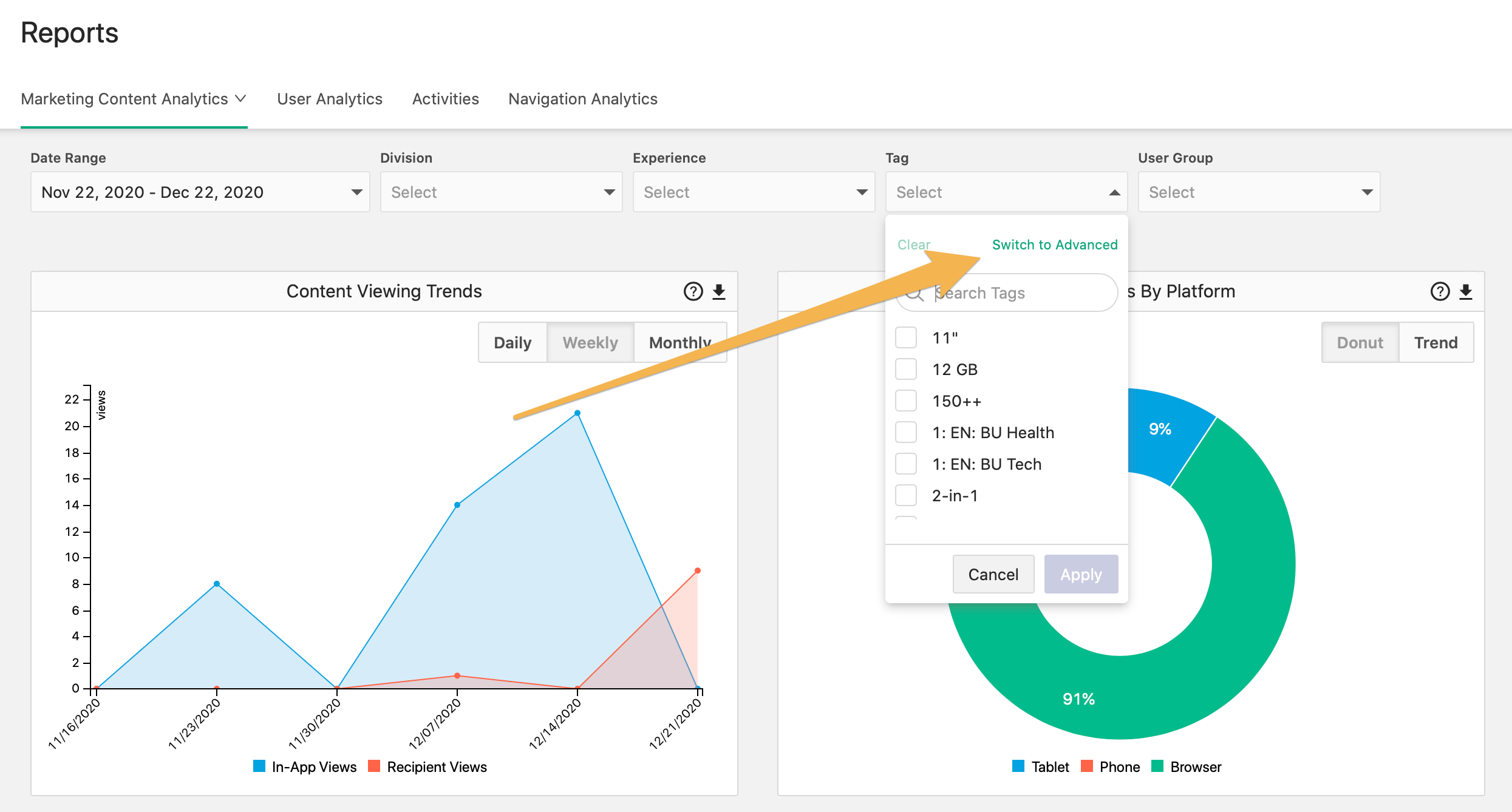 In the Top Content table you will find various assets along with their assigned division, channels, and tags, limited to the ones selected in the corresponding filter. For example, if an asset has six different tags but only 5 have been selected in the Tag filter, only the 5 filtered tags will appear. Information around in-app viewing and recipient views will also display, along with the number of total shares and shares broken down by Gmail or Outlook. Recipient downloads reports on the number of times recipients have downloaded a particular asset. Lastly, the default table will show the number of active Shared Spaces the asset is in.
If an asset inside a shared Page was viewed, it will show in the Top Content table with 0 shares, as it was shared indirectly within a Page.

Click the grid icon to add extra fields that are not included in the default report, such as active shared space names, social shares, tags, type, and more. The additional fields will be added after the last column, in order of which you select them. To remove any irrelevant fields, uncheck the box. Hover over the question mark icon to read an explanation of each statistic.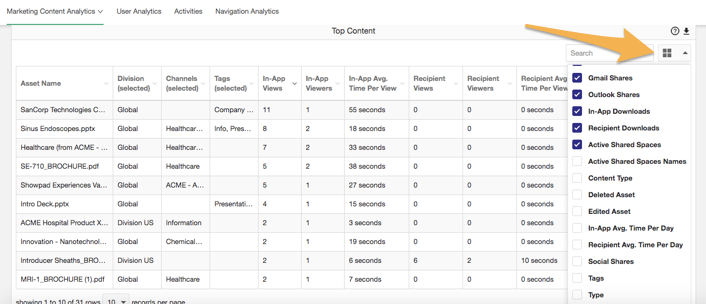 To export a copy of the Top Content table, click the download icon in the top right. Select to export the table with 1 row per asset or 1 row per user per asset and channel (selected). If you select 1 row per asset and Experience (selected), assets will have one row for each Experience they are in, out of the filtered groups you selected. For example, if Asset A is in four of the selected channels, there will be four rows of Asset A's info in the exported table, one row for each channel it belongs to.

Beyond the additional filtering options, the reports available for this content match those in the All Content Analytics tab. With identical reporting types, you are able to compare data sets of certain marketing content with personalized versions, for example. This side-by-side comparison can help you make necessary improvements or changes to the content currently being used.
Note: When filtering on a Division, you will only see analytics of content that was uploaded to that particular Division. Content that was uploaded to the Global Division will only be visible when filtering on Global, even when that content is used in other Divisions.
When you want to view the details on marketing content that has personalized versions created, you will check the box for "Include personalized versions in reporting" when looking at the overall report of that asset. The number of versions currently with logged activity currently in existence will be reflected below the name of the file. This only applies to Microsoft Office files that have been edited through the integration with Showpad.


When there are personalized versions of a file and you include them in reporting, you can scroll down the reports page to see the all the versions listed in the Personalized Versions table below the original file, which will be at the top of the table. The information included will reflect the same details for a standard marketing asset except there will be an extra column indicating the owner of the personalized version.

Hover over the file name to see the View button. Clicking this will open that specific version of the file so you can view what changes were made by the user who owns it.

To dig deeper into a specific version, click the file name in the table. This will open a details page with highlights and graphs indicating the trends and engagement that occurred with this particular version of the file.



User Content Analytics
User Content Analytics will grant you more control in analyzing how user-generated content provides value in closing deals. Also, you will have access to these personalized files that reps use to tailor their specific sales conversations. This will give insight into your users' Personalize tab to better understand what customized content matters to your reps. It also allows you access to view this personalized collateral straight from the Online Platform.
When you navigate to the User Content Analytics tab, you will have the option to select a User Group and sort content by Asset Origin. If you do not select one group, it will default to All Users. If you don't select the origin of the content, Personal Content or Edited Marketing Content, it will show the information for the whole user content. This initial page will provide a Usage Summary. This usage summary is not scoped to a period but provides a snapshot of that moment in time for three different things:
Summary metrics outlining the usage of the Personalized tab and My Files

A pie chart shows distribution of Content Usage by Asset Type

The histogram chart that outlines the distribution of uploaded asset to users. If you hover over a bar, you will see a list of users in that bucket. If you export the data as a CSV, you will see a list as well.
As you scroll down further in the User Content tab, you will see Usage Trends for personalized content. By selecting a date range and, optionally, a user group, and asset origin, you can see both content uploading trends as well as viewing data for a specific period. The latter dataset structure is identical to the viewing analytics in the All Content tab. Content Uploading Trends specify how many assets were uploaded on that day, week, or month.

To drill down into the data available for a piece of user content, you can either click the asset name if it appears in the Top Content table or you can use the search bar to find the asset you're looking for. The data in Top Content is dictated by the filters set in Usage Trends. Showpad Videos users create will be noted with a .webm extension.

Once you click a specific asset, you will be brought to a page with the details of this piece of content. This includes headline metrics on the interaction with the asset as well as graphs showing the sharing and viewing trends. If the asset has multiple pages, you will see the same option here to View As an Entire Document, or By Page for page-level analytics. HTML5 page-specific views will appear in this section of reports.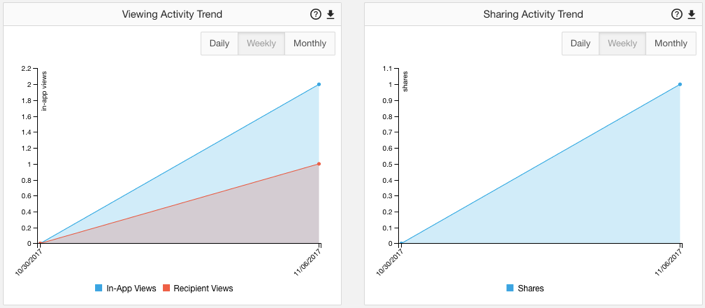 You can view the asset or see if it has been deleted from a user's My Files by clicking the file name in the header of that asset's details page. It will indicate it's deleted and an icon for the asset will no longer be visible.