What's in it for you
As an administrator, you can enable or disable certain features and integrations in the Showpad app. The options you see here depend on the plan you are currently on.
You can customize the appearance of the app and restrict your users from using specific abilities in the Showpad environment.
See how it looks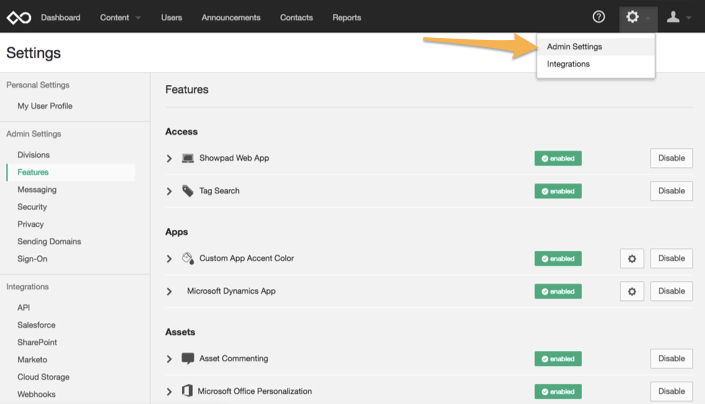 See this step by step
1. Access
Disable or enable access to the Showpad Web App platform. If you want your users to use only the Showpad app on their tablets, you need to disable this feature. Users won't be able to access the content anymore via a web browser.
Modify Tag Search access. Users are, or are not, able to search content with tags.
2. Apps
Change the Custom App Accent Color. Find out more about this feature in this article.
Microsoft Dynamics integration. This is only available when you request this feature via your Showpad Sales contact or Customer Success Coach. After enabling, the Showpad Share insights will be visible in Microsoft Dynamics after saving the secret code.
3. Assets
Enable or disable commenting on assets. You users can comment on the available files. As an administrator, you can respond to these comments or remove them if necessary.
Microsoft Office Personalization allows you to use the Showpad Edit middleware tool on a Windows device with Microsoft Office installed. It allows Powerpoint files to be updated and synced with Showpad.
Office Online Personalization allows users to use Office Online to edit documents that can be personalized. To use this feature, it is required that the user has an Office 365 license.
4. Content
Enabling User Content allows your users to upload their content in a personal tab called My Files. This feature enables or disables the personal My Files section. If you want your users to use only the content you provide, you can disable the Personal Channel.
Multiple Sharing Themes allows your users to use several themes when sharing content. If you disable this, only the Global Sharing Theme is available. When disabled, you won't be able to create new themes as an administrator, but you can still change the appearance of the Global Theme.